Degenerate Press
Welcome to Degenerate Press' feature article. If this isn't enough you can always subscribe to Electric Degeneration, our semi-weekly and semi-weakly ezine, or surf the Electric Degeneration archive.
---
Trux Band
Southern Comfort
Text and photos by Frederick Noble
Southern Comfort is a truck stop/bar on Moreland south of 285. It's hard to spot because the parking lot is often filled with tractor trailers entirely blocking the view of the building itself, but if you pass Club Blaze you just missed it. The place doesn't look like much from the outside, surrounded by a gravel parking lot in the midst of a mostly industrial section of town, but step inside and you'll feel immediately welcome, thanks to the friendly staff and regulars. Inside, it's cavernous - a massive room of old chrome and vinyl 50's style chairs, a long wooden bar, and a big clear area for boot scootin' right in front of the stage. Pool tables and video slots in the back, along with a massive flatscreen TV (always on CMT, on this night showing the first Police Academy), keno over the bar, and harried waitresses bringing cheap drinks and even cheaper steaks to the tables.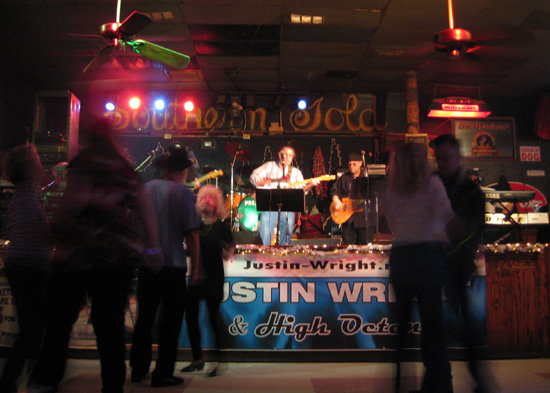 We visit every few months, often for someone's birthday but sometimes just because we want to escape our usual hipster faux-dives and return to a simpler time, the pre-ironic age when people could have a good time simply by dancing to music they genuinely enjoyed. They do not grin at how ridiculous it is, they grin because they like it. Weird, right?
| | |
| --- | --- |
| Tonight it's a birthday gathering. Russ is one of those guys you'll see out drinking just about any night of the week and in random bars from Decatur to Smyrna. His plan was to stay to closing - 3AM on Saturdays, but 4AM other nights, sleep in his car then get up when Southern Comfort opens - 8AM, if I remember right - and have breakfast. | |
Fridays and Saturdays are "Party Nights" - $3 for the dudes but ladies get in free. Both sexes at our table had fun giggling at the old, the heavy, the drunks and such that make up a big portion of Southern Comfort's patronage, especially when the jukebox takes over and it's U2's Sunday Bloody Sunday and there's one silver-haired gent dancing alone.

One girl at our table giggled, but headed for the floor, getting big laughs from everyone at the table - until the rest of the ladies slipped over to join him, one by one. Soon the guy had every girl from our table - and was calling ladies away from men at other tables.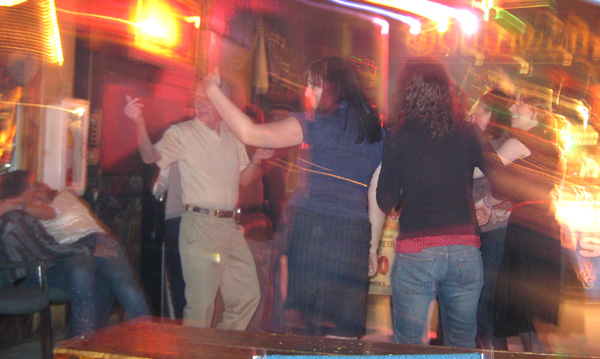 Eventuall the Trux Band returns to the stage, tonight featuring Justin Wright doing originals and country classics, as well as a few other tunes that are required by law for any cover band to know and perform (Brown Eyed Girl) and a few unexpected trips off the path (Bob Marley's Stir It Up.) Justin works the room, serenading the ladies and sometimes swaying in skin tight jeans on the edge of the stage. Owner George F. Jones climbs on stage and plays as well, seemingly at random, and the floor gets crowded for popular numbers.
It's the only bar in town that makes me regret selling my Stetson, but I needed the money - in part because I frequent other bars where the drinks ain't so cheap.
The owner mentions his brother's funeral - no insurance, no savings, the usual story, but he managed to get "An 85 hundred dollar funeral for 55 hundred" so he passes the bucket and announces a fundraiser for the next day with barbecue and music and such. It's been that kind of winter. Every few days I see an announcement of some fundraiser - funeral bills, hospital bills, house burned down, etc. but everyone seems to be pitching in what they can. I have been aiding the local restaurants and bars by continuing to go out and tip well and promote these events whenever I can.
When the band takes a break the jukebox takes over and there are more unexpected musical moments - Boy George? I'm pretty sure this isn't that kind of truck stop, but there is one guy who is totally into it, dragging one of the ladies onto the floor and having a swell time.

Another song on the jukebox brings a battalion of ladies to the floor for a synchronized dance with drill team precision.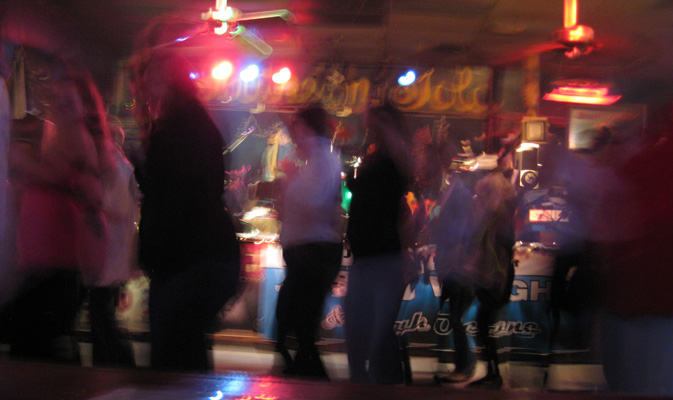 A lone man joins them and soon rules the floor. At what other Atlanta bar can a man who looks strikingly like Wilford Brimley pick up any woman of his choice? They guy must've danced with a dozen women over the next hour.
| | |
| --- | --- |
| | We insisted on a birthday cake of some sort for Russ. The closest we could get was a ribeye with candles jammed into it. Unfortunately the man had eaten just before he arrived so he had a tough time getting through the plate of beef. |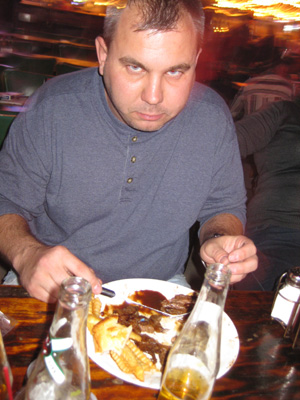 Many High Lifes, random shots and Jim Beams later things are getting... blurry.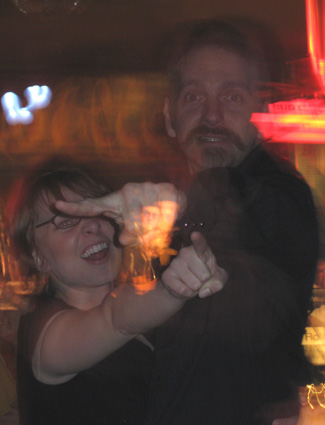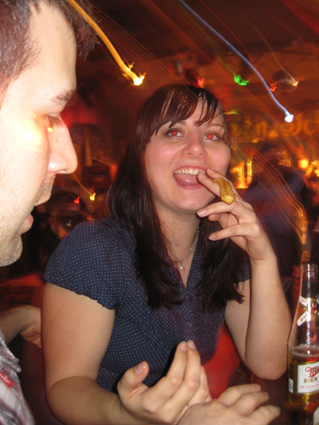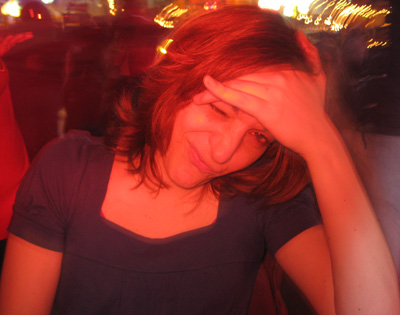 | | |
| --- | --- |
| It's after 2 and even the band is looking tired. They've had a few breaks but they started as early as 10ish when we arrived, if not before. | |
Outside the lot is empty, save for the sleeper cabs, with a cold rain coming down. The weatherman says snow, but it hasn't arrived yet.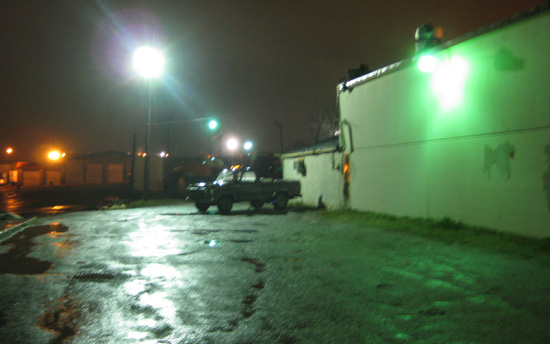 Unfortunately, the snow would arrive and I couldn't get back to Southern Comfort for the barbecue benefit. I'd feel guilty if there weren't so many other people in need these days. Spread the love, people, if you got any to spare!
(Oh, and Russ didn't sleep in his car after all. The steak seemed to satisfy his craving for SoCo's food, probably for quite some time...)
---