Degenerate Press
Welcome to Degenerate Press' feature article. If this isn't enough you can always subscribe to Electric Degeneration, our semi-weekly and semi-weakly ezine, or surf the Electric Degeneration archive.
---
"Spanktacular" - a benefit for Spanky Twangler
Electric Cycles, Dragline, The Penetrators, The Woggles, The Forty Fives
The Star Bar
Text and photos by Frederick Noble
Last week the Star Bar hosted another benefit. Lately it seems like every couple of days someone is throwing a benefit in this town for the family of the deceased and/or the destitute. It's nice to live in a town with a thriving community but depressing that so many folks are in need. On the other hand I've seen acts I never thought I'd see again, so it's not all bad. More bad news please!

This week it's Spanky Twangler, one of the guys in The Penetrators, who is battling cancer. I missed Thursday night but saved up my money and constitution for Friday, arriving during the second act, Electric Cycles. They feature a few familiar faces with members of Double Dynamite and El Capitan, if I recall correctly, doing heavy psychedelic stuff, somewhere between Strawberry Alarm Clock and early Deep Purple before they leaned more on the hard rock end. Good stuff, but they need one of those oil puddle light show projector things.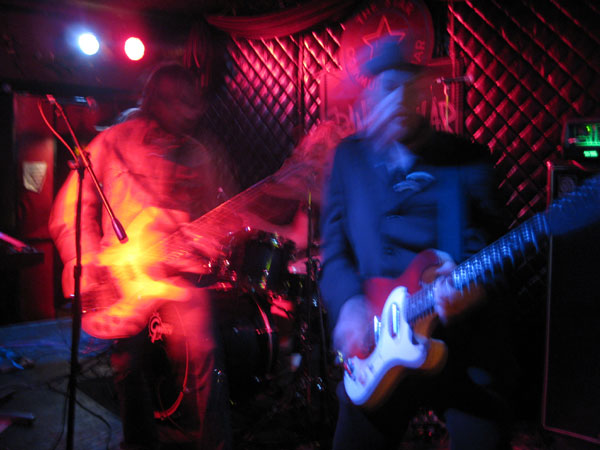 Next up, Dragline, reunited for the first time in something like 10 years. They played our Valentine's Day party back around the dawn of time at degenerate DC's Cabbagetown house where the music got so loud they literally brought the roof down – chunks of ceiling fell around us as the cops showed up to shut things down. They'd gotten a rehearsal or two in so they sounded as tight as they ever did. Basic rock with catchy hooks and a vaguely 60's garage influence.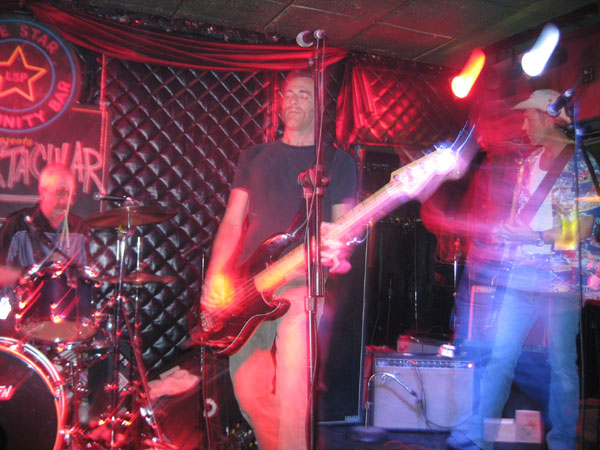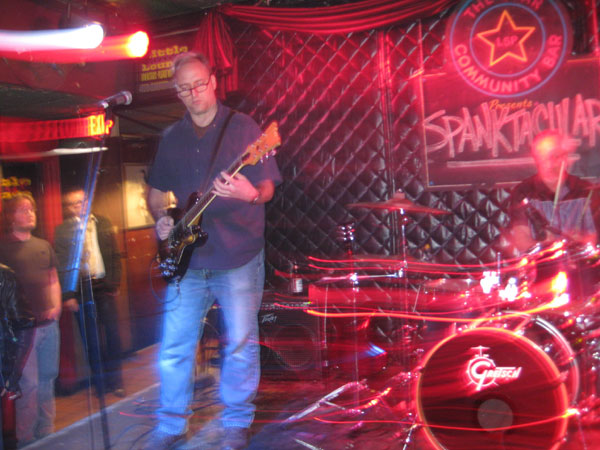 Speaking of "good as ever," Spanky got up on stage with The Penetrators looking fit and healthy. He's getting the better of the cancer, apparently, and launched into a set of swell surf.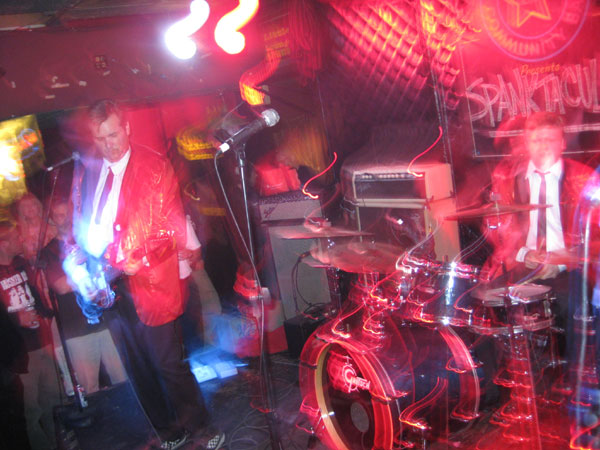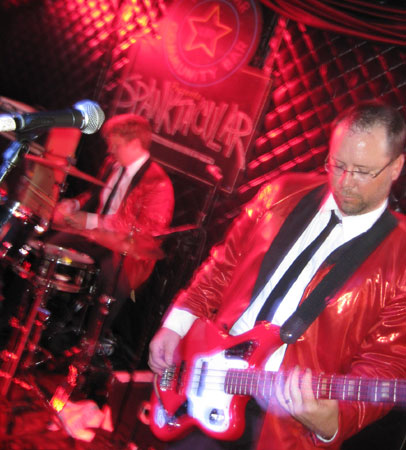 | | |
| --- | --- |
| They were joined by a few special guests to mix things up. | |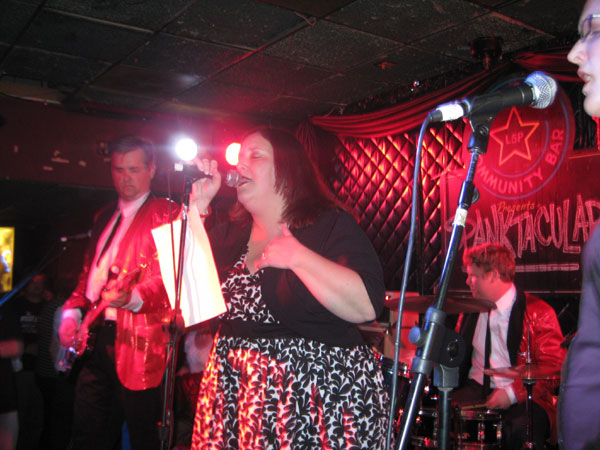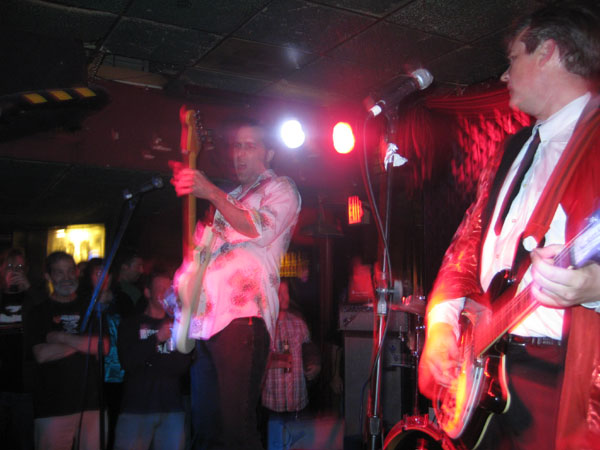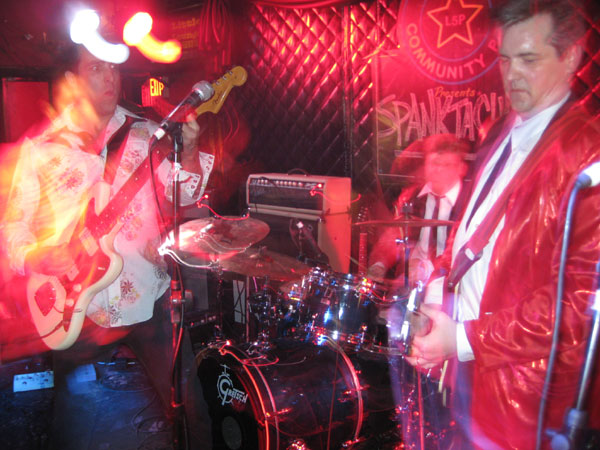 C'mon, Johnny, keep up!
| | |
| --- | --- |
| | The Woggles were up next. Coincidentally, we'd been listening to Manfred's show on Sirius Radio in our rental car on the way to and from Florida. It didn't have the gusto of The Woggles' live show – but then what could? I took a few dozen pictures of their set alone and every one is a blur with Manfred half out of the frame as he bounded about, or I bounded about, or I was bounced about by others in the crowd. |
| | |
| --- | --- |
| | The Woggles whip up a frenzy of 60's garage, often hopping into the crowd to join in the frenzy and/or crank it up higher. |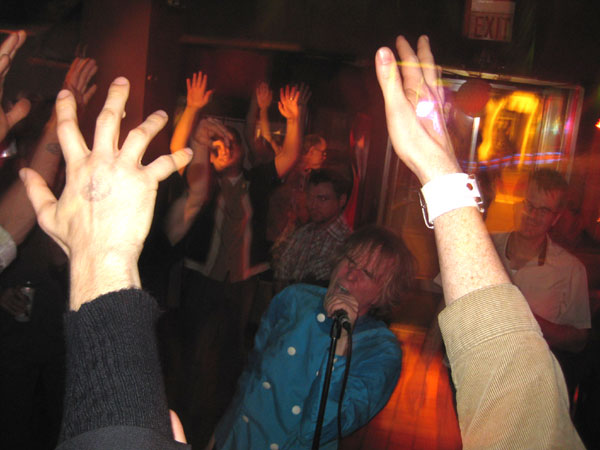 I particularly like the trippy effect of the PBR and Miller logos swooping through some of the shots.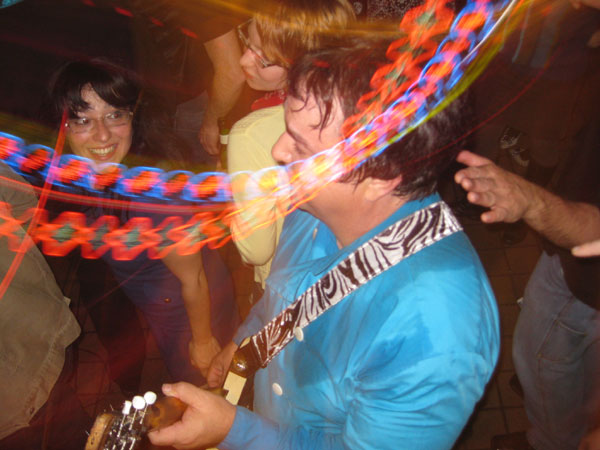 Apparently there were a lot of folks from Tuscaloosa, Penetrator home turf, in town for the affair. Some of them were having more fun than the rest of us. Some of them were having too much fun, honestly. The blonde guy shown here kept hopping up onto the monitors and stepping on my toes to stand in my way, elbowing his way through the crowd and generally making a nuisance of himself.

Eventually one of the Star Bar regulars helped him onto the floor and the ensuing tussle expanded into a big dogpile of people trying to separate other people and getting sucked into the melee.
| | |
| --- | --- |
| Hey blondie, how about a little common courtesy? And keep your fucking shirt on, fat ass, this ain't no topless beach. | |
| | |
| --- | --- |
| | Meanwhile, The Forty Fives appeared, sans Mark as he couldn't get to town for the affair. But their fill-in man did a fantastic job, hitting the notes AND hopping around like a lunatic. They played a bunch of new tunes that I enjoyed but I do miss the keyboards. I didn't realize how much they fattened up the sound. |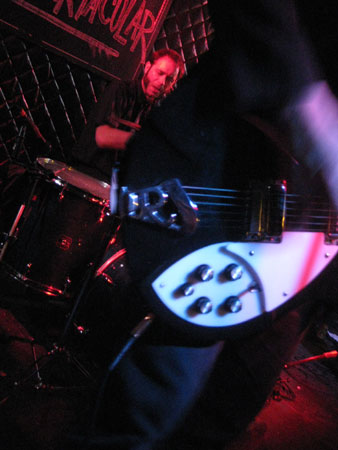 Can you say "Rickenbacker" boys and girls?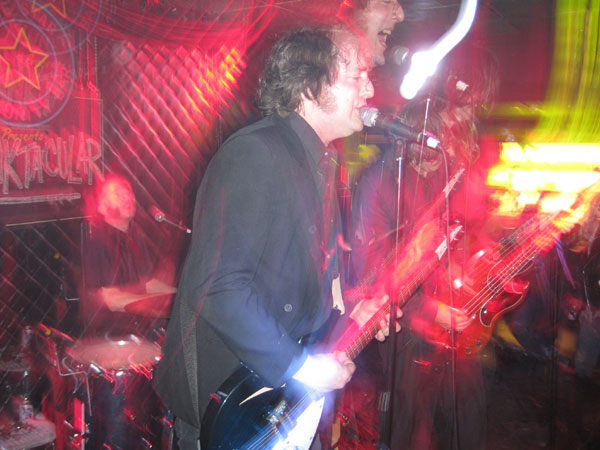 By the end of the set the room was half empty. I think The Woggles had exhausted many a soul and it was late, but those that remained yelled for more. Alas, the band had played all the tunes they'd rehearsed with the stand-in bassist and called it a night.
---