Degenerate Press
Welcome to Degenerate Press' feature article. If this isn't enough you can always subscribe to Electric Degeneration, our semi-weekly and semi-weakly ezine, or surf the Electric Degeneration archive.
---
(re)Evolutions: A Steampunk Circus Fairytale
Spring4th Center
Text and photos by Frederick Noble
A few years back some friends of mine took over a space at Spring Street and 4th and began hosting random events there. This particular group is one I run into only a few times a year at various sci-fi/gaming/geek/freak conventions, and rarely elsewhere, so I can blame forgetfulness on my lack of visits to the venue but really I'm just slack. Things tend to start rather late over there and parking can be a challenge but they have a lovely patio out back, a small bar and some damn nice folks run the place. You should go.
A problem is deciding what to go for. Spring4th Center hosts an eclectic variety of events, from various themed dance music nights to - well, a steampunk-themed circus. What is "steampunk" you ask? Apparently it was all the rage this week. In the last 5 days I've seen an Introduction to Steam Punk article, a joke on one of my favorite comic strips, Wondermark, that I was coincidentally just about to make myself, and on Saturday the Silver Scream Spookshow featured the film Mysterious Island based on a book by proto-steampunk-writer Jules Verne.
Steampunk is what all the Vampire the Role Playing Game people go into when they got tired of playing Vampire but still had a closet full of top hats and crevasses. I enjoy any excuse to dress up but I don't have much in my wardrobe that fits the theme so degenerate CD and I felt considerably under-dressed for the affair. So be it.
Things kicked off with a terrible band whose name I never did catch.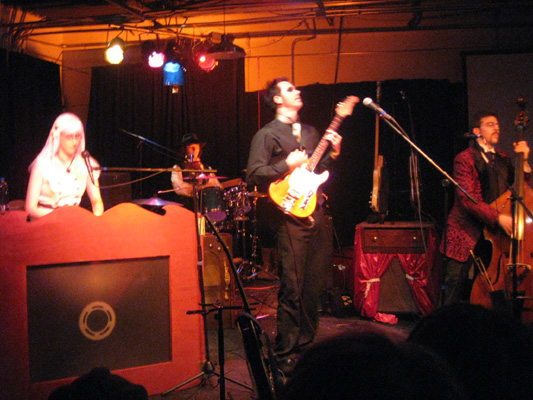 I listened to two songs before retreating to the patio. It was all lilting vocals, vibrato, poetry laced with darkness - all the worst moments of Siouxsie and the Banshees.
About two songs later the patio filled up. But relaxing in the cool evening air with a drink an ogling cute ladies and strange costumes is ample entertainment for me, and apparently most of the other patrons. Eventually new acts brought us back inside and the stage was host to one strange thing after another, most of them delightful.
An MC cracked jokes between sets before introducing the next act.

Mezmer Society from up in Asheville gave us a great belly-dancing-meets-gypsy-music routine.
A unicorn, AKA Hoopsy Daisy, did an impressive dance with a hulahoop. She kept the thing twirling from head to toe, one leg to the other, rolling around on the floor - she's got a heck of a swivel in those hips.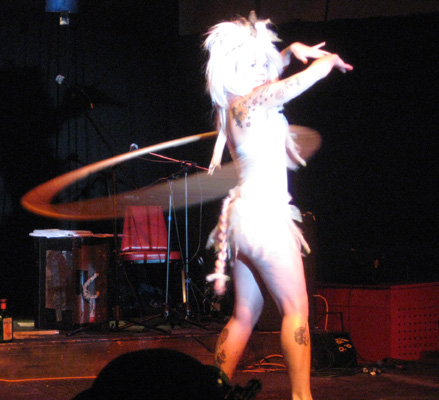 | | |
| --- | --- |
| A mop became a prop for a short skit by Blastoff Burlesque. | |
| | |
| --- | --- |
| There was a sexy, Sapphic act on a hoop suspended from the ceiling, courtesy of Guerilla Aerial. | |
| | |
| --- | --- |
| I didn't get good photos of a dance troupe that did some really good stuff, well choreographed with a couple of members who've clearly got skill and talent, but I managed to get a few good shots of Mezmer Society doing some singing and drunken dancing/sword balancing. | |
| | |
| --- | --- |
| Not dangerous enough? How about a belly dance while balancing a tray of candles? | |
More grace and beauty flying above wrapped up the night.

Rumor has it they're going to do this again the weekend before Thanksgiving, November 20-21.
---