Degenerate Press
Welcome to Degenerate Press' feature article. If this isn't enough you can always subscribe to Electric Degeneration, our semi-weekly and semi-weakly ezine, or surf the Electric Degeneration archive.
---
Derek Lyn Plastic, The Subsonics, Kid Congo and the Pink Monkeybirds
The Star Bar
Text and photos by Frederick Noble
| | |
| --- | --- |
| I've seen Derek Lyn Plastic in front of a full band and thought it got a little samey-same but it wasn't a bad sound. Howver, Derek Lyn Plastic doing solo acoustic stuff is samey-same and I really hate the sound. It's hard to pull off sneering, snotty music with an acoustic guitar. Don't get me wrong - some of my favorite music is sneering and snotty, and some of my favorite music uses acoustic guitar, but these are two great tastes that don't often taste great together. Derek doesn't pull it off. His snarling vocals could be contrasted, perhaps, by a different playing style but instead he's banging away on the guitar like it's an electric, or a ukulele. After 6 or 8 tunes I couldn't take any more and headed downstairs for socializing. | |
Judging from my photos, I need to do some more tweaking on the camera. The Star Bar changed lighting systems a while back and it's very bright up front and dim in the back so I may have to resort to using a flash again. However, I got some really arty photos of The Subsonics in action. Or at least Clay, lead singer and guitarist.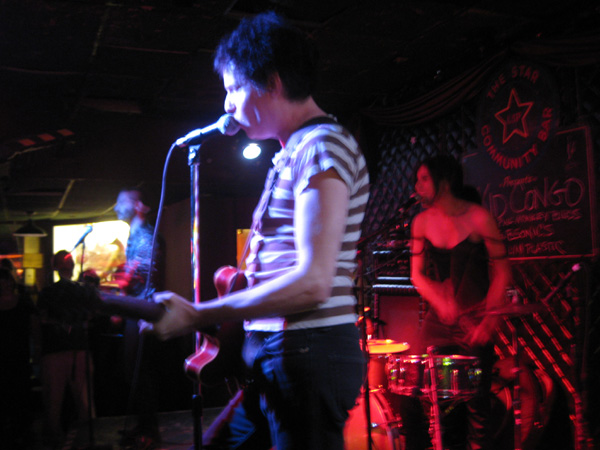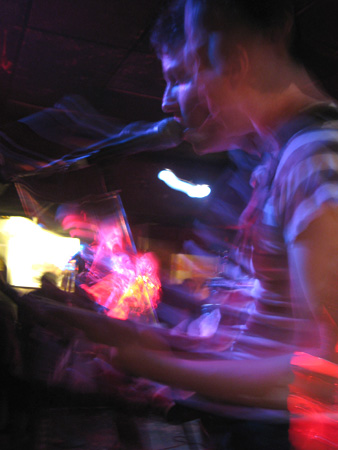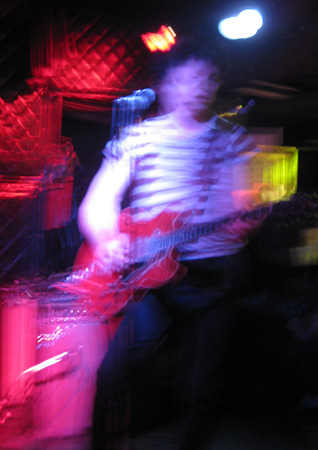 Clay has recently been smiling. It's weird. Not sure what's going on with him. Hope he's ok! But musically, The Subsonics are still cranking out machine gun garage rock, barely taking a breath between songs. Damn fine stuff, though I thought the mix was a bit off. The bass was overriding the rest of the music and everything sounded a bit muddy. I wasn't the only one to notice. Curt, Joel, get back to the Star Bar! Or just go over there and train the current sound guys.
I didn't get a decent shot of headliner Kid Congo and the Pink Monkeybirds, in part because adoring fans packed the area in front of the stage to catch the former guitarist for the likes of The Cramps and Gun Club. Basically if you like 60's garage influenced guitar and/or The Cramps, you'd love Kid Congo.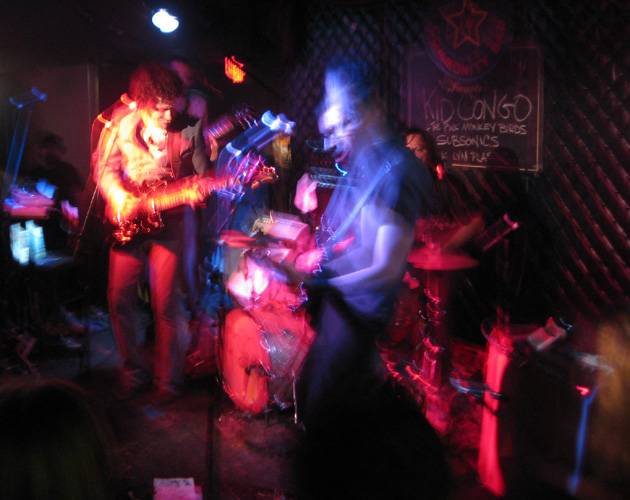 He was charming too, cracking jokes and mentioning his departed band mate Lux Interior fondly. But what impressed me most was how many old Star Bar regulars his appearance brought out of the woodwork. I saw people I hadn't seen at all in years, much less at a show after dark. Before the show, I felt like I'd fallen through a hole in the space-time continuum in the downstairs bar and transported myself back 10 years. (Give it another 10 years and the only faces I'll recognize out and about will be Steve, Amy and Chuck.)
"I used to rock and roll every night, and party ev-e-ry day. Then it was ev-e-ry other day. Now I'm lucky if I can find 30 minutes a week in which to get funky."
Homer Simpson
---