Degenerate Press
Welcome to Degenerate Press' feature article. If this isn't enough you can always subscribe to Electric Degeneration, our semi-weekly and semi-weakly ezine, or surf the Electric Degeneration archive.
---
Tongo Hiti, Dames Aflame and More
Trader Vic's 75th Anniversary
Text and photos by Frederick Noble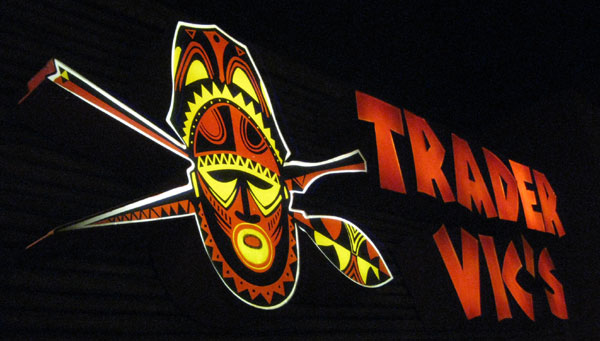 | | |
| --- | --- |
| I used to visit Trader Vic's for Tongo Hiti at least once a month or so, but eventually it got so popular and crowded it wasn't as much fun. It's nice to revisit old haunts now and then and remember why they were habitual in the first place. | |
We walked in the door to find the place packed, hardly anywhere to even stand. Tongo Hiti was already warmed up and cranking out strange covers of Hawaiian music, or Hawaiian covers of strange music, and having a swell time at it.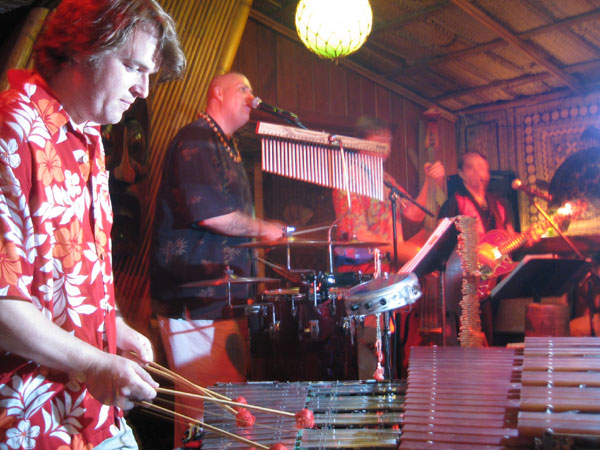 Soon the staff brought out a birthday cake, followed by some traditional dancing and drumming by an unpronounceable. local troupe.

Alas, most of my photos didn't turn out due to some annoying LED party light thing that turned everyone into Christmas trees, so you'll have to make due with fewer blurry, out of focus images than usual.
The band cranked up the familiarity and danceablitliy level tune by tune until the floor was crowded with swaying hips and Hawaiian shirts.

During the break we chatted with Mike on the patio, along with other smokers exiled to the cold. I hoped the crowd would thin out with the long break and late hour, but when things resumed the room was just as packed, though drunker and friendlier (band included.)
| | |
| --- | --- |
| | Monkey Zuma, rubber chickens, Celine Dion tunes turned into Hawaiian numbers that slowly transform into Metallica tunes, fruity rum drinks, and my best tiki attire - these are a few of my favorite things... |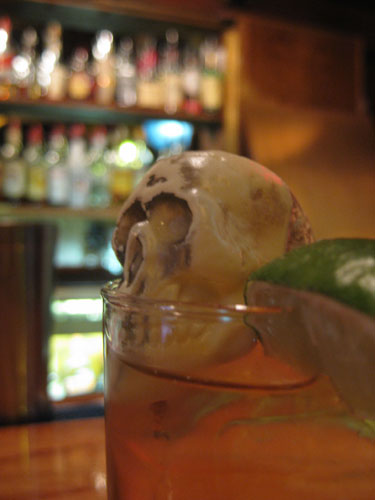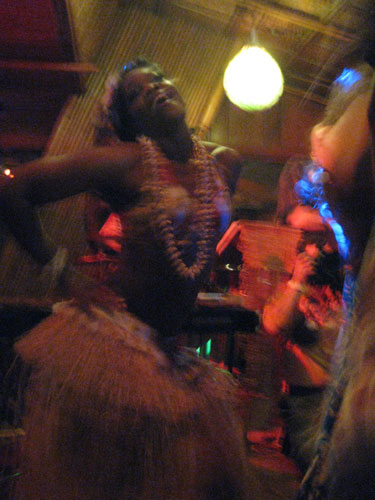 The band wrapped up with a medley that was worth the price of admission alone, a mix of Styx's Come Sail Away with bits of Jim Morrison and Close Encounters of the Third Kind and other references all bound up into one delicious hunk of spam.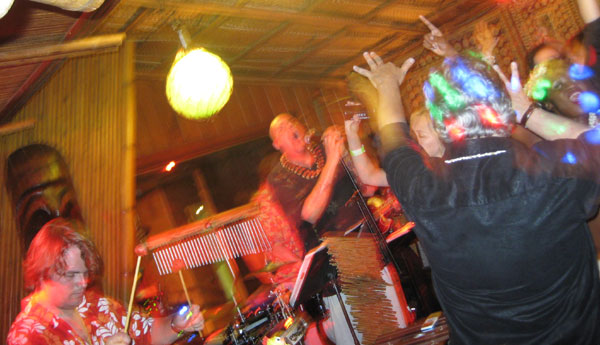 The bar closes at midnight, perhaps mercifully, so we trekked back through the Hilton to the parking deck, my passengers weaving. I'd taken it easy, being designated driver, so I got to giggle at everyone's groans the next day. Hangovers are my Sunday worship, but I don't mind missing services now and then...
---