Degenerate Press
Welcome to Degenerate Press' feature article. If this isn't enough you can always subscribe to Electric Degeneration, our semi-weekly and semi-weakly ezine, or surf the Electric Degeneration archive.
---
El Vez, Los Straightjackets,
Gingerbread Trailerpark,
Bully, Yule Log and more
Text and photos by Frederick Noble
I haven't been a fan of Christmas since I was a child. I think it is more so a children's holiday than even Halloween. This year, however, I have managed to avoid retain environments for the most part and my rare trip to any Christmas-Muzak-infested locale has been aided by my iPod, so I'm not quite in such a Scrooge mood. As such, I have enjoyed a lot of the crazy Christmas productions people around town have put together. Here's a sampler platter, a tray of Christmas cookies in red and green. Enjoy!
The season started (for me, at least) shortly after Thanksgiving when degenerate DN and myself retrned from Texas and New Orleans just in time for El Vez and Los Straighjackets at The Earl. Things started out with some surfified Christmas instrumentals, courtesy of Los Straightjackets.

The Elvettes took the stage in candy cane stripes and Santa/El Vez appeared.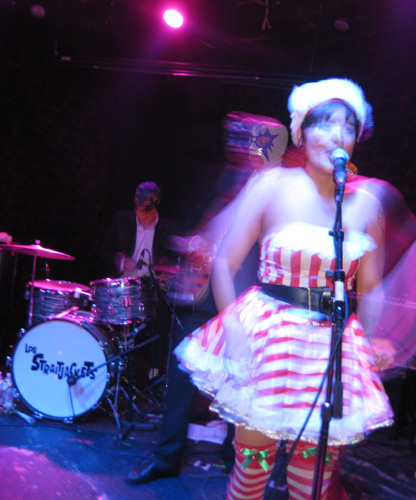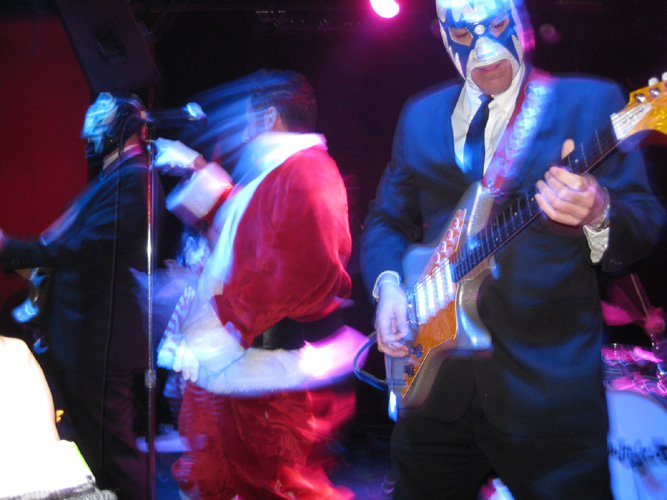 | | |
| --- | --- |
| Any El Vez show is a mash-up of the history of rock and roll mingled with politics, but the Christmas show adds yet another layer. Add to that dance numbers and costume changes and you get a heck of a night. | |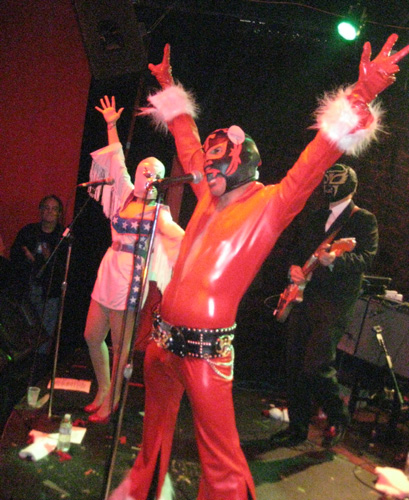 | | |
| --- | --- |
| A couple of weeks later it's the Gingerbread Trailerpark, courtesy of The Euclid Avenue Yacht Club. Some of the artistry was amazing, with many of the displays featuring punny jokes like Rudolf the Dead Nose Reindeer. | |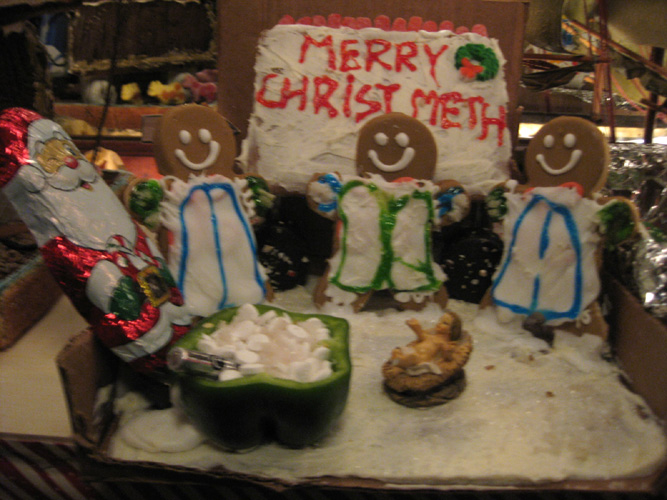 | | |
| --- | --- |
| The attention to detail in some of the creations was astounding. Some featured functioning lights, and one with a volcano that erupted as the judging began. | |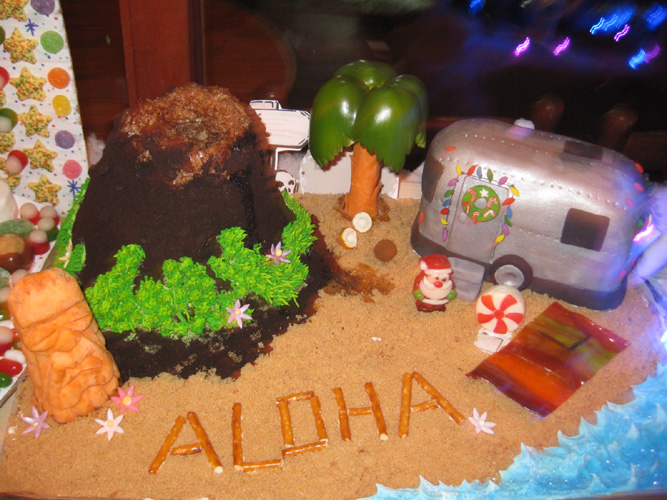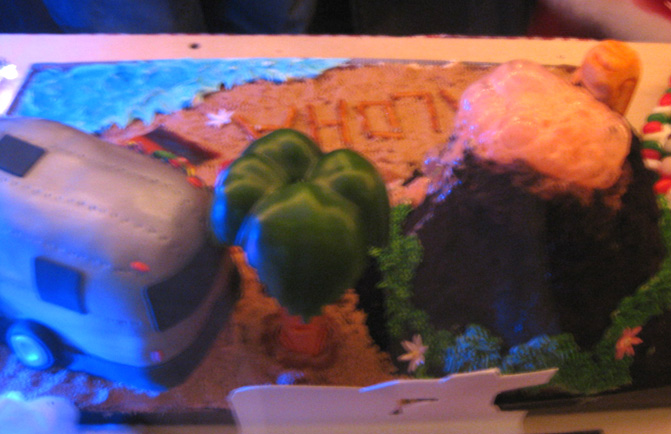 | | |
| --- | --- |
| 97 Estoria hosted Gill Henry Durant's Christmas Spectacular, the weirdest mix of gansta rap and R&B meets Christmas you will ever find. It, too, featured choreographed dance numbers and costume changes, along with random gifts tossed into the audience (the crowd favorite being ham.) It was standing room only so I had to climb up into a booth just to get this shot. Heck of a show and the CD is hilarious. | |
No Christmas would be complete without a Toys for Tots benefit at the Star Bar. In the basement we could've had a men's red shoe competition. These are Jim Stacy's and degenerate CD's on the edge of the photo. Wish I'd included mine in the shot.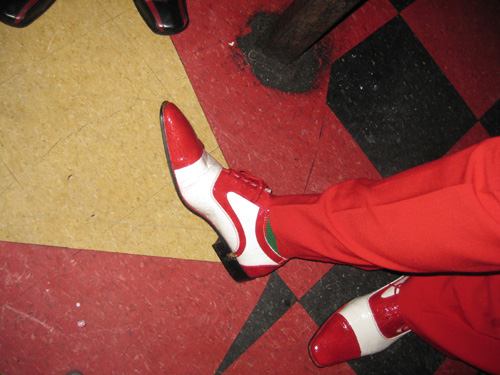 This year things kicked off with Galleon, Elliot Michaels' band - or at least 3 of the 5 members, inspiring him to joke repeatedly, "We are three-fifths of a Galleon."
It reminded me of Howard Finster paintings come to life in music. If you like folk art and outsider art, you might like Galleon.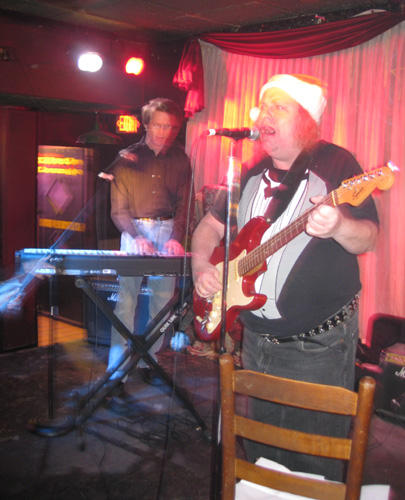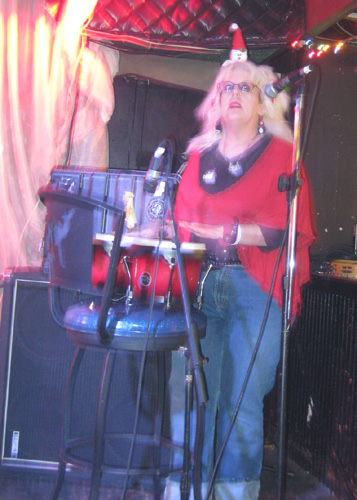 On the more finely crafted end of the rock spectrum, Bully cranks out some kick ass tunes even with Joel starting off in a chair due to some recent surgery. Nobody asked to sit on his lap and tell him what they wanted for Christmas, however.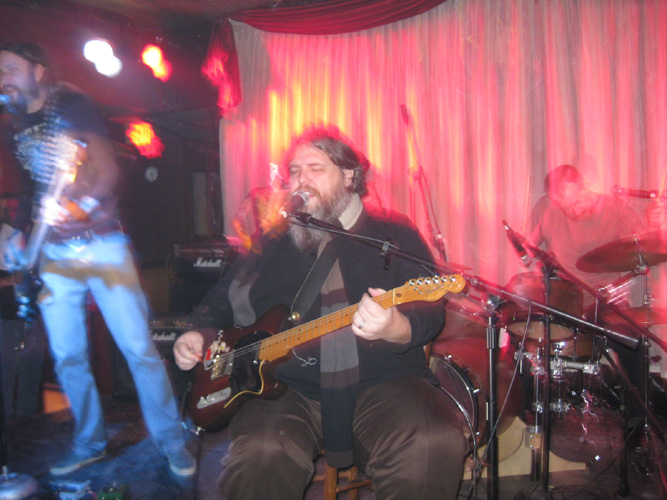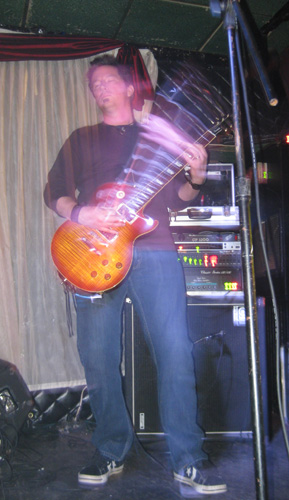 Late in the set they were joined by Jim Stacy, looking like a Wookie on his way to church, playing harmonica.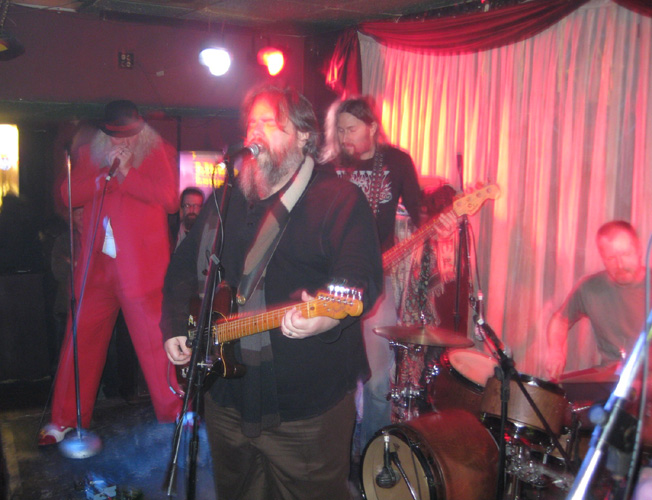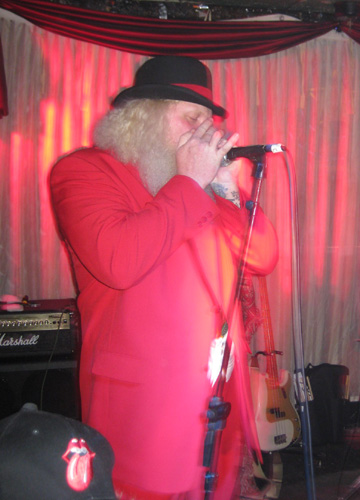 I slipped downstairs to avoid Ghost Rider Car Club. The band contains several of my favorite people who have been in several of my favorite acts, but I can't stand Ghost Rider. However, a song or two later I realized the bass lines oozing through the ceiling were not the smooth harmonies of 60's and 70's overproduced country but were the familiar notes of a Truckadelic tune. I ran back upstairs to sing along with Ted Weldon and Billy Ratt and others as they covered some Star Bar classics, neglecting to get more than a picture or two.
For a bunch of years now Yule Log has headlined the Toys for Tots benefit with Shitty Claus telling the crowd what shitty people they are if each and every one of them isn't trying to make the world a better place. This year the world became a worse place, thanks to the announcement that this would be the final Yule Log appearance.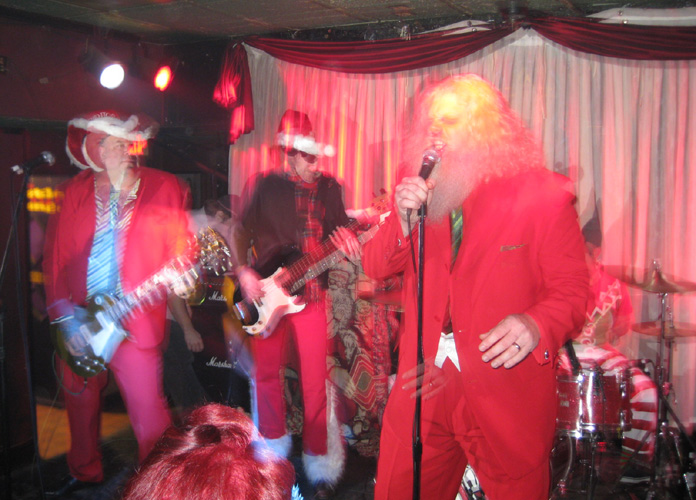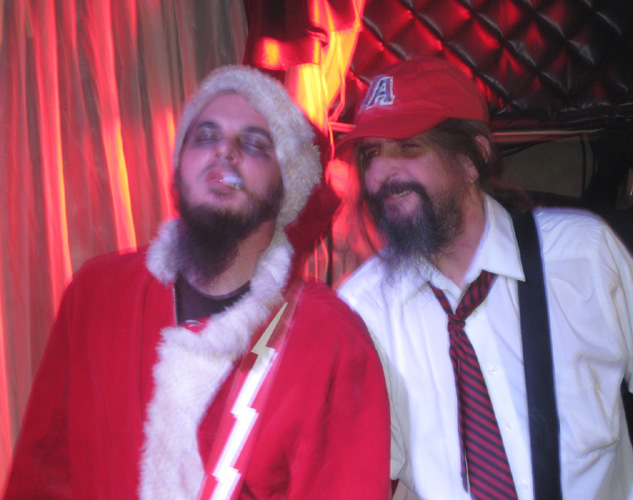 Seriously, I don't know how to HAVE Christmas without Yule Log to kick things off. No more classic rock and punk tunes turned into warped Christmas carols? But Jim is killing Shitty so he can join the Fraternity of the Real Bearded Santas or something.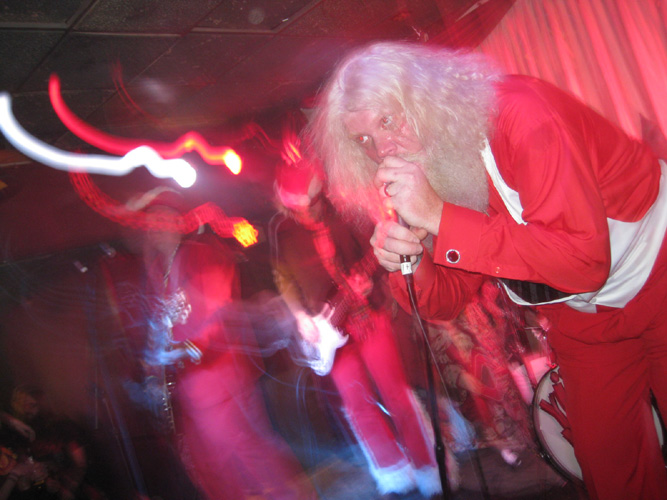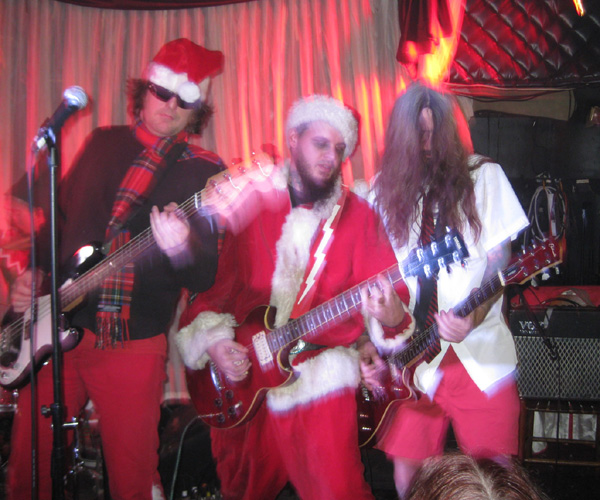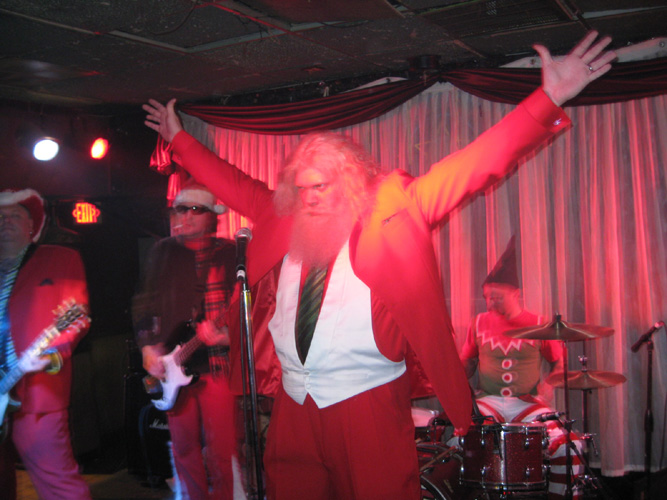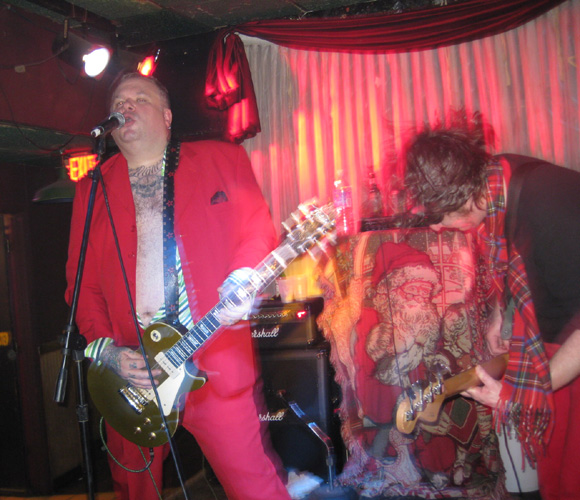 I'm not the only one that'll miss it. Brian didn't want to quit, egging the band on for an encore and trying to get them to do another, well after 2:30AM. But the guys had done every tune they knew and last call had come and gone - both for drinks, and for Yule Log, apparently. They will be missed.
---