GG King, The Forty Fives, Pierced Arrows
Lenny's
March, 2010
Text and photos by Frederick Noble
Former booking agents, current bartenders, random musicians and such have told me lately, "Lenny's is trying to get something going again," or, "Lenny's is doing somethign new."
As far as I can tell, nothing is new. The rum selections are slim and the draft beer options were singular with only PBR functioning, the bathrooms are the same, the room is the same, after the show one of the musicians grumbled, "New Lenny's still sounds like shit," and still can't tell when shows are supposed to start or if there is a DJ before or after. The Facebook post announcing tonight's show listed 8:15 so, just to be on the safe side, I arrived at 9 to find an almost empty room. I guess the "new" they're striving for is patronage.
This from a bar labeled "The CBGB's of the South" but some national magazine (Playboy?) not too long ago? It's indicitave of Atlanta's fickle night life scene. What's hot one year will be gone the next. I remember in the 80's and 90's the trendy clubs would open up and do amazing business for a year, struggle for a few months and close, redecorate and reopen under a different name (but often same ownership) and suddenly be hot again - same location, same music, same crowd.
I've heard that Lenny's is searching for a new location "within the year." I was also advised by the bartender that the draft beer situation is getting "fixed" - when the bar goes to all Miller products soon.
But a few old Dottie's regulars were around, and eventually more arrived, along with a handful of Star Bar regulars, all in attendance to catch The Forty Fives. But first up, GG King, an act I've seen before and who's members I've seen in several bands over the years.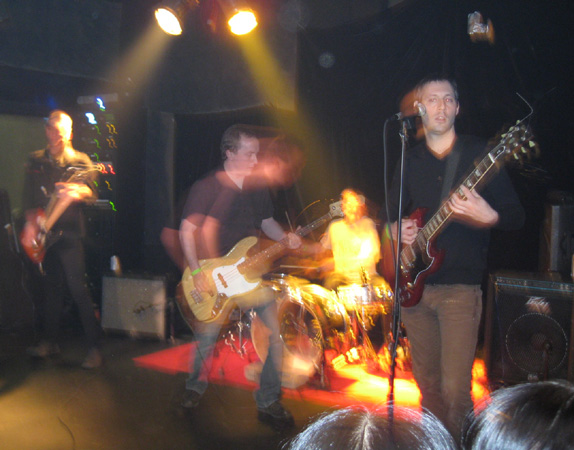 It's likely a familiar sound even if you haven't seen these guys, or even the other bands they've been in - basic punk, with gusto. Not bad, but they do need to mix it up a bit. For about 15 minutes, this is excellent stuff. At about 30 minutes you're craving something different.
Which is fine, because soon after The Forty Fives cranked up. I've seen these guys way too many times but it's always good, and always brings out old friends. Case in point: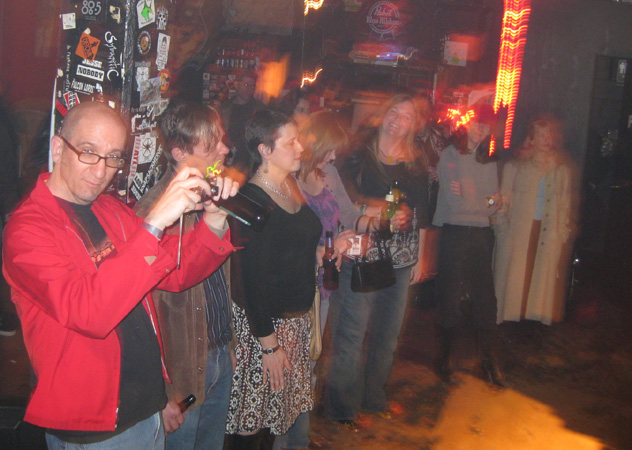 The lights on stage at Lenny's are so close and bright that they spotlight the drummer and random other places on stage, while everything else is pitch dark - which might be cool if the random other places happened to be where the musicians were standing, but that wasn't the case. This results in some very weird photos (well, weirder than usual) with the way I have my camera set.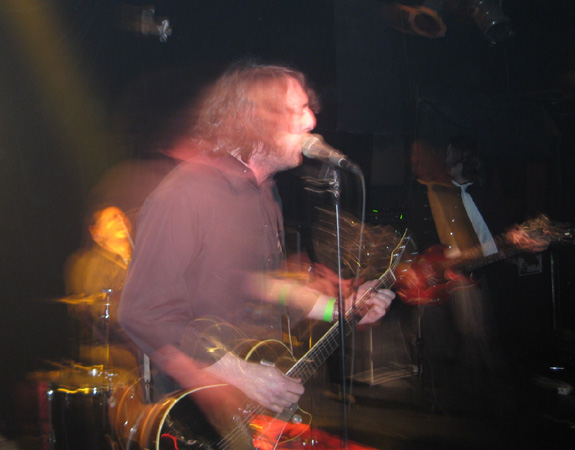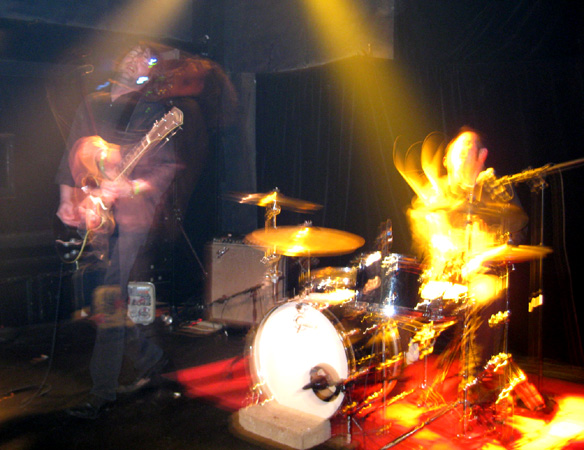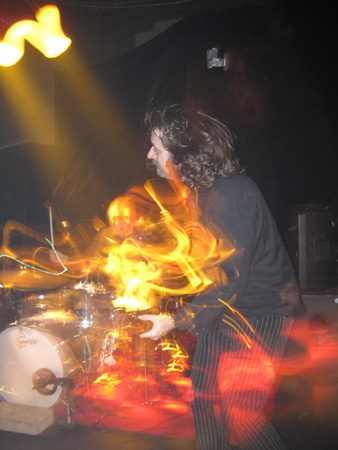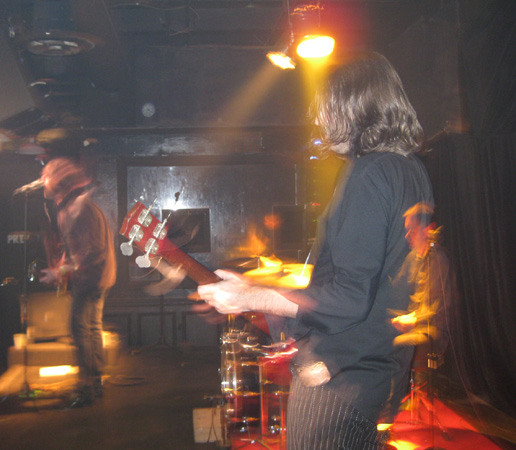 The Forty Fives threw in a handful of new tunes, most with the 60's garage rock sound they're so good at producing. They even tossed in a cover of The Who's The Kids Are Alright.
Several people had told me I had to see Pierced Arrows. I was woefully ignorant of Dead Moon, two of the members' previous band, so I didn't know what to expect. What I got was a noisy, messy 3-piece led by wife-husband duo Toody and Fred Cole.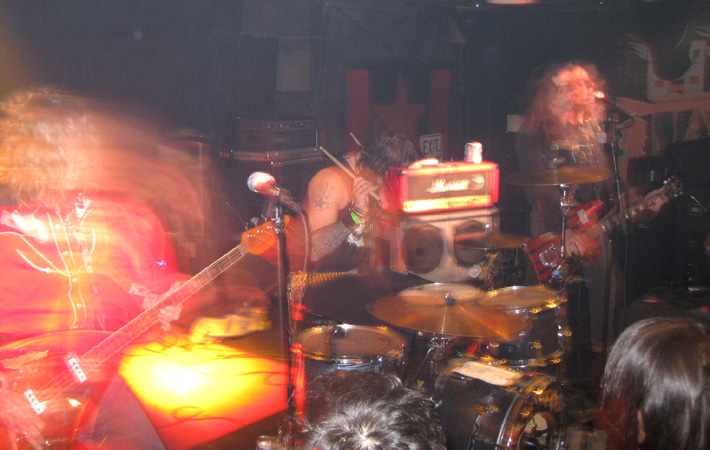 | | |
| --- | --- |
| | There's a lot of distortion and feedback but with more complexity than 60's garage. It's a weird merging of psychedelic and punk, reminding me more than a little of Patti Smith, even before Tooty stepped up to the mike. |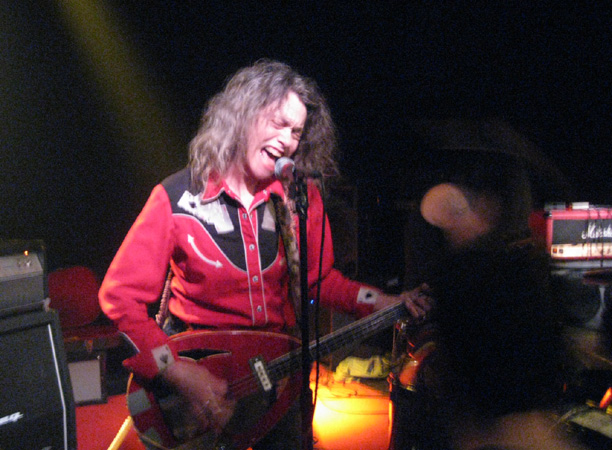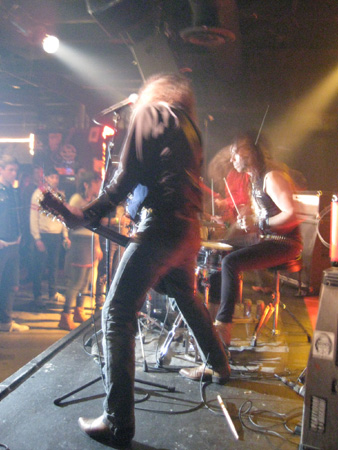 Fred took the lead on a lot of the tunes as well, including a spirited cover of Neil Young's Mr. Soul. But most of my fellow degenerates had no stomach for it and split. Too sloppy for their tastes, perhaps. A lot of Atlanta's younger punk fans were obviously there to see Pierced Arrows, some even chanting along to the songs. I made it through half an hour or more but it couldn't hold my interest either.
I went around the corner to Estoria to ruminate on how bars change, or fail to. Sometimes it seems like a scene just magically appears or shifts. Is it a change in ownership/management? A change in the way it is promoted? Or does a certain demographic just band together, via Facebook or word of mouth, and all decide to start going to (or stop going to) ________?
Behind the bar the TV had Corey Haim battling vampire Jack Bauer and the DJ spun up Hendrix's Manic Depression as if plucking it right out of my head where it has been on repeat since spring began. "I know what I want but I just don't know how to go about getting it" indeed.
---

Contact Degenerate Press

Take me to Degenerate Press' home page!
There's no place like home... no place like home...

All content on this site is owned by Degenerate Press and cannot be used without our permission. We have lawyers for friends with nothing better to do than cause trouble (no kidding), so play nice. Copyright © 2010, All Rights Reserved