Walk the Plank at El Myr
Falcon Lords at Criminal Records
Soulphonics with Ruby Velle, Lee Fields at The Earl
March 5, 2010

Text and photos by Frederick Noble
With a hint of spring in the air, I didn't mind when degenerate CD needed my trucking services, cruising around town all day in the sun, hopping from thrift store to furniture store to antique mall in search of the perfect dining room table (no luck so far.) After such a day, little could hold a candle to a damn tasty burrito at El Myr along with free music courtesy of Walk the Plank.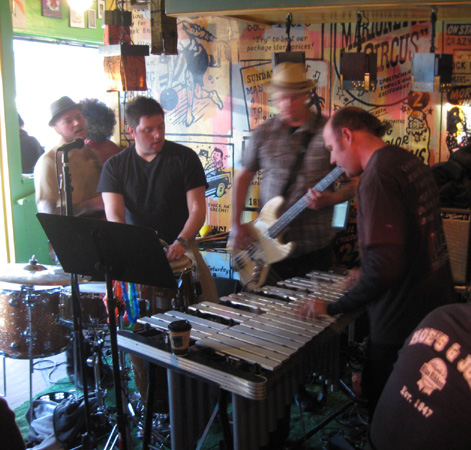 They make "background music," as James, the guitarist, described it. It's a lot of exotica spiked with a couple of shots of surf, a bit too energetic create the truly relaxing vibe one gets with traditional exotica but who needs more traditional anything?
Meanwhile, up the street The Falcon Lords did a quick in-store show at Criminal Records, cranking out their super hero themed rock and rap to a small but appreciative crowd.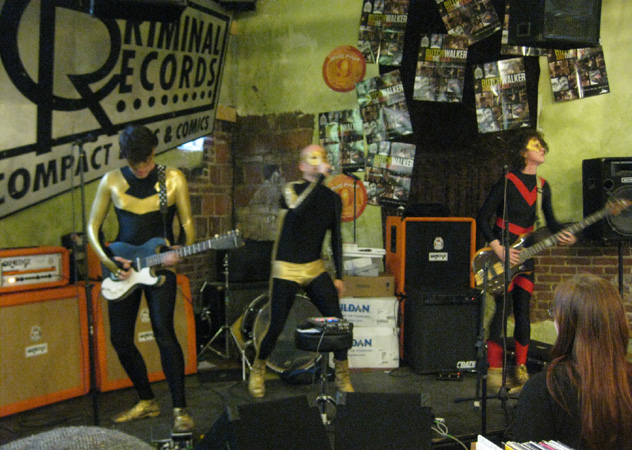 I spent most of the set digging through the $1 record bins they've added in the back of the store, finding a few gems.
After a short break back at HQ, I headed over to The Earl where The Soulphonics came out with Ruby Velle up front, smokin' hot in a shiny dress and new haircut.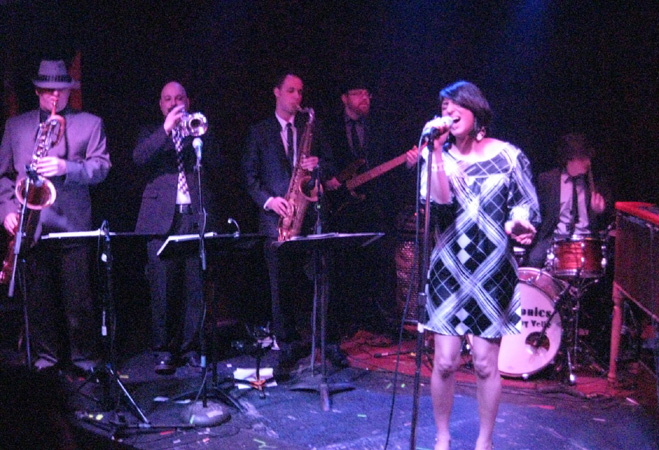 Unfortunately for you I didn't take many pictures because even only a few minutes into the set I was having too much fun dancing around. The Soulphonics are super tight, the perfect backing act for Ruby's amazing voice. Sure, it's a lot like stuff you've heard before, from Otis Redding to Amy Winehouse, but there's a reason this sound has lasted so long.
After a short set Ruby introduced Lee Fields who came on stage in sunglasses and a shiny shirt, sounding a little nervous at first.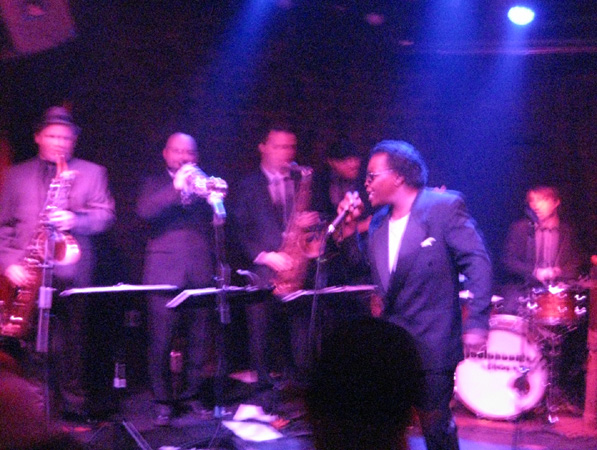 But in short order he and the band got everyone moving so off came the shades and out came the 60's-70's funk and soul.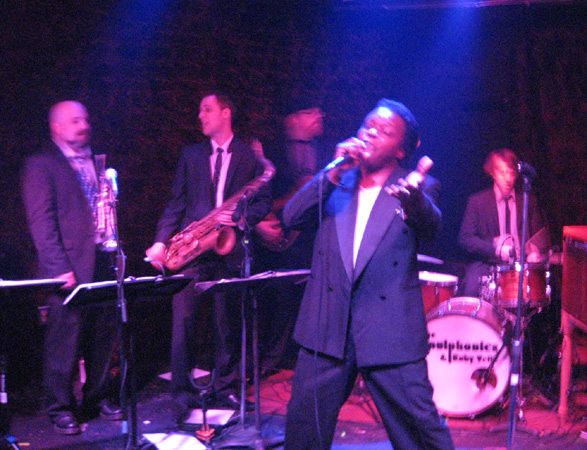 The Loafing said he sounds more than a little like James Brown and I'd have to agree, along with a dash of Wilson Pickett. And there's nothing wrong with that.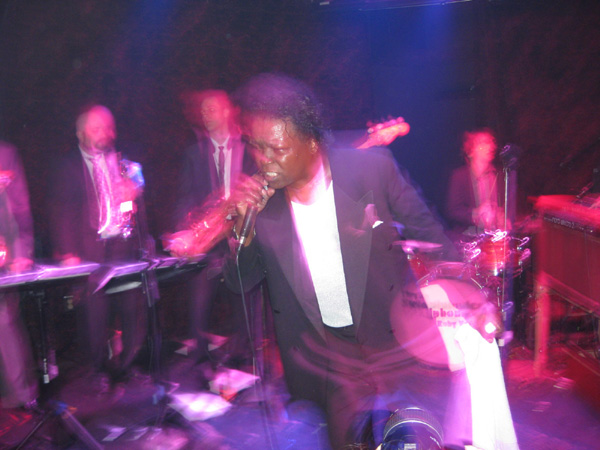 After a long, fantastic set Ruby reappeared for a couple of duets. These numbers didn't seem as well-rehearsed but I didn't hear any complaints. They would've been drowned out by the cheering crowd anyhow.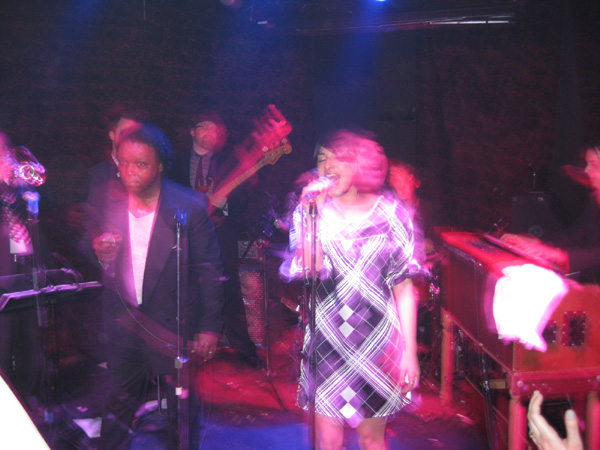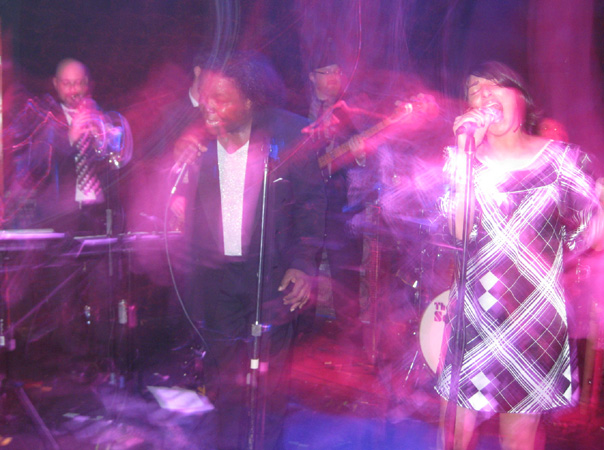 My only complaint is that modern cameras too easily capture video, which results in a lot of people standing still holding their cameras in the air. A woman in front of the stage had hers up over her head through a couple of entire songs, blocking the view of every person behind her.
| | |
| --- | --- |
| | It's fine to get some snapshots or shoot a video but keep your camera out of the damn way. I don't ask or expect people to move out of my way or give up prime real estate right in front of the stage just so I can shoot pictures. It's rude. Enjoy the show in the moment or get the hell out of my way. |
Spring is upon us. Events are popping up all over and suddenly there is too much to do. Shake off the frost, get out there and support your local musicians, bars and restaurants people!
---

Contact Degenerate Press

Take me to Degenerate Press' home page!
There's no place like home... no place like home...

All content on this site is owned by Degenerate Press and cannot be used without our permission. We have lawyers for friends with nothing better to do than cause trouble (no kidding), so play nice. Copyright © 2010, All Rights Reserved