Chickens and Pigs, Pine Hill Haints, Those Darlins
The Earl
Text and photos by Frederick Noble
| | |
| --- | --- |
| I've been assembling new outfits lately, or dredging rarely worn ones out of the closet, and hitting the town in style. Friday it was a sky blue Western leisure suit with a skinny tie, just for the heck of it. I have a closet full of ridiculous threads so I might as well wear 'em. | |
Then it's off to The Earl for dinner and drinks before the show gets going. First on stage, Chickens and Pigs from right here in Atlanta. They do sort of upbeat, lighthearted southern country/rock.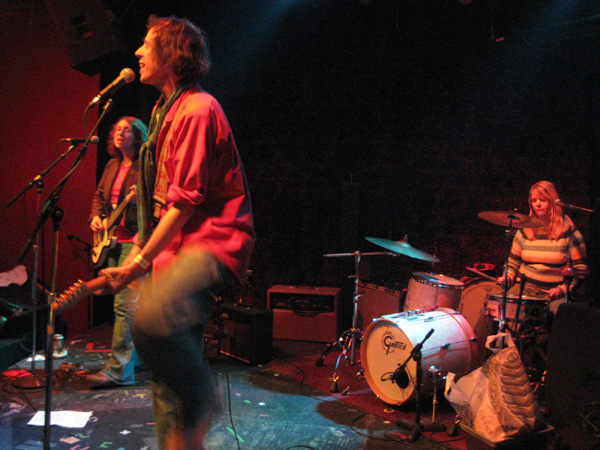 They sound almost exactly like Moonshine Killers, but where the Moonshiners were all about darkness and death, Chickens and Pigs' lyrics are sunny and charming. This is why I and maybe 8 other people loved Moonshine Killers but there was a room full of cheering people for Chickens and Pigs. (This may also be why Larry, former lead singer of Moonshine Killers, is no longer with us. But that's a different story.)

That is not to say there is no duality with Chickens and Pigs. One tune is from the perspective of a hungry, lost dog who, in the end, turns out to be a metaphor for the lead singer. There are sad moments but they are somehow sweet and pretty. Perfect music for driving around with a smile on your face, whatever the cause.

Check them out at www.myspace.com/chickensandpigs
| | |
| --- | --- |
| Next up, Pine Hill Haints from somewhere over in north Alabama. It's a mix of bluegrass, folk, stripped down country meets gypsy music. | |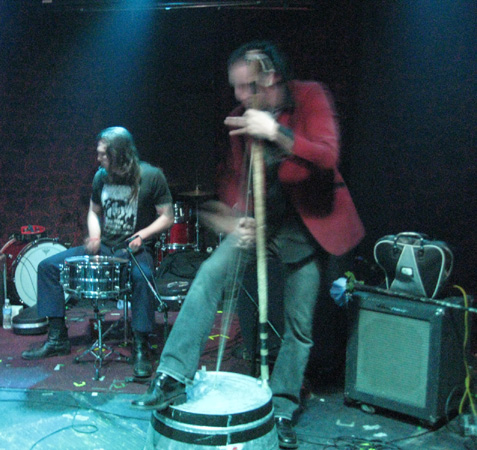 | | |
| --- | --- |
| | Pretty good, but they dress like players of Vampire the Live Action Role Playing Game and their stage show is equally melodramatic. |
| | |
| --- | --- |
| The presentation sort of put me off, along with the rabid fans next to us that shouted along to every song, pumping their fists in the air. What is it about Alabama bands that generates such passionate fans? (If I hear "DBT! DBT! DBT!" chanted by some drunk redneck frat guy ever again it'll be too soon. And I love DBT.) | |
But they're talented and skilled musicians. A few of them switched instruments more than once and we were treated to guitar, wash bin bass, mandolin and drum, banjo, washboard, fiddle, and saw.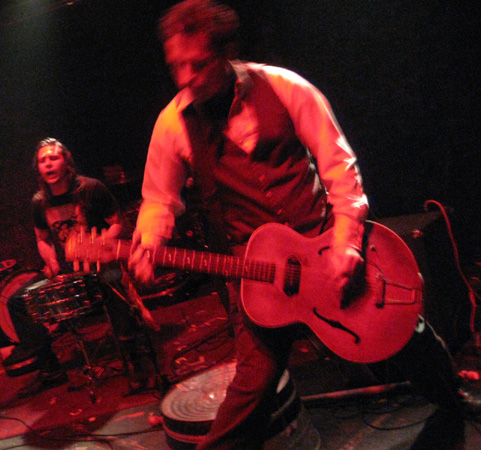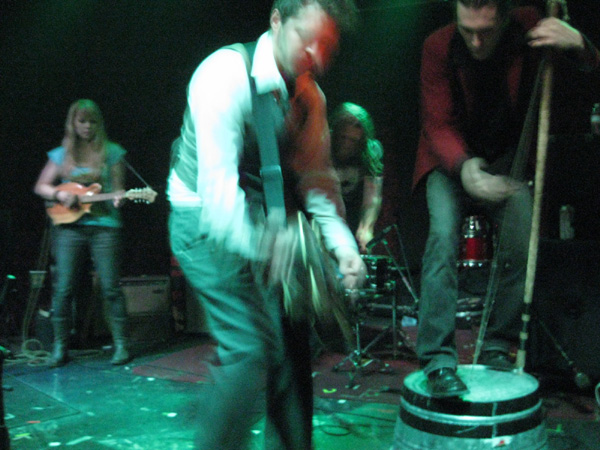 If this sounds like your kind of music look for more at www.myspace.com/pinehillhaints
| | |
| --- | --- |
| Headliners Those Darlins from Tennessee got a ton of local press in advance of the show, not to mention one of them posts on Facebook about every day, so I wasn't surprised to find a good sized crowd in the room by the time they came on. It also doesn't hurt that they're young, cute, and clearly having a great time. | |
The lyrics lean toward the country end but the sounds is straight ahead messy garage rock. In the days after the show people asked me if the band could actually play and that's a resounding yes! Jangly, fuzzy guitars, simple drums, songs with choruses that beg to be chanted along with - just because it's simple doesn't mean it's easy to make it good.

And they look damn good doing it.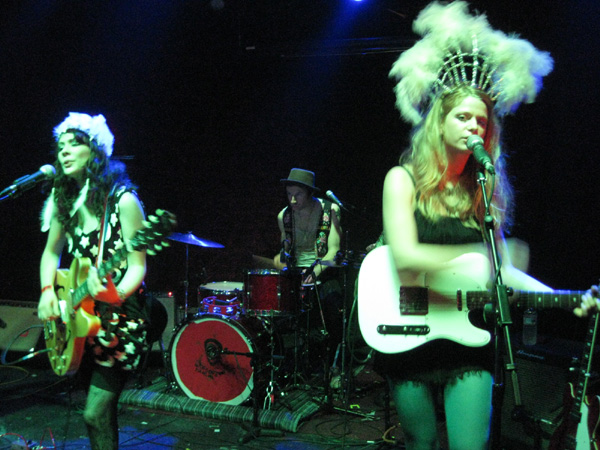 Too good, perhaps. Acts like this bring out the straight males, rock critics, photographers (hello pot, I'm kettle) in drooling droves. (My personal favorite Darlin is Nikki, the curvy, snaggletoothed one - call me!)

I let some short female friends stand in front of me, only to have some burly photographer push his way in front of them.
So I used his own tools against him, shooting photos of him from every angle until the flash annoyed him so much he finally got out of our way.

Which allowed us to get back to dancing around like lunatics, just like the girls on stage.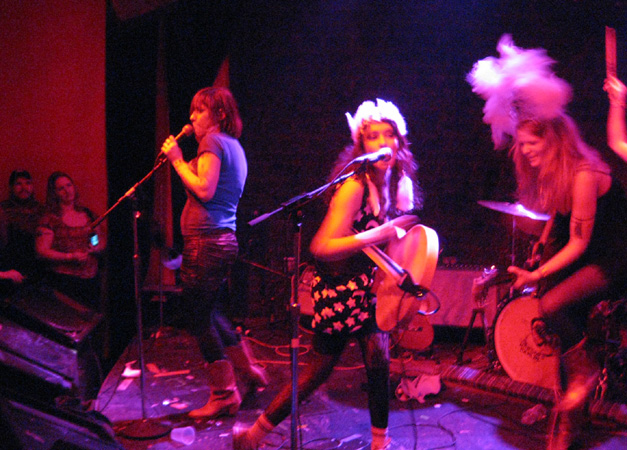 When they ended the show they'd gotten me so cranked up I wasn't ready to call it a night. Fortunately East Atlanta Village provides many and varied forms of entertainment, at least as late as the city will allow. Some random folks wanted to drag me to Mary's and I was game, dragging my friends in turn. What do you get when you drag garage rock mod guys and gals into a gay bar at 2AM?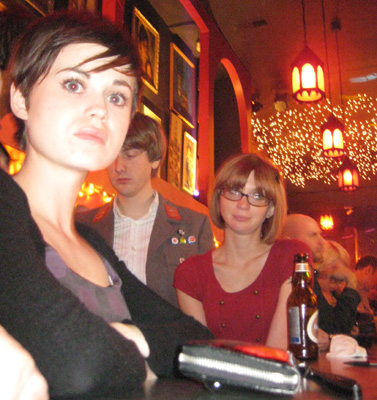 For more Those Darlins, see www.thosedarlins.com
---

Contact Degenerate Press

Take me to Degenerate Press' home page!
There's no place like home... no place like home...

All content on this site is owned by Degenerate Press and cannot be used without our permission. We have lawyers for friends with nothing better to do than cause trouble (no kidding), so play nice. Copyright © 2010, All Rights Reserved