Tongo Hiti at Trader Vic's
Judi Chicago at Criminal Records
Text and photos by Frederick Noble
There were half a dozen shows I wanted to attend on this particular weekend but I managed to score a hot date and rather than put up with a loud, smoky show I figured Tongo Hiti and Trader Vic's was more of a social environment, so it won out. Not to mention the fact that there was a furry convention at the Hilton, so the atmosphere would be particularly festive - which helps to explain some of the band members' attire.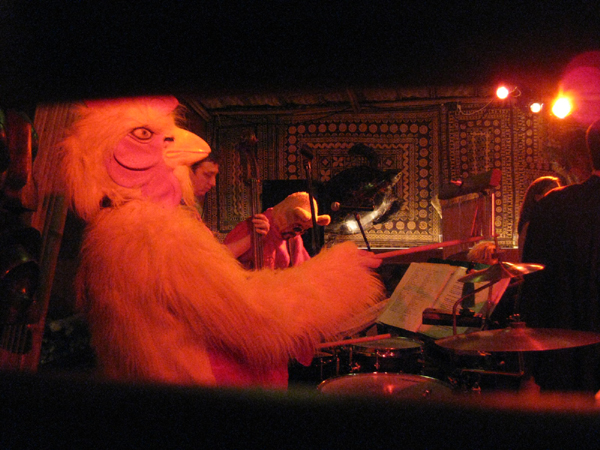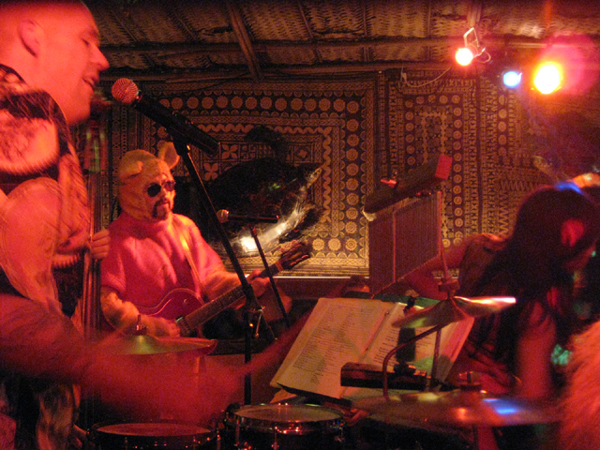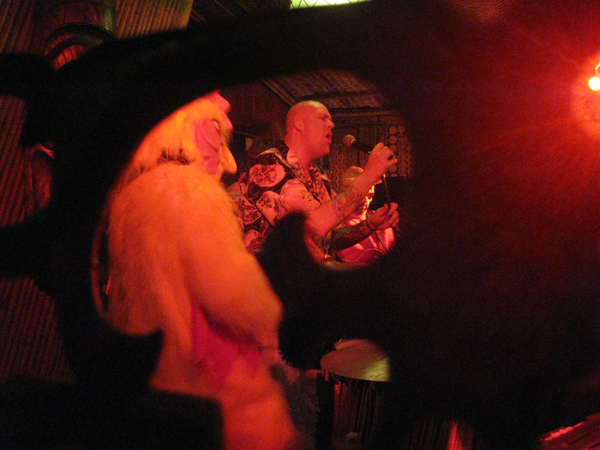 | | |
| --- | --- |
| | The joint was packed, so we had to stand beside/behind the stage, peeking through/around the carved wood that serves as a divider. But that didn't really divide us from the fun. Drinks flowed, music played, and, unfortunately for my knee, we danced. |
| | |
| --- | --- |
| | Yes, that is Mike making out with a guy while a fuzzy rabbit and rubber chicken watch. It was that kind of night. |
By the end of Tongo Hiti's set the room was half full of lions, tigers and bears, as well as bulls, wolves, and cub scouts. Which made closing time hilarious as the various characters called for their tabs.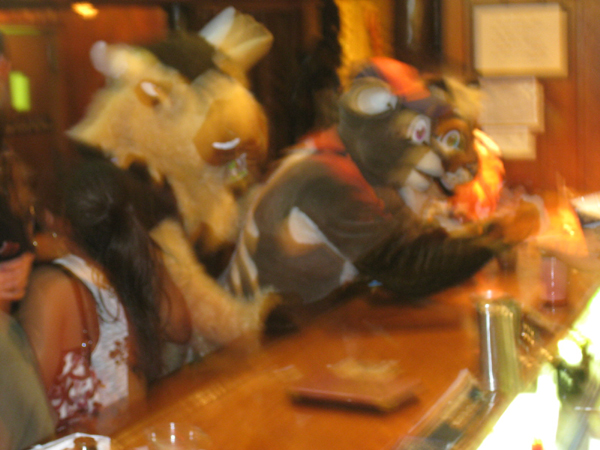 Since I'll be missing the Judi Chicago album release show due to the knee surgery, I headed to Criminal Records on for their in-store appearance. As usual, things started off relatively sedate, the guys on stage playing various instruments and computers.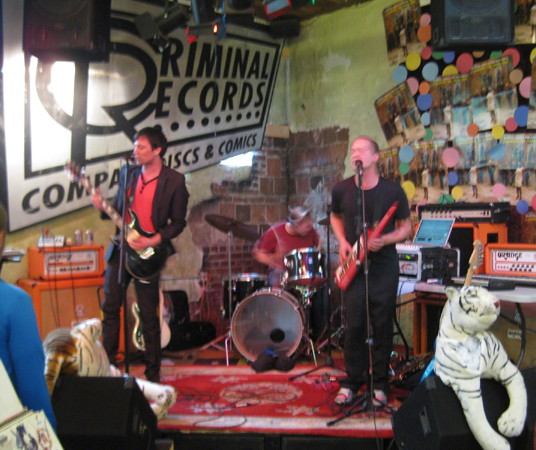 I figured, it being an all-ages venue on a Sunday afternoon, things might not blow up in the traditional JC fashion. Thankfully, I was wrong.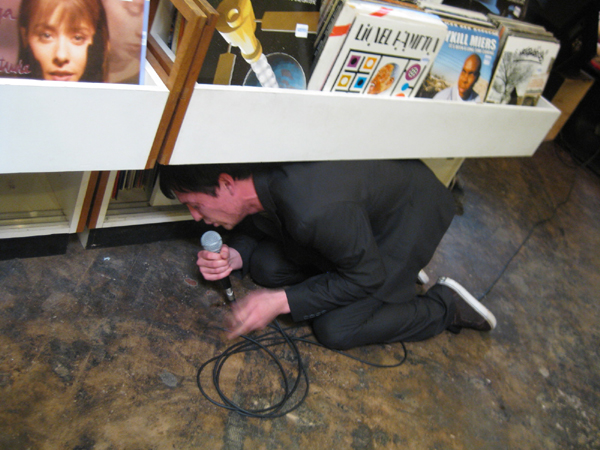 It wasn't more than two or three songs before Ben is out into the aisles, hiding under a shelf or dancing through the crowd, with Travis not far behind.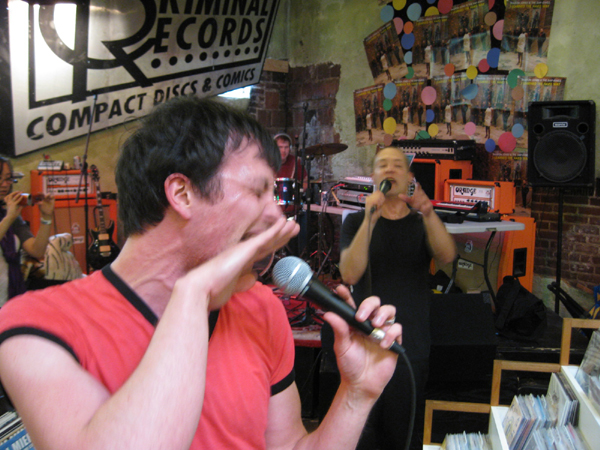 (You might spot a familiar face or two in the crowd with certain ladies barely containing their lustful gazes.)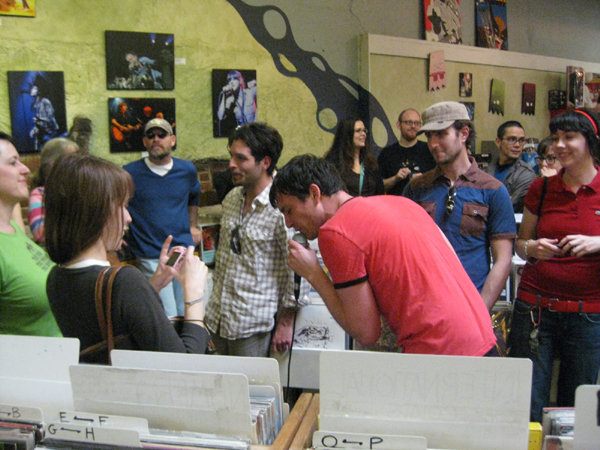 The label just about says it all.

Ben eventually worked his way back to the stage to play bass, guitar and/or tambourine, but soon gave it up to dance around and molest the stuffed tigers at the edge of the stage (maybe they should've played at The Hilton), eventually winding up face-down on the concrete.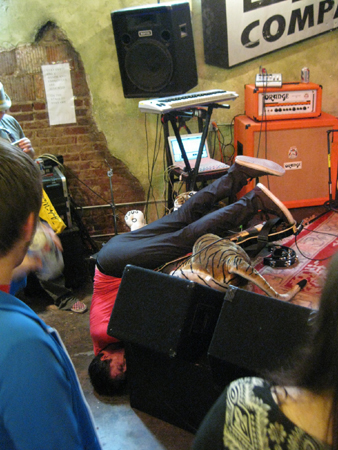 Heck of a show. Unfortunately, standing on concrete was too much for my knee and I couldn't stick around for the next act.
Speaking of, I checked into Northside Hospital for the pre-surgery tests and clearance and such. As I'm sitting in the account specialist's cube, I noticed this pinned to the wall. I patiently waited for her to leave the cube to pick up something the printer so I could scramble for my bag and dig out my camera to snap a shot. Scroll down for a close-up.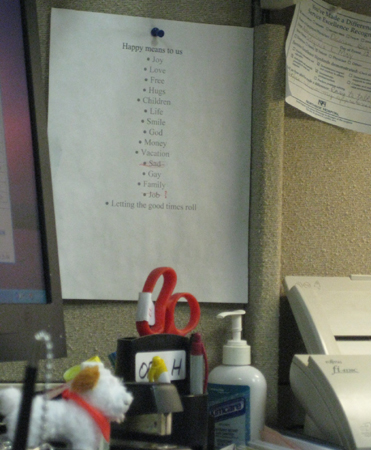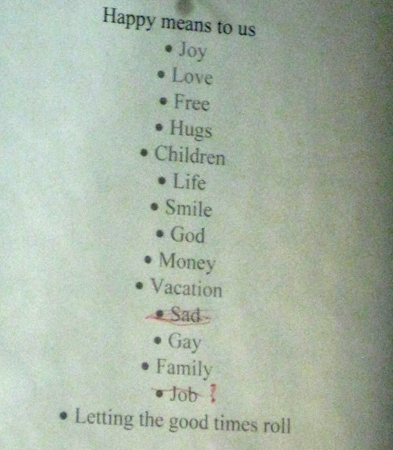 ---

Contact Degenerate Press

Take me to Degenerate Press' home page!
There's no place like home... no place like home...

All content on this site is owned by Degenerate Press and cannot be used without our permission. We have lawyers for friends with nothing better to do than cause trouble (no kidding), so play nice. Copyright © 2010, All Rights Reserved