The Signallers, Goddamn Rattlesnake, The Fox Hunt, West End Motel, The Weight
529
Text and photos by Frederick Noble
When this show was first listed it was just The Weight and West End Motel. Somewhere along the line, 3 more acts got added to the bill so things got off to a relatively early start in a room where it seemed every male had a beard. First up, The (100% bearded) Signallers.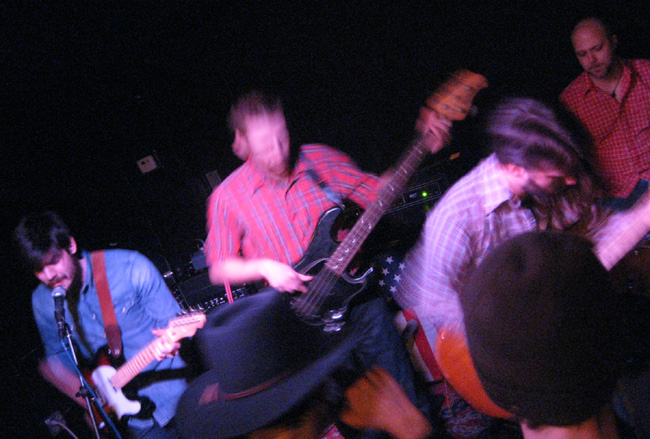 | | |
| --- | --- |
| The Signallers do sort of Americana country, occasoinally turning up the heat to the Honky Tonk setting. About half of it is pretty good - not entirely coincidentally, the half the signer on the right performed. He is far more emotive than his partner on the left (a complaint I often have about modern Americana/rootsy music is that a lot of the performers sing as if they just woke up.) | |
Next up, Goddamn Rattlesnake, which started out as a solo acoustic singer/songwriter kinda thing, but then added a second guitarist, then a fiddle, then standup bass and pretty soon we've got a full on bluegrass band going.

However, I didn't feel like they were doing anything all that new or different. Fine for what it was, just not interesting. I hung out in the bar area, socializing and watching it on the big TV instead.
And the same went for the next act, The Fox Hunt - more bluegrass, the likes of which I've heard many, many times. It is a sound that has been tweaked and perfected and added upon many times, but because of its complexity there is less wiggle room with it than, say, the blues. You have to make more drastic changes to deconstruct or reconstruct bluegrass and neither Goddamn Rattlesnake nor The Fox Hunt did enough to keep me interested. I have a pile of Flatt & Scruggs records at home. But it was nice to see a young crowd interested in the sound.
I didn't recognize The Weight when they first got on stage, between the new material and the haircuts and the guest appears of the lead singer from Goddamn Rattlesnake, but a few songs into it I figured it out.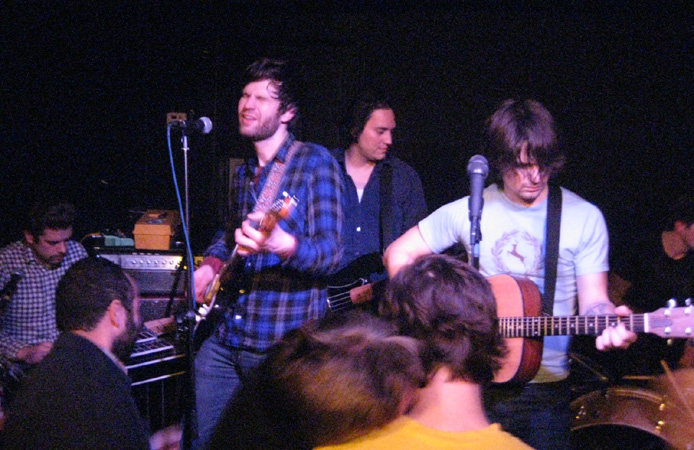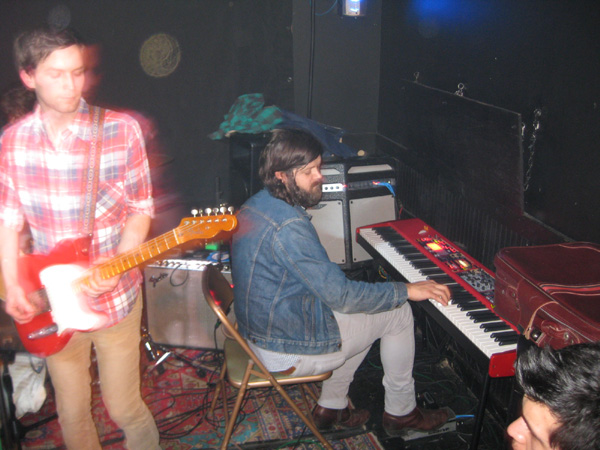 They tossed in a Jonathan Richman cover in recognition of the show a couple of miles up the road at The Star Bar, but for the most part they stuck to their weepy-yet-sweet Southern Rock sounds.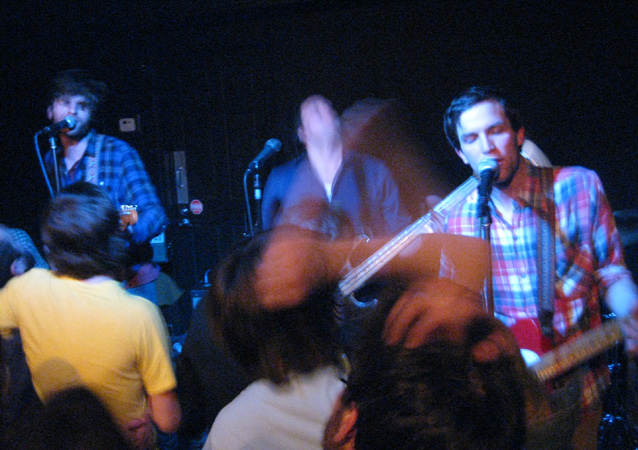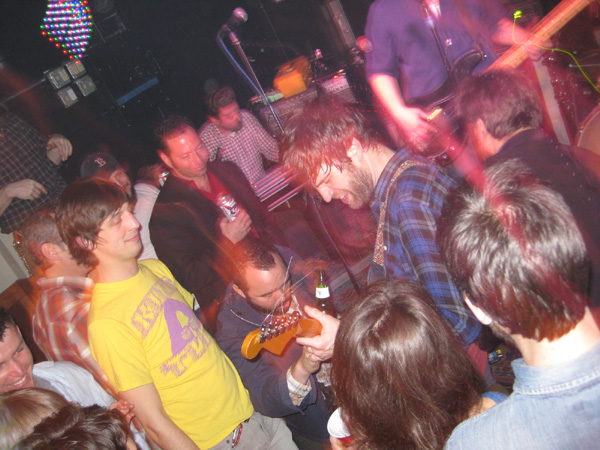 Tom Cheshire and I had been chatting off and on over the course of the evening so I was not surprised to see him stumbling and weaving as he climbed onto the stage with West End Motel. He'd bought me 2 drinks in between the countless drinks I'd seen him buy himself, or borrowed from othes, or others had bought him. He is Atlanta's Pope of Alcoholism, annoiting those in the front row with ceremonial splashes of gin as he leads - or tries to lead - the band through boozy, rootsy, vaguely country-influenced tunes, far less on the punk end than his other band, All Night Drug Prowling Wolves, yet just as inspiring to the rowdy crowd. Things degenerated into a drunken, chanting mob so quickly I didn't get a decent shot of the band before I was caught up in the mass of swaying bodies..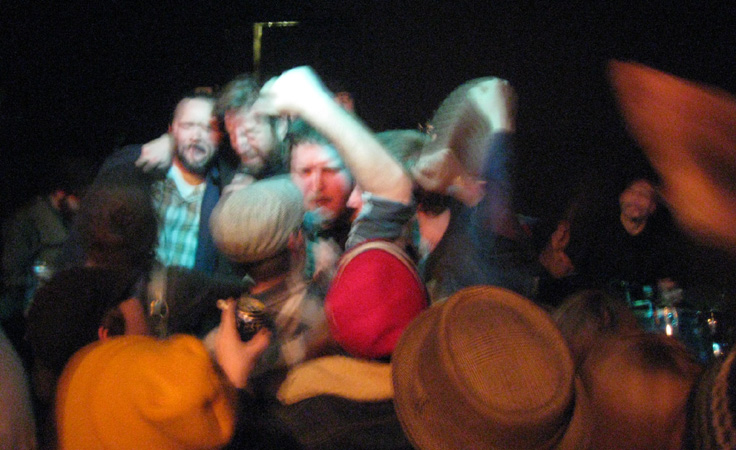 Tom himself stumbled off stage at random to let the band, or occasionally a random fan, take over singing duties, including a couple of spirited, latter-day Stones covers.
I was at Criminal Records the next evening when Adam from The Forty Fives asked, "Are you on your way out to a show?"
"No, I'm still hungover from last night."
"Who'd you see?"
"The Weight and West End Motel. It was kind of a late, drunken night."
"Who would've guessed with those bands, eh?" he said with a laugh.
"Exactly."
---

Contact Degenerate Press

Take me to Degenerate Press' home page!
There's no place like home... no place like home...

All content on this site is owned by Degenerate Press and cannot be used without our permission. We have lawyers for friends with nothing better to do than cause trouble (no kidding), so play nice. Copyright © 2010, All Rights Reserved