Degenerate Press
Welcome to Degenerate Press' feature article. If this isn't enough you can always subscribe to Electric Degeneration, our semi-weekly and semi-weakly ezine, or peruse the vaults.
---
Corndogorama
The Earl
June 2005
Friday I tried to get their for opening act Telegram, only to be defeated by a grumpy Thunderbird. Ah, the joys of classic car ownership...
| | |
| --- | --- |
| By the time I got there around 7:30 I'd missed several acts and whoever was on stage was wrapping up their final number. I vaguely remember enjoying the few seconds of it I caught, but they were over about the time I took this picture. | |
| | |
| --- | --- |
| I hadn't noticed the decorations the night before, or maybe they weren't there. But the stage was flanked by two giant corndog bombs. | |
| | |
| --- | --- |
| There were corndogs hanging from the ceiling around the bar, dancing corndogs on the walls... | |
| | |
| --- | --- |
| and a chunk of floor was covered in cardboard for a "dance floor," complete with a squished half-eaten corndog that disappeared later, leaving a grease stain in it's place. Mmmmm, deep fried goodness! | |
Speaking of, out front the corndog lady was whipping up the best corndogs in the world in her brand new rig. You know you've been following Amanda Corndog's career too long when you notice she has new equipment.
In the front room of the Earl a band was doing some strange Tom Waits sort of hard to describe stuff with a variety of instruments - banjo, accordion, standup bass, etc. No, I didn't catch the name. You think I'm a journalist or something?

I enjoyed the act though.
| | |
| --- | --- |
| A corndog and a beer later it's New Roman Times in back doing stuff that has those chords that somehow sound depressing and desperate. Very "alternative." (Shit, when will 99X come up with a better label/marketing term for this kind of music?!?) I was reminded of The Cure, though New Roman Times has more guitar and less whining. Unfortunately I was busy chatting or something and only took this one blurry photo. Sorry, Romans! | |
| | |
| --- | --- |
| | Hot Young Priest followed, sounding a bit more Breeders-ish than I remember, and not n a bad way. |
| | |
| --- | --- |
| | Powerful vocals, power chords, rolling bass - hell yeah. |
There were a few acts on the side stage in between acts on the main stage, making the time between bands very short. Unfortunately I wasn't in the mood to plow through the crowd to get pictures of the side stage acts and I missed most of them to get corndogs and beer anyhow, so you'll just have to use your imagination and picture almost-non-stop music between the two stages (not to mention the DJ's and bands out front and all the carnival activities in the parking lot.)
| | |
| --- | --- |
| Luigi always makes me miss Shonali and Ultrababyfat. Michelle's vocals are a bit strained, which worked well in contrast to Shonali's velvet tones. | |
| | |
| --- | --- |
| Luigi does power pop kinda stuff with interesting lyrics. Good stuff, but I still miss Ultrababyfat. | |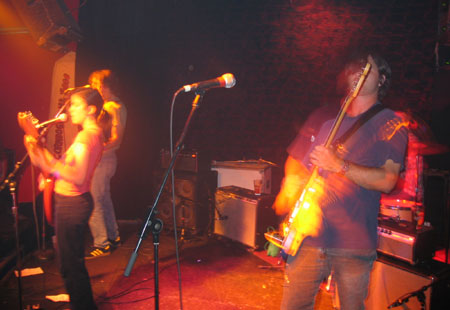 Apparently I left after Luigi because I don't have any more notes or photos for Friday. I'm thankful for digital camera technology to help me remember as much of this as it is!
---