Degenerate Press
Welcome to Degenerate Press' feature article. If this isn't enough you can always subscribe to Electric Degeneration, our semi-weekly and semi-weakly ezine, or surf the Electric Degeneration archive.
---
Corndogorama
Lenny's
July 2007
| | |
| --- | --- |
| So what is an ezine editor to do when he has sworn off writing music reviews but the head music reviewer is out of town during the biggest music festival of the year? Duck and cover, or cover for her? I was a couple of hours into Corndogorama when I was forced to whip out my notepad and join the hordes of other dorks taking notes. There was just too much going on not to report on it. Besides, I said I wanted to go out on a nigh note, and when it comes to local music there is no better event than Corndogorama. | |
A lot of folks grumbled about the move to Lenny's. But a lot of folks are ignorant of the heritage of this festival. Corndogorama started at Dottie's, which is what Lenny's used to be, before Lenny's moved, and before Corndogorama moved to The Earl. But regardless, The Earl couldn't handle this size event. It was overcrowded at The Earl last year, and when it rained there was nowhere for anyone to go once the inside filled beyond capacity.
A lot of folks grumbled about the mass of sponsors and the fact that things seemed just too organized. But few folks have ever tried to organize any event approaching this size. How the hell are you supposed to get dozens of bands to play, get the word out, get vendors to supply food, pay for the outdoor stage, security, insurance, etc., all without doing it in some public park where the city will enforce a host of laws and rules that squelch all the fun out of it? I tried throwing just a party for a few years with live music and the effort, expense and lunacy of the whole affair finally broke me. When you get your own festival, let me know and I'll be there.
So - Corndogorama at Lenny's kicked off on Thursday, but workaday stiff that I am I held off until Friday. Friday kicked off at something like 2PM but I had to work, and I didn't want to test my endurance with a 12 hour marathon the first day. I got there at a respectable 8PM when Groovestain was grooving on the huge outdoor stage.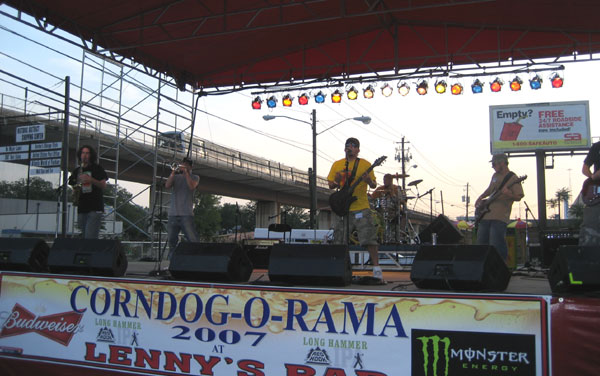 I didn't find them as entertaining as the MARTA line running beside us and the CSX locomotives slowing down to take in the show. Groovestain reminded me a bit of Mighty Mighty Bosstones, horns backed by driving rock but without the heavy ska influence. Not bad, but you'd have to be spectacular to justify the massive stage and large parking lot arena. The outdoor stage always felt empty, bright and sterile (music-experience-speaking.) But it was nice to have a few chairs under a tent where you could retreat when the music, crowd or smoke inside was not to your liking.
| | |
| --- | --- |
| Speaking of, inside it was Bad Magiq Number, good power pop kinda stuff. The lead singer, Scott, was in the next couple of bands so he may be this year's record holder for time on stage. | |
| | |
| --- | --- |
| | On the wall left of the stage they were projecting cartoons from superdeluxe.com, a site with some hilarious stuff. It was a bit distracting if the music wasn't enough to hold your attention, especially since you couldn't hear the audio from the cartoons, making it like a music video for whatever was on stage. The bar's other TV's were mercifully black. |
Ria, the owner of Ria's Bluebird, also owns a barbecue joint somewhere down in East Point or some place towards the airport. I was prepared to eat nothing but corndogs all weekend, but the 'cue smelled fantastic so I had to try it. They make one of the best pork sandwiches I've ever had - crispy, smoky crusty bits mixed with juicy, tender bits, sauce done separately and not too much slathered on top - perfect.
But don't think for a minute I avoided corndogs. Degenerate CD ate something like 4 on Friday alone. I think I stuck to 2 each day - jalapeño, of course.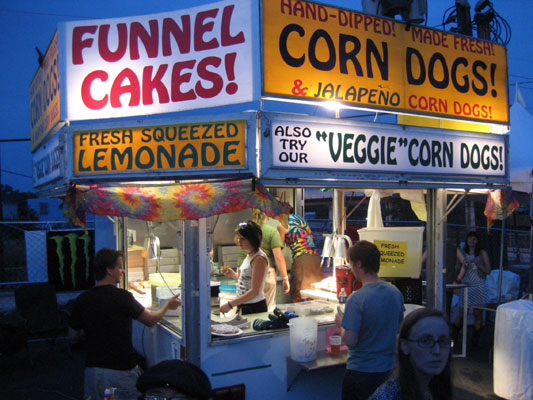 | | |
| --- | --- |
| Inside, Mangapop continued the power pop flavor. I poked around a bit to find the previous band these girls were in with no luck, but I'm absolutely sure I saw them way back in college under another name. Anyone? | |
| | |
| --- | --- |
| | Luigi do odd, pop rock. I hadn't adjusted my camera properly for the lighting inside, so all these shots suck. I like this one, though, because it looks like Michelle is looking into the camera below. |
| | |
| --- | --- |
| | Michelle has a thin, scratchy, nasal voice. Some folks like that sort of sound but I'm not one of them. I like Michelle, but her voice grates on me. I like the rest of the band, and I loved how her voice contrasted against Shonali in Ultrababyfat, but Luigi doesn't do much for me. |
| | |
| --- | --- |
| To the right of the main indoor stage was a small section of the room where other acts would play while the equipment was changed out on the main stage. There wasn't a moment where there wasn't something going on, thanks to organizer Dave Railey, appearing here in a Gilligan hat at the lead of Ancient Chinese Secret. Sleepy rock with a sort of drone quality to it. | |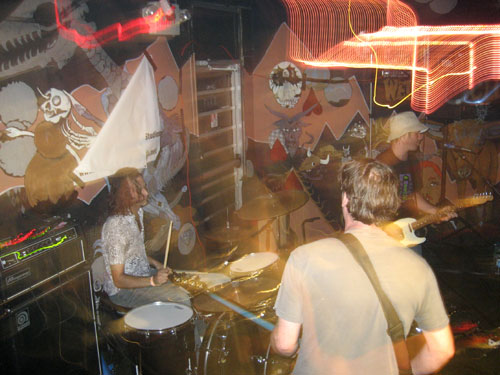 Next on the main stage, The Coathangers, darlings of straight male critics, myself included, as much for their looks and charming smiles as their screechy, punky garage rock.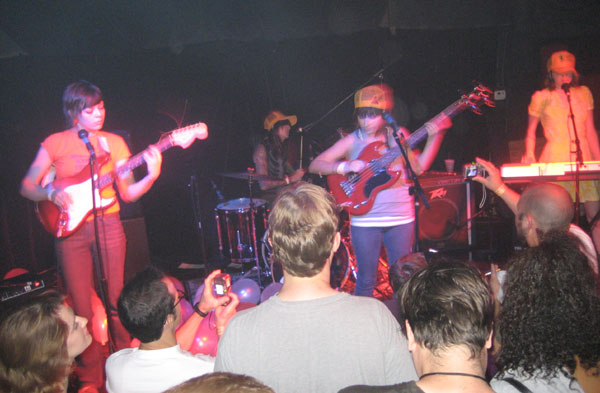 I could hardly take a picture without some other dork's camera in the way. Sheesh. Music is mostly a man's world, particularly in the rock vein, so any all-girl group will get more than their fair share of attention, since music dorks are usually oversexed and underlaid. Starting next episode degenerate EM takes over so this particular phenomenon won't be as prevalent.
| | |
| --- | --- |
| | However, she does have what I consider to be an unjustified fondness for Gentlemen Jessie and His Men. I think of them as The Jam, lite. It's a fine sound, but it needs some variation. They played to a packed house, though I suspect it was as much due to the time as the talent - the festival seemed to build slowly over the course of the day and by midnight the joint was packed. |
There was some DJ that was supposed to go on afterward, but I have records of my own and needed sleep more than I needed to listen to someone else's record collection, so I beat a retreat early enough to rest up for another day of corndoggin'.
---