Degenerate Press
Welcome to Degenerate Press' feature article. If this isn't enough you can always subscribe to Electric Degeneration, our semi-weekly and semi-weakly ezine, or surf the Electric Degeneration archive.
---
Corndogorama
Lenny's
July 2007
| | |
| --- | --- |
| I had extensive home improvement tasks to perform, so I was late in arriving on Saturday. I just missed the corndog eating challenge, but arrived in time for the Swinks Brothers Terrible Motor Sports show featuring stunts like jousting on mini-bikes and using a ramp to jump over a row of very... brave people. | |
| | |
| --- | --- |
| There really wasn't enough room to do much. The spectators were only a few feet away and one little slip could've easily put one of these machines into the crowd. So the folks on the ground at the end of the ramp might actually have been just as safe as the rest of us standing behind the caution tape... | |
| | |
| --- | --- |
| | Across from the outdoor stage, a group of guys I've seen before were doing acoustic bluegrass, good but not great. It was fun, however, to contrast them with the next act on the outside, stage, Zoroaster. |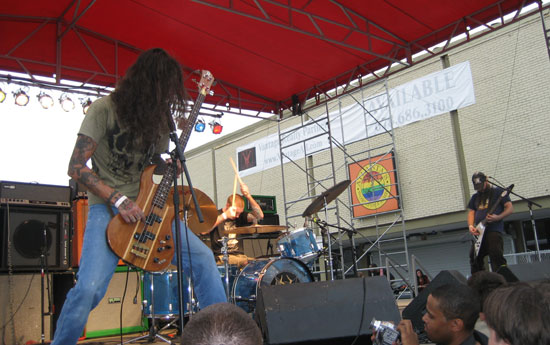 If you can find a heavier, darker sound I don't want to hear it. I find Zoroaster's monotone drone metal tiresome at best. I can't help but joke, "C'mon, everybody, sing along!" I couldn't understand a single word. It all comes out as a growly dirge.

They have some cool artwork on their posters and stickers, but they chased me away a few songs into their set.
| | |
| --- | --- |
| | Inside, N.E.C. cranked out some jangly, punky, noisy garage vaguely reminiscent of The Subsonics - high energy and pretty damn good. |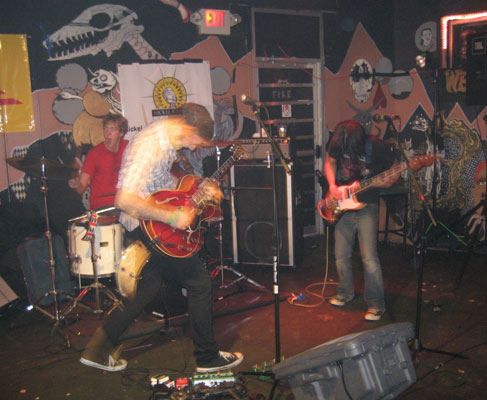 | | |
| --- | --- |
| Next on the main stage, Preakness - skilled, basic rock with some nice harmonies but it couldn't hold my attention. | |
Outside, it's Untied States, choppy, noisy kinda Pixes or Pavement stuff, odd but good.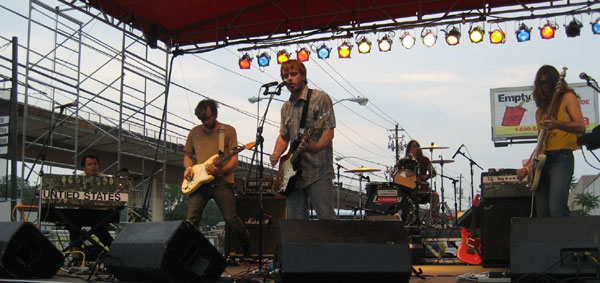 | | |
| --- | --- |
| | One of the many things I like about Corndogorama is that the surprises. Even if you see a show or two a week, with all the bands playing there's bound to be something you haven't seen before, and something you'll like. The Hiss had a moment approaching fame a while back but somehow I kept missing them. In the crowded confines of Lenny's, they put on a heck of a show. |
| | |
| --- | --- |
| | More 60's-influeced garage rock with plenty of gusto, something akin to The Kinks meet The Faces. Lead singer Adrian Barrera hopped around in a frenzy and was tough to catch on camera, even when he jumped into the crowd during a spirited cover of Summertime Blues. |
Outside, Moresight had lots of harmonies behind pop rock, vaguely early Beatles-esque.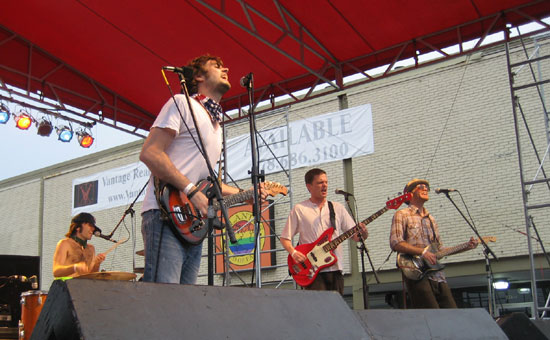 But they didn't do anything for me. It was kind of limp, mainstream stuff I'm sure will be a hit with girls of a certain age.
| | |
| --- | --- |
| Instead, I was enjoying Caddle, a southern rock act that had chased all the hipsters and tourists out of the building. Sort of a Rock City Dropouts meets Truckadelic, i.e. boogie-based honky tonk cock (fightin') rock. I never got a decent picture because I was too busy having fun. | |
| | |
| --- | --- |
| The parking lot out front had been transformed into a beach of sorts where a lifeguard stand hosted DJ's seemingly at random. Some of the music was fantastic, some of it sucked shit. Alas, I didn't make notes as to who was who but if you're familiar with Degenerate Press efforts you already know anything that sounds like a microphone strapped to an air compressor falls in the shit category. | |
| | |
| --- | --- |
| | This guy chose actual music made by musicians with instruments and vocals. The flavor was widely varied, but had the effect on the crowd you'd want... |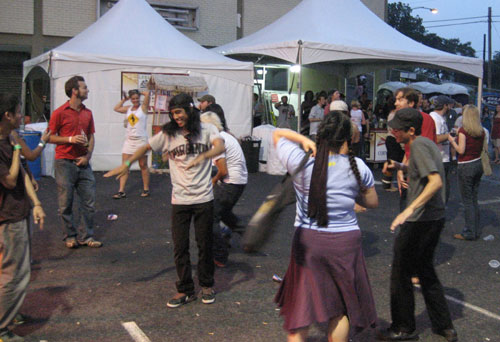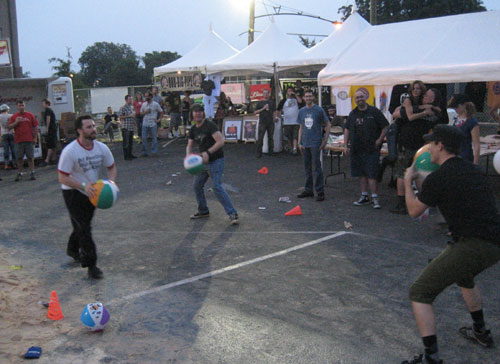 A pickup game of dodgeball with beach balls.
I had been there some 4 hours and needed to take a break. My feet were throbbing and there were a few acts later I didn't want to miss. Conveniently, it started pouring rain, so I had an excuse to sit under one of the tents and veg for a bit. It was inconvenient for Space Seed, however, as tried to groove on despite the lack of a crowd. Some technical problems caused half the band to be utterly indiscernible and the other half just mush. Not their fault, but it sounded awful.

I skipped several acts until my feet could take another shift. Degenerate CD and I considered walking up the block for a cup of coffee but then we spotted the line out front...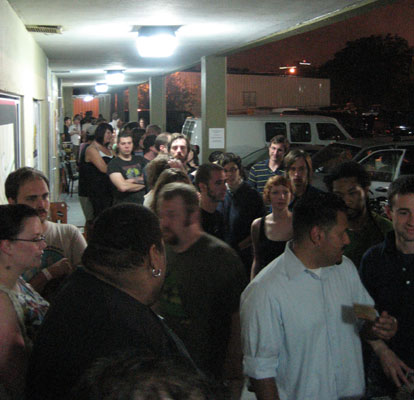 Snowden had cancelled due to a missed flight or something and they moved one of the outside acts inside as a result, so the schedule was all out of whack when I slipped back inside.

One Hand Loves The Other do stuff that's arty, loungy and trippy, lead by a modelesque guy singing falsetto.
"The lead singer was once kissed by Liza Manelli," bragged a fan next to me.
"Well, that explains a lot," I grumbled, and split before I could even get a decent photo. Sorry, but it was too late and I am too straight for that flavor.
| | |
| --- | --- |
| One of the acts I was impatiently waiting for was All The Saints. I'd seen them at a previous Corndogorama and remembered liking them, but then when they started up they weren't who I had pictured. I still liked them, I just had different faces and sounds in my memory. All The Saints did heavy, brutal stuff but with enough variation to keep it interesting. Good if you like it loud and hard, with pauses and moments of comparative quiet. | |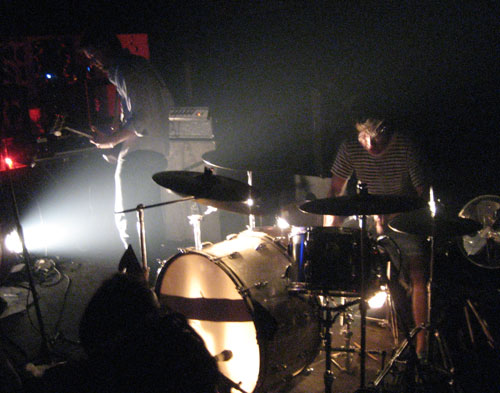 | | |
| --- | --- |
| Then the drummer breaks out in a frenzy and the lead singer screams and things get going again. | |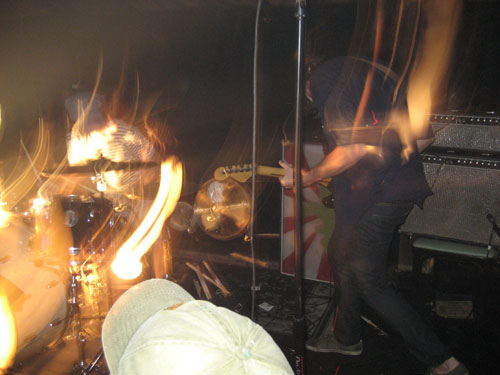 I had wanted to catch The Selmanaires, but I just didn't have the gusto. I had seen them a few weeks back anyhow, so I didn't feel too guilty when I left a few minutes into their set.
Sunday I would've liked to return but for me Sunday night shows are the hardest to attend. I'm tired after the weekend of entertainment and I just want to relax on the couch. I've got to get up for work the next day - Monday. And in this case my new music reporter and fabulous girlfriend, EM, was just returning from a week's vacation so I skipped the corndogs in favor of an evening at HQ. But other folks were motivated so check out www.corndogorama.com for other reviews.
---