Degenerate Press
Welcome to Degenerate Press' feature article. If this isn't enough you can always subscribe to Electric Degeneration, our semi-weekly and semi-weakly ezine, or surf the Electric Degeneration archive.
---
Corndogorama
Lenny's
June 2008
Text and photos by Frederick Noble
Unfortunately, there was too much going on for me to make much of Corndogorama this year. I only made it over there on Sunday. Then I went camping for a week before I wrote this article, so I'm relying on drunken memories and poorly written notes. Thus many band names are forgotten, or perhaps incorrect. Pardon my complete lack of journalistic integrity.
| | |
| --- | --- |
| Lazer Wolf was on the main stage doing very technical instrumental metal. They were skilled at what they do but you have to like METAL. | |
Outside, more metal, this with vocals, only made interesting by this guy in blue fur chaps and tattoos.

I ran into degenerate CD and grabbed a corndog. Mmm, corndogs....
Back inside, presto change-o, on the side stage it's Handsome Jack, down from Brooklyn or somewhere up north and the only band to play all three days of Corndogorama.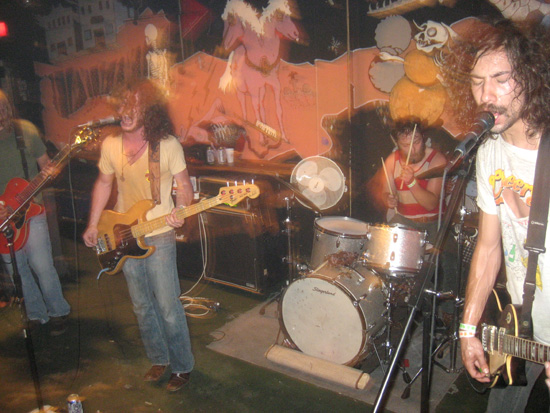 They sound like they look - white boy boogie, amped up, with furious drumming. I was thinking "Cream, Zeppelin, Johnny Winter" when degenerate CR walked up and said, "Did you ever see the Woodstock movie when Ten Years After Played?"
Nailed it.
The bassist stepped up to the mike, "If you ever get the chance to play Corndogorama all three days... don't."
These guys were really good, despite looking beat and having a 15 hour drive ahead of them to get to the next gig.
There was some awful and/or forgettable crap in there for a while before The Swinks Brothers Terrible Motor Sports Show took over a few square yards in the parking lot and did stupid stunts on mini-bikes - great fun.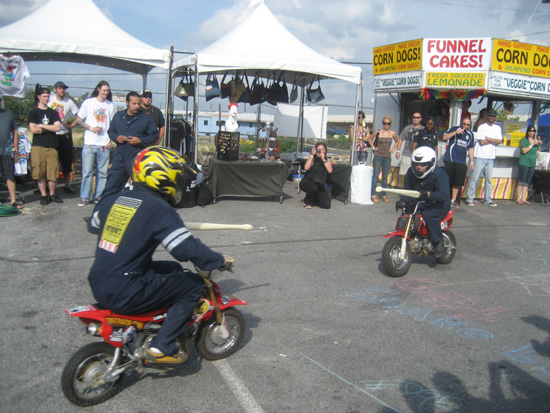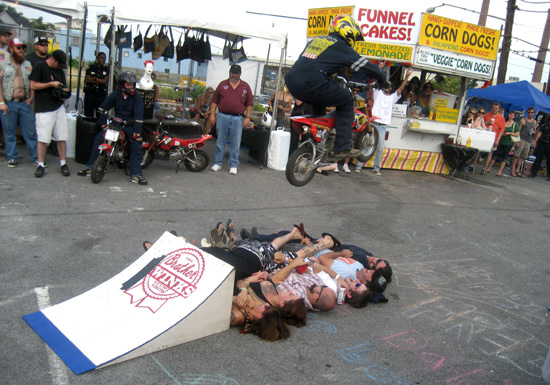 Inside, Rizzudo did fast, energetic stuff with electronic overtones somehow made human and intense. I really enjoyed it, though I had to skip last year's unexpected favorite, Caddle, but the great thing about Corndog is the sampler platter aspect - you get to try a little bit of everything.

Rizzudo kept my attention.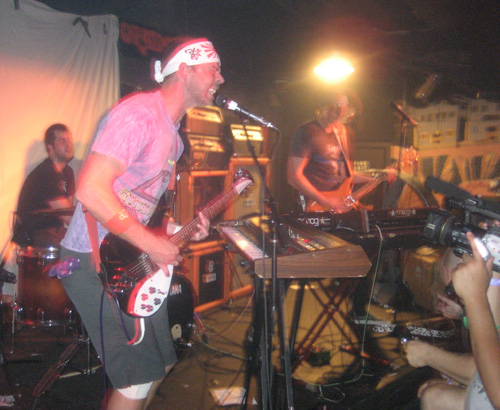 | | |
| --- | --- |
| | Outside Bitch took the stage with their heavy/hard/punk/southern rock covers while the skies opened up and rained on the small crowd. |
Back inside, some band who's name I never could figure out was doing dark, moody stuff. Not my cup o' tea when I'm in a good mood but I could see enjoying them when I'm not. Or not "enjoying" per se, but perhaps "needing."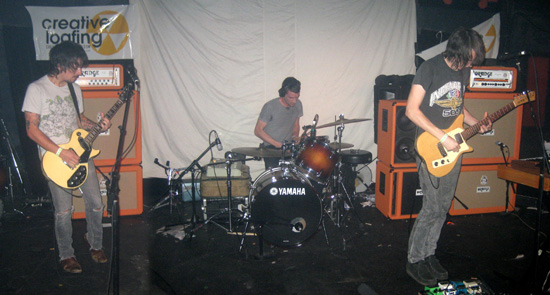 I had to paste this together from 2 pictures.
| | |
| --- | --- |
| Cassavettes followed. Writing this a week later, I don't remember them. My notes say, "Regular ol' rock at first, then an unexpected reggae bridge" and nothing more. | |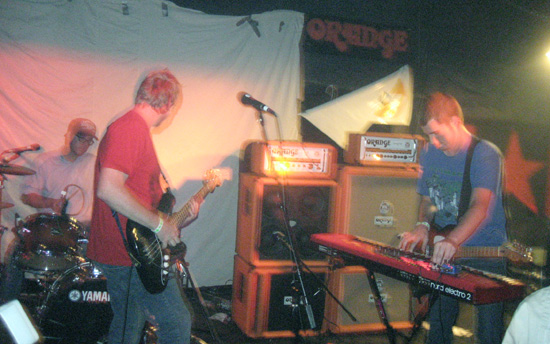 | | |
| --- | --- |
| | Outside, the rain had almost stopped, leaving behind a lovely rainbow, followed by lightening snaking across the sky. It could've been a great backdrop to a rockin' show, but alas Blackberry Smoke took the stage. |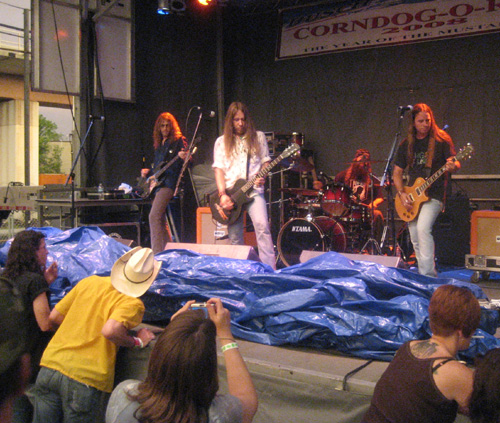 I like Southern Rock, but these guys take way too much influence from the Allman Brothers. We sat on the curb, waiting on some grilled chicken from a shop down the street, and listened to a good half hour of these guys and they didn't catch my interest for one minute. But if you like the Allmans, you'll love Blackberry Smoke. I'd rather hear something with at least a hint of new about it.
| | |
| --- | --- |
| Inside, someone new was on stage - Maserati? I can't recall. I had to work the next day and EM had been on her feet at her job all day, so we caught a few minutes of them and split before I ever even got a descent picture. | |
Another nice thing about Corngodorama - if you see something you like, you probably won't have to wait long to see it again. Dave Railey lines up some of the best local talent, so get out there and support Atlanta's starving artists!
---