The Archives
Excerpts from Electric Degeneration, Degenerate Press' semi-weekly e-zine, free and ad-free. A full episode contains sections for music reviews, upcoming events, blasphemy, classifieds, and anything else we feel like saying. If you'd like to subscribe just contact us.
You can surf the entire archive.
---
Drive Invasion
August 31, 2003
Sunday we arrived only minutes after the gates opened and got a good spot. The wounded Tempest was still there, reminding us of the previous night's lunacy.

The heat was incredible, even worse than Saturday and no rain in sight to cool things off.
| | |
| --- | --- |
| | One hangover-killing pork sandwich and sangria later I was back to human again, just in time for Cletus and his City Cousins. Man about town, Clete Reid, leads up this new act doing rootsy honky tonk rock and rollicking country. He promised in advance that it wouldn't suck and he delivered. Johnny Knox stars as Manny Stringfingers on lead guitar and other familiar faces make up the rest of the act. They do some fun covers and excellent originals so catch them if you can. |
| | |
| --- | --- |
| Gravy Boat followed, doing their Austin flavored rock, heavy on the country and blues influences but growled out with gusto. They threw in a spirited set of Ramones to honor the showing of Rock & Roll High School later that night. | |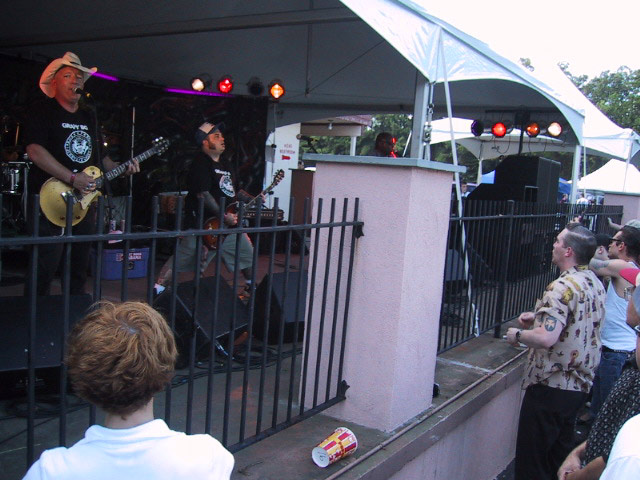 | | |
| --- | --- |
| | Johnny Knox returned to the stage in front of his own act, Hi-Test, with a new member or two since last I caught them. Same old stuff though, thankfully. Blistering tunes that bend genres (and strings) from rockabilly to blues to straight up bar band rock. |
| | Goddamn, that boy can play. |
| | Future guitar players. |
| | And a future stand-up-bass player. |
The Dexter Romweber Duo followed, with Dexter's rockabilly guitar backed up by simple drums, good stuff and he's got a great voice to boot.
But for some reason, at the last few appearances of this act there's been a rather large man who gets up on stage mostly naked near the end of the set and dances around. Last time I saw him he was wearing a scuba mask and flippers and little else. This weekend it was a diaper with chocolate pudding dripping out of it. At least I hope it was chocolate pudding. It wasn't just disturbing, it was distracting - you couldn't help but look, making you forget Dexter was even on stage.
Even more jarring compared to Saturday's burlesque beauties.
| | |
| --- | --- |
| Here's something to wash the image of pudding out of your mind. Unfortunately I just missed getting a shot of these two riding tandem on the hot pink banana seat - super cute. | |
| | |
| --- | --- |
| | The Woggles didn't waste any time getting things moving. Like almost every act of the weekend, they raised a toast to Scott Rogers, getting me teary-eyed yet again, even more so for The Woggles who lost their guitarist, Montegue, the same weekend. But their performance was anything but somber. They came on like it wasn't 100 degrees, wasn't before dark, wasn't just a day at the drive in - they came on wide fuckin' open. |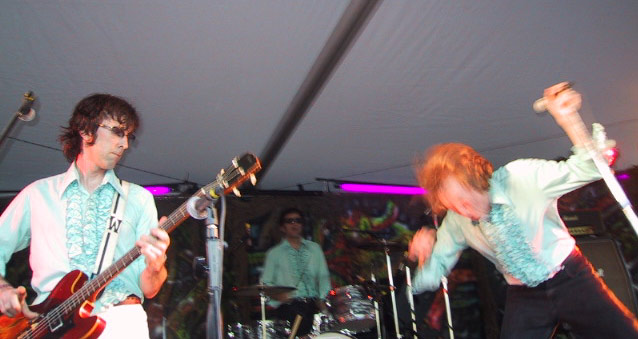 | | |
| --- | --- |
| Children of all ages love The Woggles! | |
| Their energy was contagious, inciting many acts of sweaty shaking and shimmying. | |
| Manfred even clambered over the railing to join the go-go dancing crowd. | |
The Woggles would've been the final act of the night, had I arranged things. Instead, we got Clouseaux, a spacey 60's lounge act from Texas (with a former Georgian, Alice Berry, as one of the vocalists.) Most of their songs sounded like the original Star Trek TV show theme with vocals used to deliver sound instead of lyrics. It was fun, swanky stuff with a nice horn section to back it up, but definitely not something you expected to cap off an afternoon of serious rawk.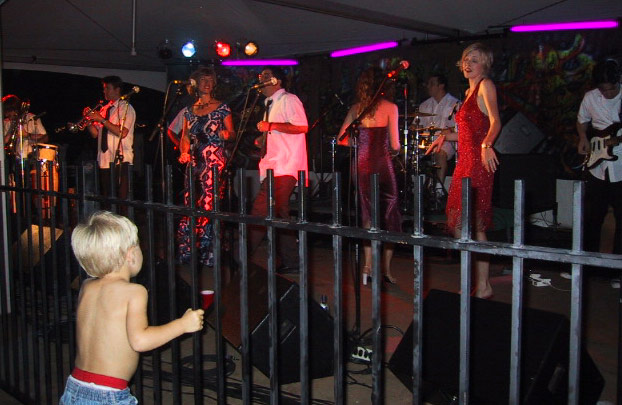 Too bad they didn't do "I Know What Boys Like."
So instead of watching the lovely ladies in cocktail dresses singing "aaaaa aaaaa aa aaaaaa" for an hour, I headed back to our spot and settled in for the movies. Unfortunately, this meant I missed the tattoo raffle and Mary Woronov, star of the evening's films.
| | |
| --- | --- |
| I love the flames on the grill in front of the flame job on the truck in the background. | |
| Later that night, the guy fired up this car, shooting flames out of the tailpipes he'd run up through the trunk. Flames would leap out whenever he gunned the engine then let off the gas, sometimes ending in a massive backfire. Very cool. | |
| | |
| --- | --- |
| | One cartoon and a half dozen hilarious trailers later, things kicked off with Rock & Roll High School, a sort of Roger Corman version of a John Hughes teen film with plenty of laughs, surreal moments, and a great performance by The Ramones. I realized about halfway through the Ramones set shown in the film that Gravy Boat had played that exact set earlier in the afternoon - clever. Also clever were the perfectly timed fireworks launched from the front row during the more explosive moments in the film, making it an almost Rocky Horror experience. All together, it may have been the best total drive in experience yet, and that's saying something! |
WHen I was at Drag On Friday, Shane Morton and I talked to David Carradine and tried to convince him to join us for Sunday's showing of Death Race 2000. He was either too senile or too stoned or both to make sense, or make sense out of what we were saying, but his handler told him he couldn't attend due to other Drag On obligations anyway. (He also didn't have any Death Race 2000 photos, so I didn't bother to get anything autographed.)
David's performance as Frankenstein in Death Race 2000 is typical of his work, and apparently his personality - slightly disconnected, coming off as either stoned or above it all. But it hardly matters, it's the action and the cars that are the stars of the film. It's odd that something made in 1975 could have been named so well. In the actual year 2000 you could see all sorts of crap like the Death Race on TV - COPS, RealTV, World's Scariest Police Chases, etc., all done with the same over-the-top narration. It would be my favorite Corman film even if it didn't have the "hand grenade" joke. To top things off, there was a little Valiant a few rows back that had an extremely loud engine. He gunned it during the scenes with Frankenstein was scoring points, adding another special effect moment to the whole experience - kick ass.
Yet again, by the time the third film rolled around it would've had to be fantastic to hold my attention. Most of my crew packed up after Death Race 2000, SW had been asleep in the car for a couple of hours, and it was well after 1 AM at the end of a long, hot day packed with thrills.
Hollywood Boulevard was not fantastic.
I can't even remember anything about it except a pretty blonde as the lead. Twenty minutes into it we gave up and headed home.
Monday I was beat. I don't think I could've done a third day even if they'd had it. Two days is enough, though once a year is not. If Scott were alive, I'd badger him about adding a Memorial Day weekend event to bookend the summer.
---