Degenerate Press
Welcome to Degenerate Press' feature article. If this isn't enough you can always subscribe to Electric Degeneration, our semi-weekly and semi-weakly ezine, or surf the Electric Degeneration archive.
---
Drive Invasion
Starlight Drive In
September 2007
I woke up just before dawn to hit the restroom. Bride of Dracula was on screen, a flick I'd actually caught via Netflix not long ago so even if I had been able to stay up that late, I wouldn't have bothered. As I climbed back into the truck a comedy short started up. I lay there listening to some of the oldest and worst jokes I've ever heard as I pursued sleep. Things came to an end as the sun came up and I was finally able to sleep again.
At least until 8 AM when some asshole drove his loud motorcycle around and around the lot, waking everyone up. I'm pretty sure it was one of the dipshits that has a swastika tattoo on his chest. Then someone started shooting fireworks. Then the guys in the spot next to us started playing Johnny Cash and talking endlessly about how they ran into him one time back in the 80's.
Fuck it. Might as well get up.
As usual, the parking lot looked like a scene from Dead End Drive In, the 80's post-apocalyptic flick about a drive in converted to a prison a la Escape from New York. There were people sleeping on bare pavement, trash everywhere, eclectic varieties of music coming from all directions, and a lot of zombies in the form of people who hadn't bothered to sleep at all wandering about.

After a delicious and nutritious breakfast, more cars poured into the lot, taking the spaces vacated from those who didn't have the balls, or camping gear, to stay through the night. Honestly, I think staying overnight is easier. You don't have to have anyone sober enough to drive home, and you don't have to re-pack and re-motivate and drive back. You just get up, rinse off in the showers the organizers build, get a drink and settle in for another day.

Saturday was reserved for pre-60's hot rods, and Sunday was supposed to be pre-73 muscle but there were quite a few of both flavors there both days.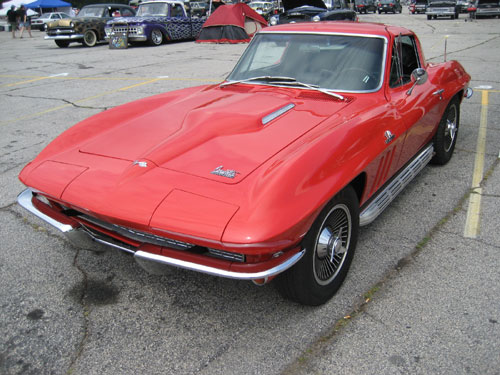 | | |
| --- | --- |
| Opening act The Tremors did rockabilly with such vocal exaggeration - all the trembling and barking they could cram in - that we skipped them in favor of wandering about, lusting after lots of eye candy. | |
Speaking of lust, the band Lust was up next. They have played Drive Invasion many times and bring bizarre costumes and/or stunts every time. This year it was concession stand girls serving up a weenie playing keytar, backed by a bottle of mustard.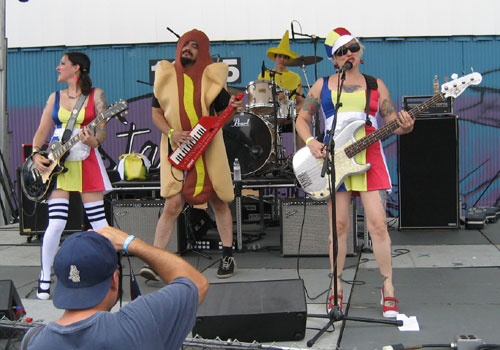 | | |
| --- | --- |
| The weenie wiggled with glee, whipping out keytar solos and bad puns. I couldn't stop giggling. Lust's music is somewhat forgettable, but their live shows are some of my favorites. | |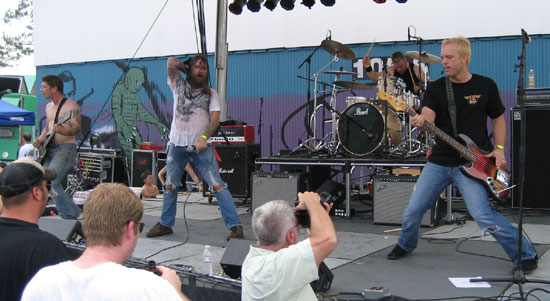 | | |
| --- | --- |
| Next up, Rock City Dropouts. Loud, sweaty, angry, hard southern rock, like a shot of Jack Daniels - in the eye. | |
| | |
| --- | --- |
| I'm pretty sure this could be EM's review of the band... | |
| | |
| --- | --- |
| Not that I blame her. Napping seemed to be the thing to do at the time. Laramie Dean was on stage doing surf music and that stuff gets tiresome quick. | |
But there's no rest for the wicked, and if there was any band on Sunday that could be called "wicked" it would have to be Gargantua.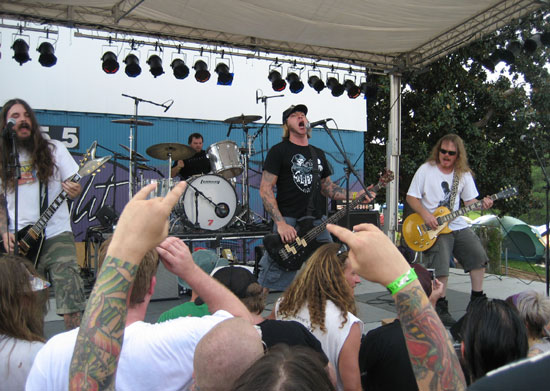 | | |
| --- | --- |
| Shane was in the first local band that I was a fan of, Something, way back in the dawn of time. After that it was Super X-13, which did a reunion show a few weeks back that I was sad to miss. So I was grinning ear to ear when I saw a Gargantua reunion for Drive Invasion. These days he's in The Luchagores, but there were many fellow Drive Invaders hopping about in manic glee, singing along to our favorite Gargantua tunes. | |
"I hope The Woggles bring their A-game," said degenerate CR, "I'd hate to follow that."
"Have you ever known The Woggles not to bring their A-game?" I asked.
As always, the guys came out wide open, bringing their Troggs-style 60's garage rock to shaking and shimmying fans.

Halfway through the set, degenerate JH said, "That man brings sweat stains to a whole new level. Someone needs to buy him a new shirt!"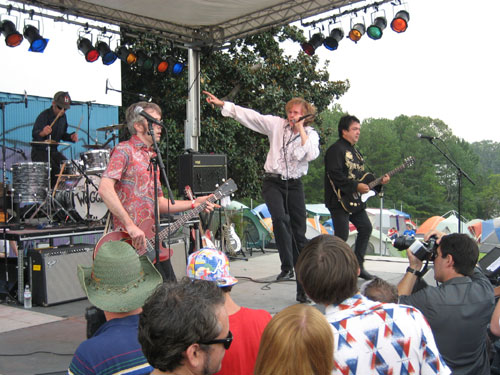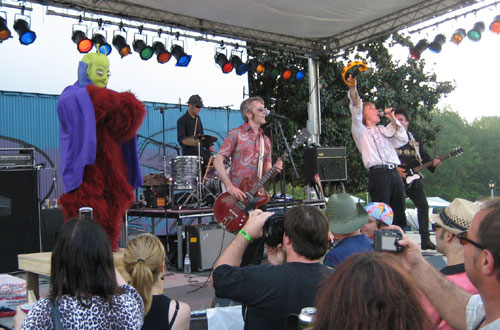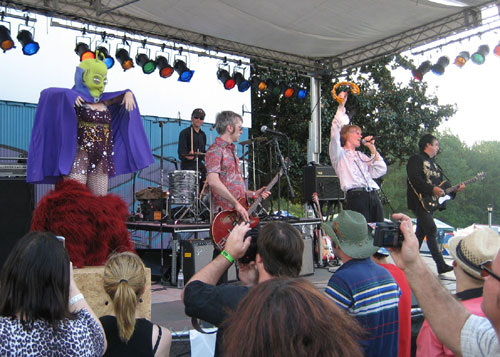 | | |
| --- | --- |
| Torchy Taboo emerged from a strange alien costume, then Manfred leapt into the crowd to bring The Word to The People. | |
After two such acts, The Swingin' Neckbreakers would've had to be phenomenal to keep my attention.

They were not.

Average bar-band rock with a 60's garage influence but none of the gusto The Woggles brought. Meh.

They were, however, the only ones to do a Who cover from Tommy in honor of the first flick of the night.
While the Neckbreakers played, we retreated to our bar and lounged. A friend stopped by asking if we had any rum, inspiring laughter in the camp. If there's anything I'm guaranteed to have, it's rum.
"What kind would you like? I have a little El Barrilito left that I brought back from Puerto Rico. It's very bourbony because they age it in charred barrels. We drank all the Don Q Gold last night but we do have some Appleton's Jamaican rum..."
The sun set as the band a lot of fans were clearly waiting to see stepped on stage - The Blasters.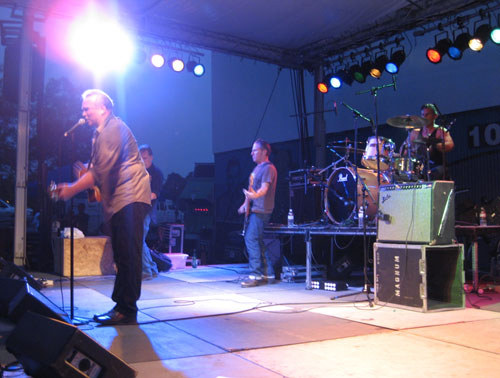 From their web site, "The Blasters stink of rockabilly. They project the essence of small streets of post-war neighborhoods, car culture and the sun-bleached concrete of Downey, California. They are lead by Phil Alvin's soulful bellowing about causing chaos, chasing women and the loss of the citrus groves. Influenced by the likes of The Rolling Stones, Elvis Presley, Buddy Holly, and many others who came and went during the 1950's, The Blasters play the songs of the working man's curse and rock and roll romance."
| | |
| --- | --- |
| Lead singer Phil Alvin was clearly having a great time, grinning almost non-stop as they lay down blazing rockabilly with a modern edge. Good stuff and the fans were eating it up, dancing around like mad. I probably would've enjoyed it thoroughly, if I hadn't been on the verge of exhaustion after a second long day of entertainment. But halfway through the set I was ready to sit. | |
| | |
| --- | --- |
| Several of us headed back to our shelter for another round of drinks. What we thought was close to the end of the Blasters' set turned out to be nowhere near half way. They played on and on, the energy rising, then returned for an encore while many of us groaned, anxious for the strange trailers and bad movies to begin. | |
Eventually The Blasters called it quits and the screen came to life, only to die horribly due to some technical glitch or broken film during the trailers. It took seemingly ages to get going again. (One of my few complaints about the weekend was the lack of cartoons and varied trailers. It seemed like the same ones ran over and over and we only got one cartoon I can remember.) Regardless, by the time Tommy came on we were more than ready.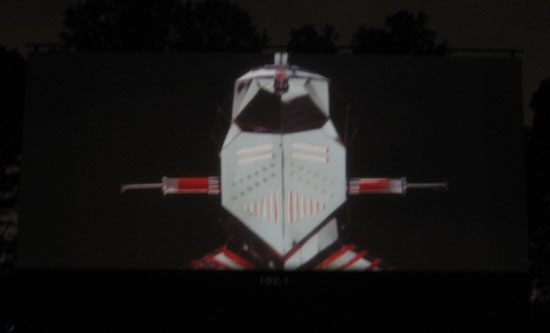 This version of Tommy has the worst music, only made bearable by the over-the-top visuals of Ken Russell. You also get Ann Margret rolling around in baked beans, so it's not all bad. There was a lot of grumbling about this selection, but many folks fell into two camps - those who came for the music, and those who came for the movies, with each group complaining about the other's selections.
I was in high school when Fast Times at Ridgemont High came out. Everyone said I had to see it, so naturally I didn't. Years later I'd catch the heavily-edited version on broadcast TV and understood why it had charmed my friends back in the day. But I'd never seen it commercial free and with Phoebe Cate's boobs bouncing free. Thank God for Drive Invasion!
Actually, thank Vid Sutton. He put together this year's festival, and a fine festival it was.
Next up was The Cheerleaders, a T&A flick from 1973. There were more naked people on screen in the first 5 minutes than there were in all the previous films combined. But it didn't seem to be going anywhere, other than the gutter, and eventually even heckling the thing didn't keep me interested. EM and I returned to the truck.
By the time we packed up in the morning only a few cars remained in the lot. Tent city was rapidly being taken down and all I wanted was a bacon, egg and cheese biscuit and a long nap.
And for it to start all over again.
---