Degenerate Press
Welcome to Degenerate Press' feature article. If this isn't enough you can always subscribe to Electric Degeneration, our semi-weekly and semi-weakly ezine, or surf the Electric Degeneration archive.
---
Drive Invasion
Starlight Drive In
September 2007
Some of my Dahlonega friends asked me how much the Invasion was this year, what bands were playing and what movies were showing.
"Doesn't matter," I answered flatly.
"Why? You're not going?"
"No, it doesn't matter how much they charge, what bands or movies they have, I'm there."
Not only was I there, I was the first car at the gate around 8:30 AM, though gates weren't due to open until noon. But there were already 20 or more vehicles inside, having slipped in to set up vendor booths or classic cars and such, and within minutes there was a line of another half dozen behind me. I came prepared with 2 dozen Krispy Kreme donuts for fellow tailgaters, ready to relax until they let us in, but these days I know the owners, manager and groundskeeper of Starlight so minutes later we had our canopy set up, the Thunderbird parked along side, a makeshift tent set up in the back of the truck for sleeping quarters, and a full bar ready to serve - and it wasn't even 11 AM.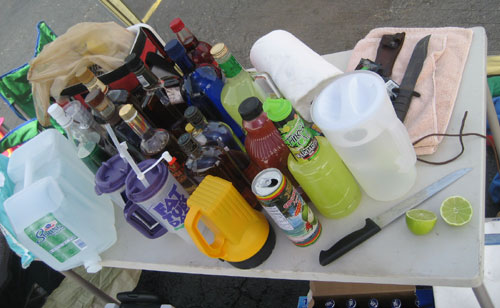 Perfect.
Alas, EM had to work and couldn't be there all weekend, not to mention this is really more my event than hers, so this review is all FN, no EM.
First on stage, The Hot Rods, an appropriate name for a band on a stage overlooking a parking lot packed with customized machines.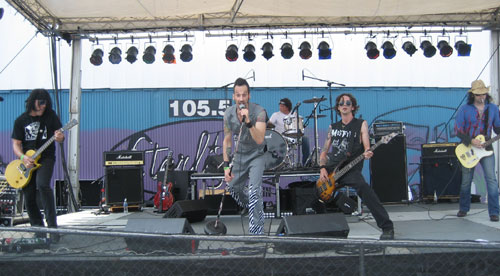 | | |
| --- | --- |
| They do psychobilly stuff that doesn't do a thing for me. I can enjoy the genre in small doses but these guys are so goofy they come off as a novelty act. They put a lot of energy into it, despite the fact that there were scant few people there yet to see them, but I was content to peruse the other hot rods. | |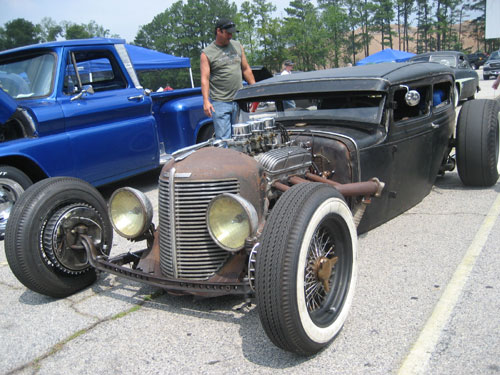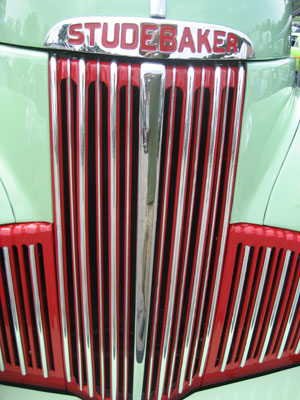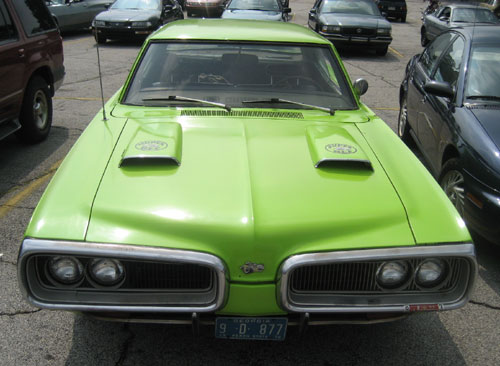 | | |
| --- | --- |
| This may have been my favorite machine of the weekend, just because it wasn't like anything else on the lot. Seriously, how many ways can you chop up a Model T and still make it interesting? This Dodge cab-over truck is sitting on a more modern frame with a 440 under the seats. | |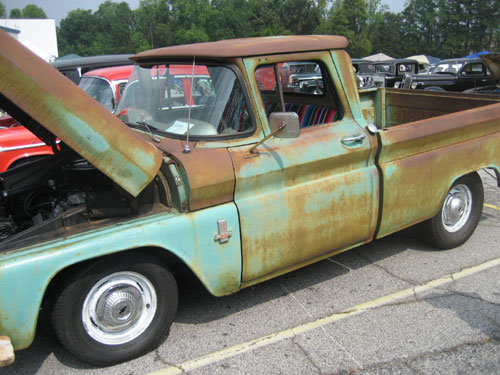 EM's favorite machine.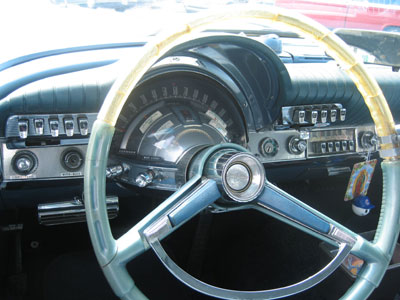 The interior of an early 60's Chrysler New Yorker.
But not all the vehicles were collector's classics...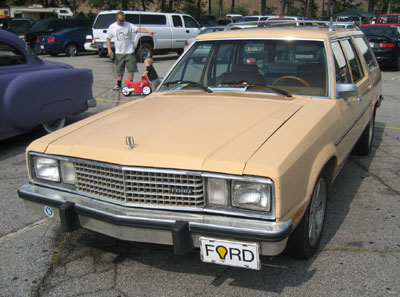 Meanwhile, The Hot Rods gave way to The Intoxicators, a surf I had seen sometime before. They have the technical skills to play surf, but lack the testosterone Dick Dale oozes out of every pore. EM would later note that the whole festival is about pacing - getting into a routine of relaxing, rocking, drinking, eating, socializing, rinse and repeat. So rather than being bored in front of the stage, we returned to our camp to save our stamina, and build our blood alcohol levels.
I got this response from Brian of The Intoxicators after posting a draft of this review:
you should have hung out more in Trailer Vic's... What you say my band lacked onstage was well made up for by me arm wrestling, playing music, mixing rum (Angostura, Sailor Jerry, and Meyers) with anything and everything, bartending, eating moths with Jim Stacy (The moths taste like chicken by the way...) and being about the only person who never went to sleep Sunday night at Drive Invasion... I even beat a guy over the head with a beer can and stole his "LAST MAN STANDING DRIVE INVASION 2007" belt on Monday morning... I gave it back to him after I saw the WWE logo, and the made in China sticker... I told him not to return until he brings me the true Abdullah The Butcher Drive Invasion belt...
| | |
| --- | --- |
| I pestered the corndog booth for a jalapeño corndog repeatedly, only to be told there was some snag with their propane fryer. Eventually they got up and running just long enough to dish out a few dogs before things broke down again. Fortunately for me, I got the first corndog of the festival. | |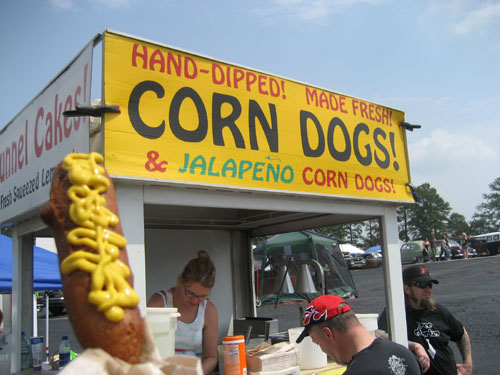 After several hours' delay, they got fully up and running, doling out dozens of dogs hand-dipped in batter and fried before your eyes.
Next on stage, The Bluejays making their supposedly final appearance ever.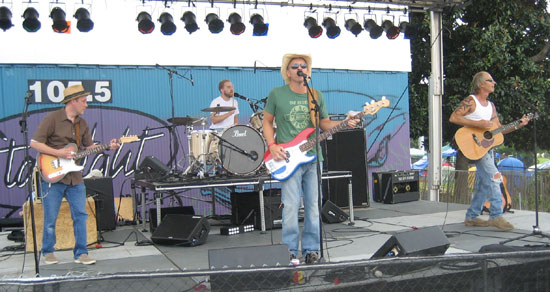 But then again, their previous appearance at Drive Invasion was supposedly John McLean's final show before he moved to Florida. But a while later he was back in town and in the Bluejays so who knows?
| | |
| --- | --- |
| They did their usual super-smooth country/rockabilly infused stuff but perhaps the best moment was when Jay's son was pulled up on stage to play air guitar - air umbrella? umbrella guitar? with the guys, his umbrella even matching Jay's bass. He looks worried here, but you would be too if The Creature were lurking over your shoulder... | |
| | |
| --- | --- |
| Speaking of too cute, other degenerates trickled in with their offspring. By Sunday night there was a tent full of breeders on row 3. | |
The Belmont Playboys were due next but were snagged in traffic somewhere so The Bluejays ran long, then El Capitan & The Scallywags filled some time with more surf. Johnny (formerly Knox) MacGowan stayed on stage as part of Burmese Crush, next on the bill.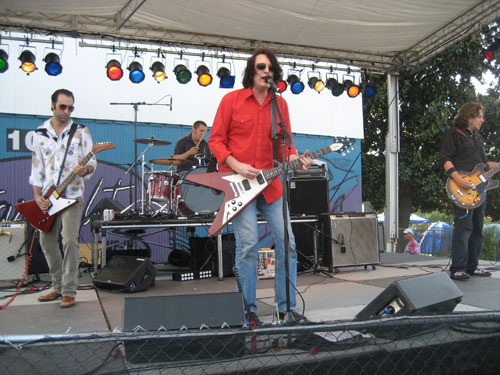 | | |
| --- | --- |
| With Brian, formerly of The Forty-Fives, singing lead, and Johnny on lead guitar, you expect it to be good. What you get is over-driven rock with a nod to 70's styles, with a little less energy than The Forty-Fives or Johnny Knox and Hi-test but a fatter sound than either of them. | |
| | |
| --- | --- |
| Jimmy and the Teasers do trashy rock with Jimmy thrashing around like a coked-up epileptic. But it was time for another round of R&R for me so I returned to our temporary HQ where the smell of smoked pork wafted over the canopy. | |
| | |
| --- | --- |
| Soon I found the source, a guy named Steve up in the front row I'd given donuts to earlier in the day. He was dishing out ribs, one at a time, slow smoked, juicy on the inside but crispy on the outside. I didn't even bother with sauce. Or a plate. | |
Jimmy and the Teasers were kind enough to step aside early so that the tardy Belmont Playboys could get a slot on stage. Less psycho, more retro in their flavor of rockabilly, but fast and furious. Good stuff.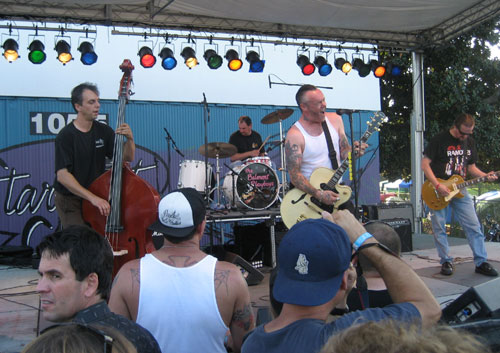 I caught the Tiger! Tiger! CD release show a week or two before and enjoyed the new material. Dark, sometimes downbeat but then switching gears to bring up the pace, fatter and more varied than the Subsonics but not quite so weird as White Lights.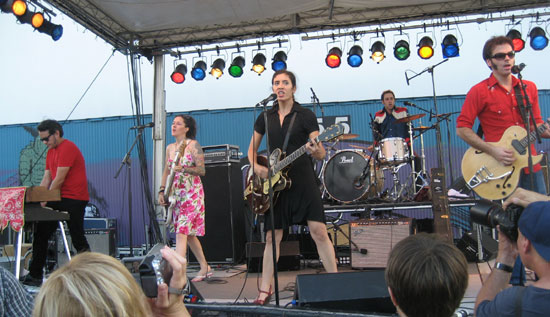 | | |
| --- | --- |
| Like most of the bands that appeared on stage, this stuff just doesn't feel right in broad daylight out in the open with a fence between you and the stage. It needs dim, intimate space. But nobody on stage seemed to mind. | |
Speaking of things that require dim, intimate space, Torchy Taboo did a bit of striptease burlesque in there somewhere. The lavish costumes didn't make up for the family-friendly version of her routine. The lack of burlesque is one of my few complaints for the weekend.

A lot of folks had grumbled when they heard the organizers had moved the festival to a different set of parking lots than the previous years, but when the sun started to set and the movie screen behind the stage provided merciful shade, my complaints about the move were silenced. Bigger, closer bathrooms, a better space for the car show and vendors, a better stage - change is sometimes good.

As the sky grew dim and Unknown Hinson took the stage, the lots were packed to the point of double-parking. Jim Stacy was considering making people park at the other lots and walk over. Later Vid Sutton would confirm it was the biggest crowd for Drive Invasion yet. I was glad I had hustled my way over early!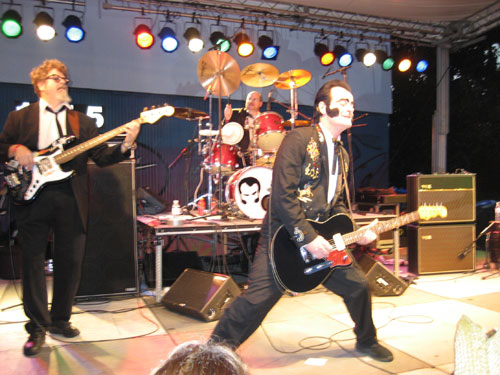 | | |
| --- | --- |
| Unknown Hinson did his Hendrix-meets-country-rockabilly-with-a-dash-of-novelty-act lead by his blazing guitar work. | |
| | |
| --- | --- |
| I stumbled past Trailer Vic's, Johnny MacGowan's makeshift tiki bar, and the guys were hanging out doing an unplugged jam. Fun, but after being at the festival some 12 hours, I was ready to settle in for some bad movies. | |
| | |
| --- | --- |
| First up, Reanimator, a tale loosely based on an H.P. Lovecraft story. Films based on his works generally range from so-bad-its-good to just plain bad. This one inspired plenty of giggles, aided by the re-agent juice mixed up by degenerate WW. | |
Empire of the Ants followed, with Joan Collins escorting some prospective real estate clients to a beach where giant ants take over the picnic. I wanted to get through it so I could enjoy the two two-headed movies that followed, The Thing With Two Heads and The Incredible Two Headed Transplant, but Empire just couldn't keep me awake and interested. EM and I crawled into the truck and eventually got some sleep, despite the party going on around us.
---