Degenerate Press
Welcome to Degenerate Press' feature article. If this isn't enough you can always subscribe to Electric Degeneration, our semi-weekly and semi-weakly ezine, or surf the Electric Degeneration archive.
---
Drive Invasion
Starlight Drive In
August 2008
Text and photos by Frederick Noble
Drive Invasion is my favorite event of the year. Where else can you see a ton of live music, a slew of fun movies, a lot full of hot rods, acres of tattoos, eat like a king and drink like a fiend? It's the only event I'd come back to town for if I ever move away.

This year I picked up degenerate CD and met EM in line at 10 AM. Gates weren't due to open for an hour, but I like to get there early so I can get the spot I want, and so I can hand out Krispy Kreme donuts to other motivated fools who get there too early. It's part ritual, part "paying it forward" - later in the day, folks will remember my early morning generosity and return it in kind with alcohol, pork, etc.

This year the temperature was already in the 80's when we arrived - a bad sign.
| | |
| --- | --- |
| But I can take the heat, especially with a bit of shade and cold beverages. So we set up a canopy and our sleeping arrangements and settled in for some relaxing. | |
As degenerates arrived, our bar grew into a fleet of coolers filled with beers and mixers, all surrounded by countless bottles of rum, bourbon, vodka and more.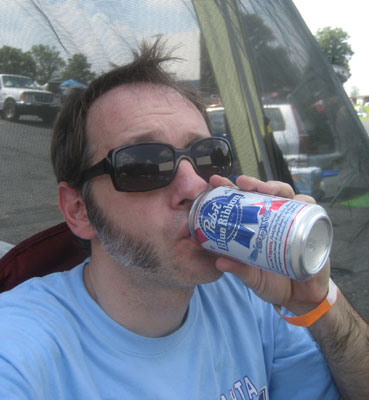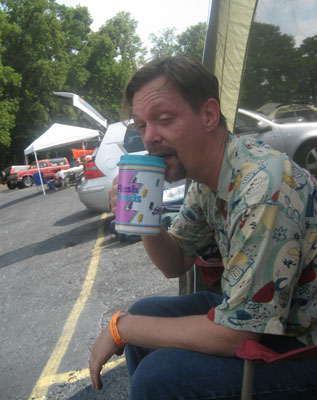 | | |
| --- | --- |
| Soon after there are already monkeys on stage playing surf music, aka The Disastronauts, and the lots are filling with amazing cars. | |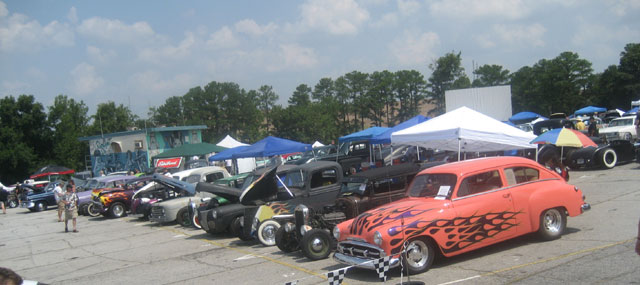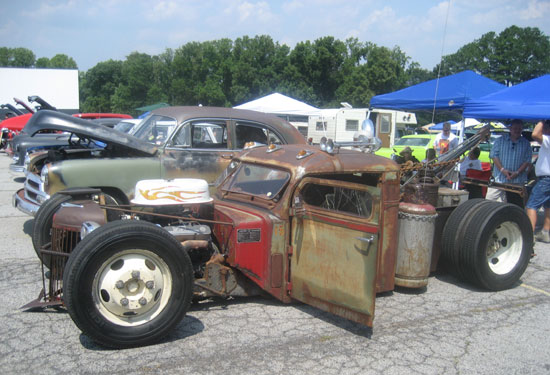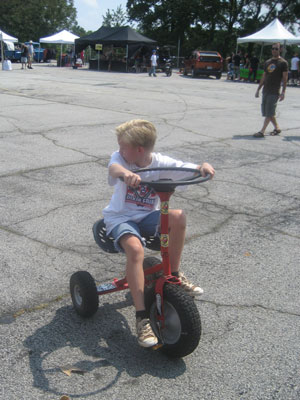 My favorite ride of the weekend.
Sexiest ass at the drive in!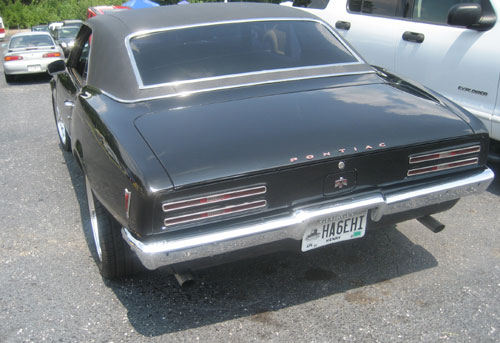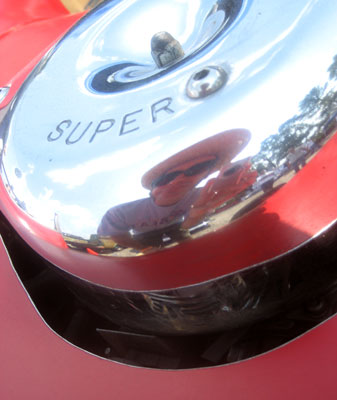 This year's self portrait in chrome.
| | |
| --- | --- |
| | Next on stage, Rocket 350, local psychobilly for the black t-shirt brigade. If there was any day of the year that called for being out of uniform, guys, this was it. The sun felt like a belt sander on my skin. I lurked in the shade whenever possible, and though I drank gallons of water I don't think I had to pee more than 2 times before the sun went down - everything was oozing out of me in the form of sweat. |
I was waiting on Barbecue Steve to finish smoking some wings and bratwurst, but needed something other than water, beer and rum in my belly, so I dug around our forward command post and created what I call Mid-East Blasphemy - hummus on a pork rind!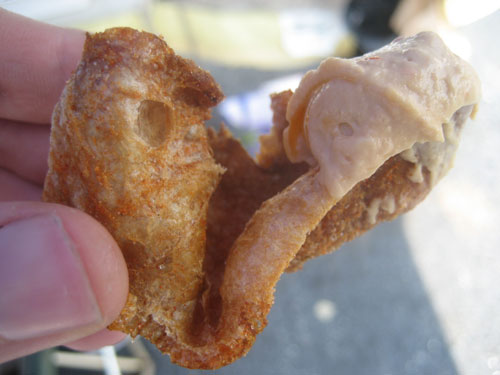 Thanks to Eddie of Slope's Barbecue, for the spicy, fresh pork rinds!
I passed them out as often as I could, just to avoid eating the whole bag myself.
| | |
| --- | --- |
| On stage, El Capitan cranks out some spaghetti Western surf. Coincidentally, Vid, Drive Invasion organizer, said next year may feature a lot of spaghetti Western themes! | |
Barbecue Steve's wings were pretty damn good - no sauce, just smoke and meat. The brats were a bit on the crisp side, but really I was just biding my time, waiting on the many racks of ribs he was slowly cooking.
Fortunately there was plenty to do in the mean time. Like watch Bullneck, featuring one of the guys from Syrup. Looking at them, would you guess these guys play Southern Rock?

I didn't enjoy them as much as Syrup. "I miss the dance moves," said another degenerate.
But one of the many things I love about Drive Invasion is you can always retreat to your HQ, or a neighbor's, for a drink, chat, smoke, nap, or just to get out of the sun and noise for a bit.
Speaking of noise, The Forty Fives were next. Back before a huge swath of Atlanta's music scene started sounding like a Nuggets box set, these guys led the charge back to 60's garage rock. They reached the top of the local scene, toured nationally and internationally, then burned out.

Now they're back, rocking the old songs as if they never took a break and playing a few new ones as if it's more than just a reunion show. Rumor has it they may do another CD despite Mark, bassist, having moved off to Portland.
I made a scouting run by Steve's smoker to see if there was pork yet. Then I summoned my people, via cellphone, to the promised land.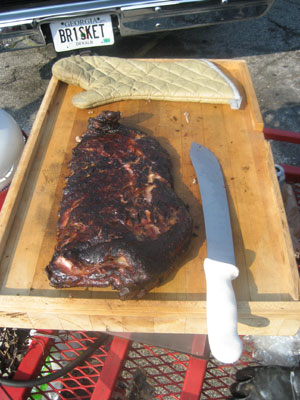 And the Lord shone his love down upon us in glorious pork!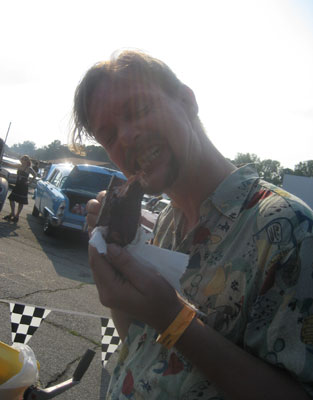 | | |
| --- | --- |
| If a big, hot parking lot ain't your thing, hang out at Trailer Vic's for rum drinks served in bamboo cups where random acts perform for a smaller crowd. Many of the bands from the main stage performed here, or random musicians gathered to form spontaneous acts, sometimes distracting from the music on the main stage and later from films on the big screen, but usually only cranking up between other activities. | |
| | |
| --- | --- |
| | Gargantua has become something of a tradition at the drive in. Lead singer Shane Morton, organizer of Monster Bash, painter of the murals around the drive in, and guitarist in Sunday's act The Luchagores, turned 40 on Saturday. Heck of a birthday party he has going... |
| | |
| --- | --- |
| Generally by the time the big, headlining act goes on stage at Drive Invasion and too tired and drunk and ready for a movie to care. Alas, Saturday was no exception. Agent Orange, old school punks from California, were doing a fine set on stage but I'd been on my feet pretty much since 10 AM, in the sun, drinking, eating massive quantities of pork - nothing sounded better than settling in for a movie, a cold drink and cracking wise. | |
| | |
| --- | --- |
| Unfortunately not everyone was ready to settle down. Agent Orange and fans aside, the spawn of fellow degenerates ZH wasn't ready to call it a night. I had to distract her with my flashlight just to turn down the screaming. It worked for a while. Loooook at the preeeetty liiiight.... | |
When the movie flickered to life I think it was enough distraction for ZH and me. With a jalapeño corndog, a rum drink and Yogi the Bear, who needs anything more?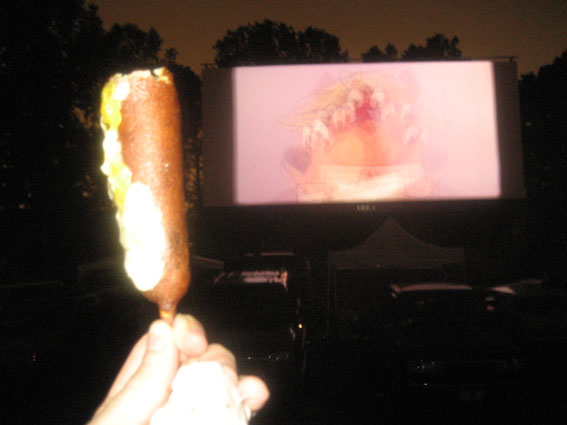 ---