Degenerate Press
Welcome to Degenerate Press' feature article. If this isn't enough you can always subscribe to Electric Degeneration, our semi-weekly and semi-weakly ezine, or surf the Electric Degeneration archive.
---
El Vez
Bottletree in Birmingham
Little Steven's Garage A Go Go
Variety Playhouse
November 2006
When I saw El Vez was coming to Atlanta I was elated. But then I realized it was the same night as New York Dolls. I'd seen the El Vez Mexmas show before and I doubted I'd get a chance to see the Dolls again so I grudgingly gave up on El Vez. But then I poked around and found he was playing in Birmingham the night before - road trip!
Downtown Birmingham is quite nice. Sure, you go a few blocks in any direction and you're cruising through empty warehouses and industrial sites belching smoke. Go a mile or three and you're the only white face in a neighborhood you've been warned against, complete with boarded-up, dilapidated houses. But there are some pretty buildings and neighborhoods that are thriving.
Degenerate EM and I checked in to the Redmont Hotel, an old 15-story brick building on the edge of downtown and only a couple of miles from the venue. Eventually we got gussied up and hit the town in search of dinner. We landed at Five Points South, a cute intersection that reminded me of Virginia-Highlands here in Atlanta.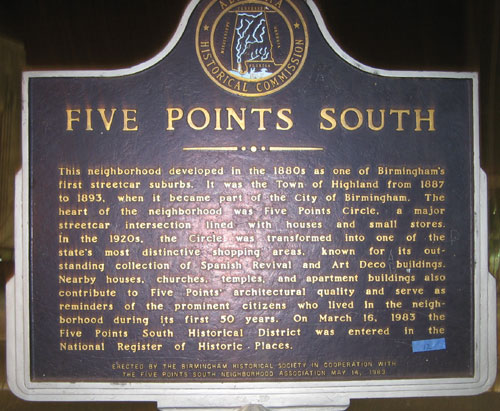 The restaurant recommended by the hotel turned out to be out of our price range so we wandered the streets, settling on The Grill for some decent food. Their many TV's were tuned to sports but were mercifully mute. The neighborhood offered more interesting fare - Japanese, Thai, French - but the prices were not so interesting.
We headed on to Bottletree and found it to be a cute little restaurant/cafe/bar with a vegetarian-friendly menu. I liked that it was non-smoking (they have a nice patio for the junkies) and so damn small it felt like someone's living room. I didn't like the lack of beer on tap (even though I rarely touch the stuff these days) and their paltry selection of rums. But they had ample whiskey to make up for it and a wide variety of bottled beer and wines, so if you're in B'ham definitely stop by.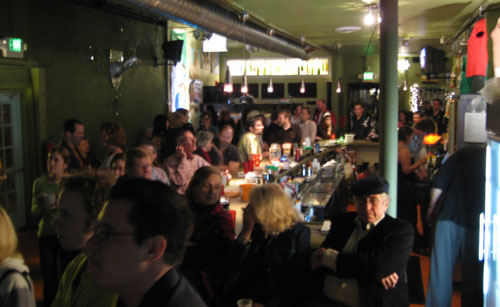 A large screen blocked the view of the stage, onto which they projected some funny movies - collections of old TV ads and now-hilarious educational films warning of the dangers of marijuana and other vices. Soon the main attraction came on - El Vez!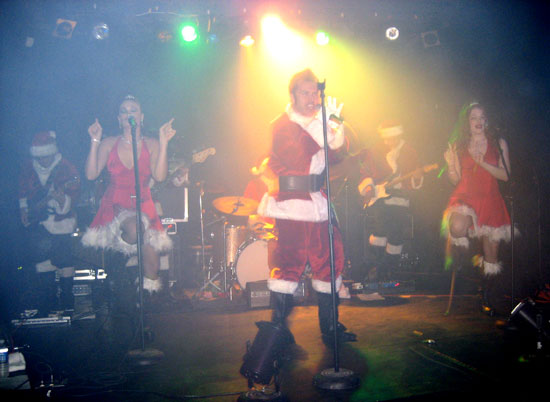 It was pretty much the same show as the last Merry Mexican Mex-mas show I saw with a few new tunes thrown into the mix and a new costume or three. But the familiarity of the content, warped into something strange and new, is half the appeal of the show.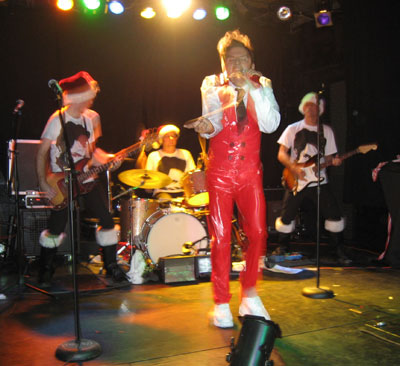 It's part Elvis impersonation, part history of rock in a blender, part political Latin empowerment rally, and all absurd spectacle. I absolutely love it. I didn't get pictures of all of his costume changes but here's a few to get the idea.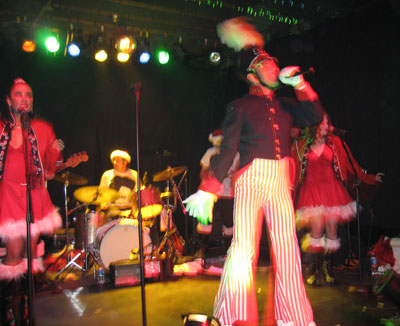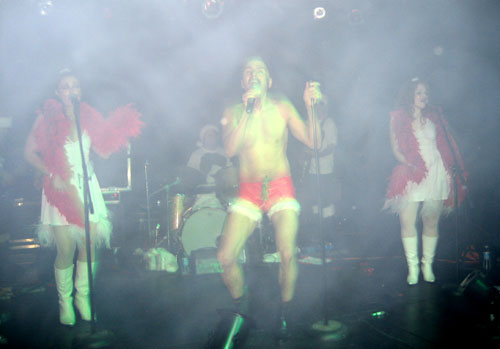 Yes, that's strategically-placed mistletoe.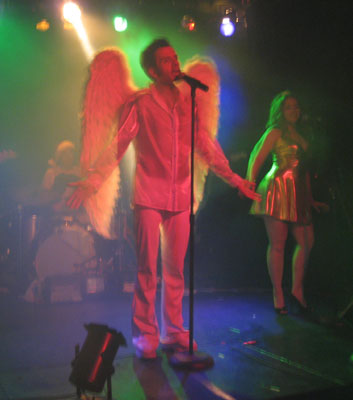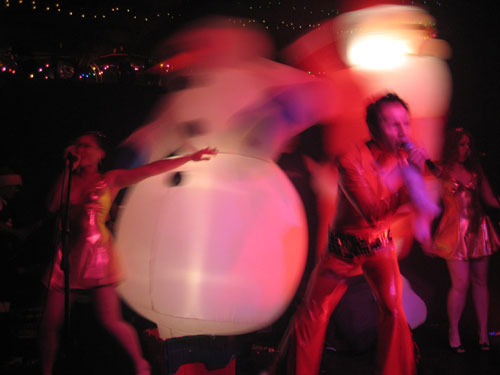 I particularly like this shot. I call it El Vez Christmas Smear.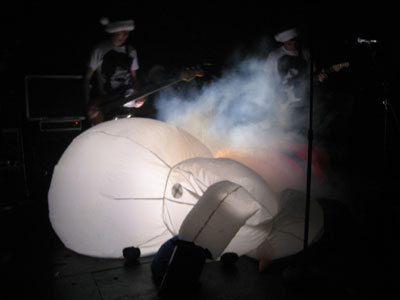 And then the show was over.
We encountered a ton of friendly and helpful folks, one of whom recommended some late-night landing spots. I'd heard of The Nick may times so we ended up there for a nightcap. Unfortunately, Tuesday is not The Nick's big night. The two of us made up about 1/3 of the crowd. We had a beer and called it a night.
In the morning we had some tasty waffles and pancakes at the Original House of Pancakes, then hit Birmingham's record and thrift stores with little luck. We might have soldiered on to more stores and sights, but we had to speed back to Atlanta.
| | |
| --- | --- |
| Little Steven's Underground Garage A Go Go made it's third appearance at Variety Playhouse. We arrived at 8:30, only to find we'd just missed opening act Tiger! Tiger! I was disappointed, but it's not as if I won't get the chance to see them again. We got a couple of beers and got seats, watching the between-acts go go girls do their thing. They weren't that impressive, frankly. There were also movies projected on the walls - concert films, rock and roll movies, sci-fi, etc. | |
Next up, The Charms, basic rock without the twists of Tiger! Tiger! or the swagger of New York Dolls, but not bad. They were skilled, energetic, with a female lead who has a great voice and tried hard to put on a good show, but they reminded me of a Vegas cover band - lacking inspiration or something. Or maybe I was the one lacking inspiration. It's tough to let it all hang loose on a Wednesday night when you know you have to work the next day. I didn't even bother to get off my ass and shoot pictures of most of the acts. I was content to sit and watch the crowd for much of the show - lots of aging white rockers, like myself, turning out for the Dolls or for the event as a whole, mixed in with a few younger folk who knew the music, perhaps from their parents' record collections or had sought it out via their iPods.
The Chesterfield Kings followed with more spirited efforts than The Charms but it was more straight up 3 chord rock with a bit too much Stones influence. Or maybe I was a bit more spirited, as I'd had a couple of beers by that point. Not as many as the guy in front of us who we feared was leaning over to puke virtually in our laps when we realized he was actually trying to climb over the rows of seats rather than elbowing his way through the crowd. He stood and weaved back and forth for a minute as he slowly brought one leg up and over the seats, then...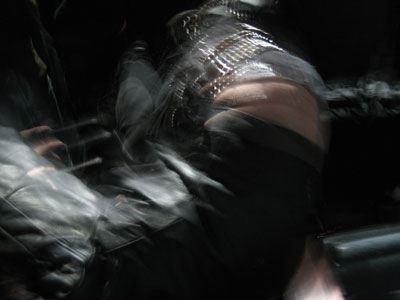 He pulled himself up off the floor and stumbled out to the aisle while EM and I laughed and laughed. It turned out he went through all this so he could make a call on his cellphone. I have to wonder if he was coherent to the folks on the other end, or if they could even hear him over the show in the background. Idiot.
The Supersuckers impressed me at Drive Invasion this year with their vaguely Southern garage honky-tonk, but even more so for the balls they had in starting into the tune Godzilla, mere minutes before Blue Oyster Cult was due to the take the stage and would surely be playing the tune themselves since Godzilla was the opening movie of the night. The Supersuckers reprised that moment, doing the opening chorus of Godzilla as an inside joke before breaking into their radio hit Born With a Tail.
I hadn't heard good things about New York Dolls' new album but was prepared to keep an open mind. They came on and did a few old tunes before breaking out the new stuff.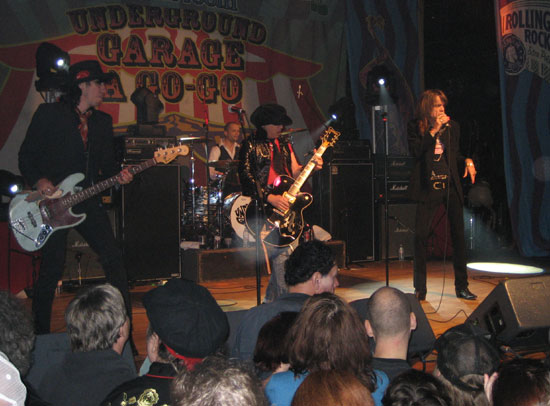 I didn't think the new stuff was all that bad, live, and the guys were clearly having a great time performing. They ran through all the old stuff the fans wanted, took a short break and came back for a quick encore. If you bought the new CD at the show you could have it signed afterward but it was midnight on a work night so we headed home.
Things wrapped up relatively early so I might try to catch another Little Steven's event if the lineup is worthwhile.
---