Degenerate Press
Welcome to Degenerate Press' feature article. If this isn't enough you can always subscribe to Electric Degeneration, our semi-weekly and semi-weakly ezine, or surf the Electric Degeneration archive.
---
Elvis Birthday Extravaganza
Johnny Knox and Hi-Test
Northside Tavern
January 2005
After dropping off degenerate CD, I realized it was only a little after 1 AM. Northside Tavern was on my way home so I swung by, wondering if I could find parking within 5 blocks, a challenge ever since The Compound opened around the corner. I found a spot only two blocks away and found Northside crowded, but not Mudcat-crowded.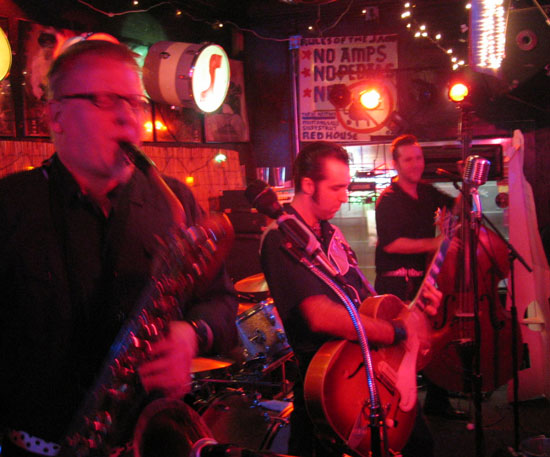 There were a few former Star Bar rockabilly regulars in the crowd, enjoying the earlier Elvis sounds cranked out by Johnny's flying fingers, backed up by a couple of honking saxophones, straight-up drums, and big stand-up bass. Between songs, Johnny looked at me and told me I'd already missed all the good stuff, but don't agree - the band cranked out plenty of great Elvis tunes, including a few upbeat versions of his movie hits.
Some folks can't handle that much Elvis. Or maybe it was the liquor...

I slapped a souvenir Degenerate Press sticker on her back and let her sleep, though I was tempted to slap it on her exposed thong, or other exposed part.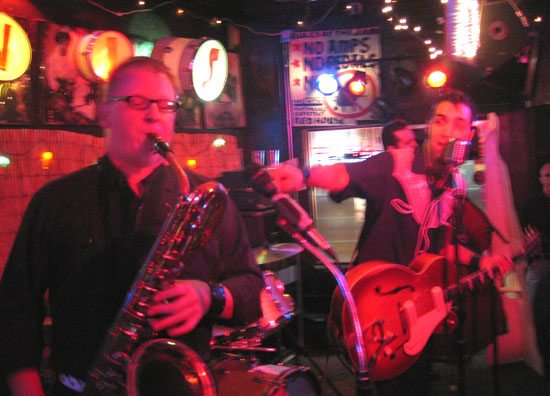 | | |
| --- | --- |
| Johnny swapped instruments with the sax player for a bit | |
| | |
| --- | --- |
| I got a seat at the bar and relaxed, guessing Big E himself would feel right at home in such a place. As a young man, he could've burned the mutha down on stage, and that's how I always think of him. Not the sweating verge-of-collapse Las Vegas lounge Elvis, not the svelte 68 Comeback TV Elvis, not even the race-car-dirvin', surfin', horse ridin', trapeze-swingin' movie Elvis, but the young, pelvis-shaking State Fair Elvis where only a few dozen girls are screaming up front while the older folks stand behind them and shake their heads. | |
| | |
| --- | --- |
| I recognized the cute couple next to me from the Star Bar's rockabilly days. They alternated between dancing and making out. I took a dozen or so pictures of them, trying to capture the moment. They were obviously in love, or intoxicated, or both, and having a fantastic time. But no photo can do them justice, so you'll have to add your own imagination to get the sway, the caress, the heat these two gave off. | |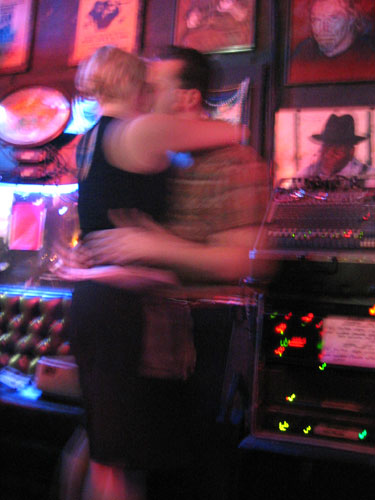 The band ended the show just past 2:30. I told Johnny about Echo closing and the incident with the poster. He laughed and autographed one of their posters and handed it to me. It's not exactly a souvenir from Echo Lounge, but it'll do just fine.
---