Degenerate Press
Welcome to Degenerate Press' feature article. If this isn't enough you can always subscribe to Electric Degeneration, our semi-weekly and semi-weakly ezine, or surf the Electric Degeneration archive.
---
Elvis Death Day
Harold "Elvis" Schulz
Kingsized
Variety Playhouse
August 2005
Degenerate CD and I headed down to L5P early to get a bite at Euclid Avenue Yacht Club. When I first moved back to Atlanta in the late 80's I avoided the Yacht in favor of places like The Point. But eventually, some 10 or 15 years later, I got dragged into the place by some friends. Unfortunately, places like TGIFridays and such have co-opted the clutter on the walls look so any place that has that style decor immediately repels me, but eventually I warmed up to the place. Now it's one of my favorite stops for surprisingly good food and affordable drinks. I went for their green chili burrito, substituting pintos for their usual black beans, and washed it down with a Sailor Jerry and soda. Good fuel for a long night of carousing.
We headed down the street to Variety Playhouse early, since they often do shows at the advertised time rather than the hour or two later as other clubs around down. We found other degenerates with a table halfway back in the auditorium and settled in for some pre-show socializing. A short time later we discovered there was an opening act, Harold "Elvis" Schulz and the Blue Suedes, an Elvis impersonator of some skill.
He's got a fine backing band, a fair costume, the voice, some of the moves...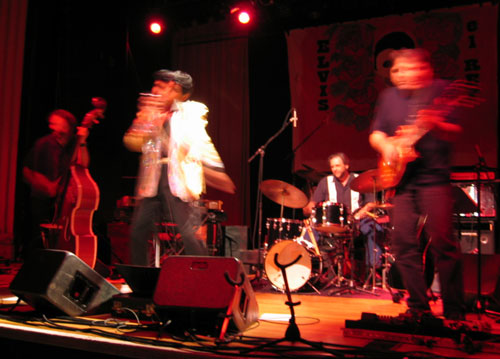 But there's just something about most impersonators that bugs me. There's a difference between covering material you love or having fun with familiar music (which is what Elvis was doing in the first place) and attempting to re-enact a moment in time that has long since passed and has been rehashed a billion times. It comes off like a Disney animatronic display - lifeless and somewhat creepy. But if impersonators don't bother you, Harold "Elvis" Schulz is a good one. You can find out more about him at www.bluesuedeent.com.
After Harold "Elvis" Schulz's set of early rockabilly Elvis the curtains closed. We snuggled up as close to the stage as we could and turned around to see the house was packed. There had been some worries in the Kingsized camp that they wouldn't be able to break even in a big place like the Playhouse but from what I saw those fears were put to rest.
| | |
| --- | --- |
| A short time later the curtains opened with some fanfare and the band was assembled, complete with four horns, a backup singer, and a couple of showgirls. Vegas Elvis would've felt right at home. | |
| | |
| --- | --- |
| As if that weren't enough, there was a riser at the back of the stage for go-go dancing Dames Aflame. | |
But honestly, though all the spectacle may get your attention it's Mike's booming voice that makes the show spectacular.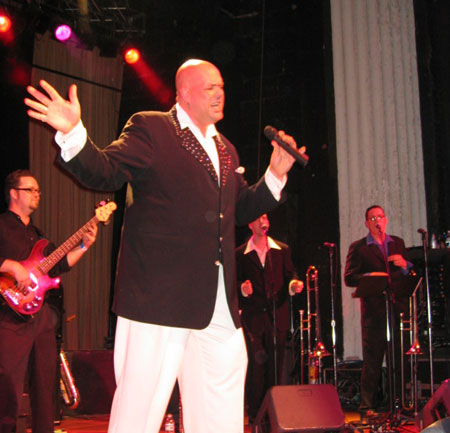 | | |
| --- | --- |
| Sure, it helps that the band is super tight and can get a groove going that makes the women slither up in front of you and squirm around in near orgasmic delight... | |
| | |
| --- | --- |
| But even Harold "Elvis" Schulz had to elbow his way up front for a bit. | |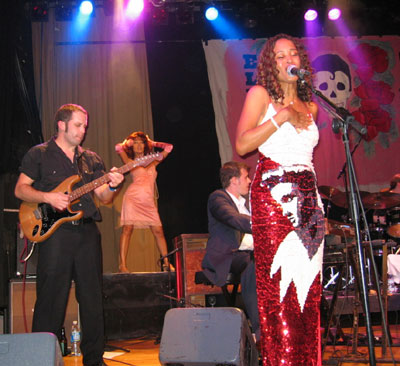 But apparently it wasn't enough to hold everyone's attention. There was a guy next to me celebrating his birthday with some friends. As each new member joined their group the girls would all squeal in unison, "OHMYGAWD, I haven't seen you in FOREVER!!!"

They were so loud I couldn't hear the show, and I was standing three feet from the stage. People on the other side of me started grumbling that they felt like they were trapped at a sorority house party.

Evil looks didn't quiet the group. A few of them tired to quiet the others but nothing worked. The chatty group grew, and grew louder, until I finally couldn't take it.

"HEY!!" I screamed at the top of my lungs just to get them to shut up long enough to listen, "I'm glad you're having a good time but I came here to see the show. I've never busted a bottle over anyone's head but I'm goddamn close now."
I've never threatened anyone with violence before (at least not a stranger) and if you're one of the chatty group I apologize for that. On the other hand, they did manage to shut the hell up, and everyone else around me thanked me profusely, so I don't entirely regret it.
| | |
| --- | --- |
| The show rolled on with more Vegas and Hawaii era Elvis hits, dancing girls (and even a guy or two), blaring horns, a gospel set, and a few surprise snippets of non-Elvis songs woven into the mix. | |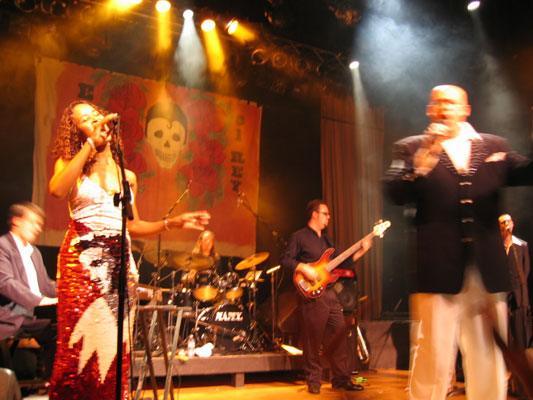 Between songs, Mike mentioned the humble beginnings of the Elvis birth and death day shows at the Star Bar some 10 years before. It was that very show that converted me into an Elvis fan. Mike urged everyone to head up the block to the Star Bar after the show.
| | |
| --- | --- |
| A grand finale and a disco encore later the show was over. We lost the other degenerates somewhere in the crowd as we followed the herd out the side door. We headed up the block toward the Star Bar but remembered it was the Atlantis Music Conference and we didn't recognize anyone on the bill. The cover was a bit much, especially as it was already after midnight, so we went back across town to Northside Tavern. | |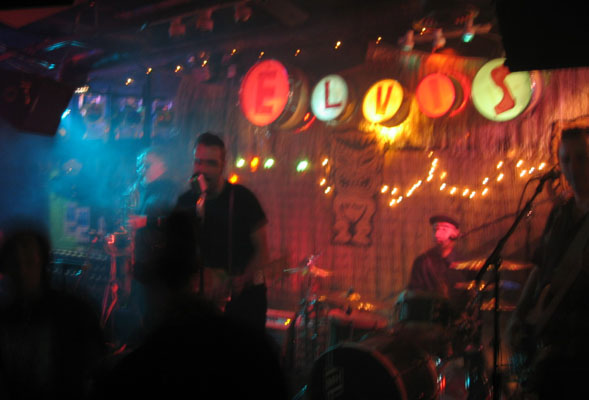 | | |
| --- | --- |
| | Northside was an entirely different Elvis experience. The sound was comparatively stripped-down, more rockabilly than lounge, with Johnny Knox's flying fingers cranking out some furious guitar backed by a single sax, bass and drums. The joint was packed and I wasn't surprised to see other folks from Variety following us in the door. |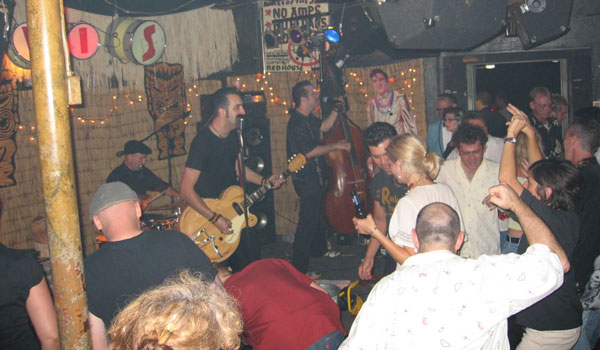 | | |
| --- | --- |
| | For Limbo Rock, the crowd was handed a bamboo pole. The limbo line that developed inspired quite a few giggles. |
| | |
| --- | --- |
| | It even inspired degenerate CD to give it a go. |
| | |
| --- | --- |
| | In other acts of stupidity, this guy kept blasting fire up into the ceiling. (Note the bumper sticker just below the counter top.) |
| | |
| --- | --- |
| | OK, the Paris Hilton skirt is over and done with. However, I have to say if you're going to wear it you must have just the right body for it. It's going to make your ass look big and poofy and your legs look skinny by comparison. I've seen this skirt hundreds of times but thus far this is the only time I've actually liked it. |
And suddenly it's 2:30 and Elvis has been evicted from the building, thanks to the Atlanta City Council. The crowd shuffled out the door into the cool night air. Tuesday marked the official annual passing of The King, but on Saturday night he was momentarily brought back to life, thanks to some hard workin' local talent.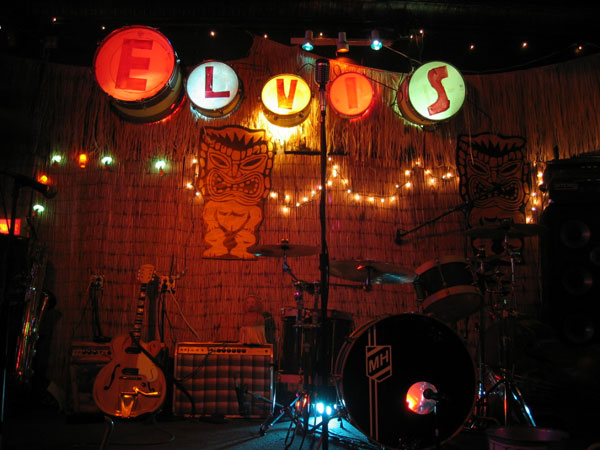 ---