The Archives
Excerpts from Electric Degeneration, Degenerate Press' semi-weekly e-zine, free and ad-free. A full episode contains sections for music reviews, upcoming events, blasphemy, classifieds, and anything else we feel like saying. If you'd like to subscribe just contact us.
You can surf the Electric Degeneraion archive.
---
As promised, here's the full review of Fantasm 2001. This is not for the faint of heart. You must be this tall to ride this ride. Rated R - no one under 17 admited without adult supervision. Keep away from eyes and face. Parental Advisory - contains explicit lyrics. Don't go into the swamp.
You have been warned.
| | | |
| --- | --- | --- |
| | Yes, I had two horny and beautiful women for roomates. And that's all I've got to say about that... | |
After the slave auction we grabbed a bite then got good seats for the cam girls panel. Usually this is a Q/A session between the lovely ladies of the internet and their adoring fans, but degenerate WW took over the event turning it into The Donahue Show. It was still educational for those who knew little or nothing about the world of internet voyeurism, but dull for those of us who were just waiting to see the girls in some state of nudity. Fortunately we didn't have to wait long.
WW plugged in a row of blacklights and the girls stripped to glowing underwear then rolled around on the stage in glowing body paint until everyone on stage was covered in the stuff, and everyone in the crowd was silent, or groaning, in appreciation - a very fun show. Thankfully, WW asked that the camera geeks refrain from flash photography to avoid spoiling the effect. So you just had to be there to see it!

The girls of the panel included:

As usual, everything was running behind so they had to hustle us out of the room to get set up for the next event so we hit the parties. Saturday was the official party battle and having been a party judge at several MOC's I knew what to expect for my Fantasm party judge duties - hours and hours of drinking, getting my ass kissed by party organizers, and running up and down stairs.
Somehow we missed the costume contest, one of my favorite events to heckle, but I did catch a few killer costumes in the halls, including a nicely done Predator, and Jason, a con whore from way back, as Mr. Perfect from Buckaroo Banzai. One guy, Brennus, was dressed in medieval armor for the entire weekend, clanking from room party to room party before finally giving up and crashing in the hall in his 100 lb. steel plate and chain mail suit and taking drinks, and jibes, from passers by.
"Oil can... oil can..." I squeaked at him every time I walked by.
(His site is at http://brennus.stormloader.com/fantasm.html) Lake noted that there should be some kind of Fantasm Endurance Award and he would be the clear winner, since he was never seen out of costume.
I caught this parade of very cool freaks on the way to the costume contest or dance or something. Unfortunately I was ready to party hardy so I headed upstairs instead of following them to find out what was up.
Later I found out it was some kind of freaky Friday the 13th Pagan dance thing and I'm sorry I missed it, but one of the common problems at a con is that you can only be in one place at a time.
Speaking of pagan freaks, this satyr roamed the halls, invited folks for a perverse game of ring toss.
There's a gang of degenerate scum that frequented MOC for years as a half naked tribe of nomads, calling themselves the Bendovaho's. They would get a big cauldron of (usually syrupy sweet) hunch punch and run from room to room causing chaos and laughter, but because of their nomadic status they never could win a party battle because nobody knew what room to put down on the ballot, or even if they were in the battle in the first place. So this year they switched gears and got a room and threw an Inquisition-themed party, complete with various torture devices operated by drunken lunatics in brown hooded robes. It was a lot of fun.
| | |
| --- | --- |
| | If you lurked around long enough you'd be accused of being a sinner and had to spin the wheel of redemption. On the wheel were various tortures, such as the stocks (which came with a half-naked stripper wielding a whip), and the grope box (basically a booth of black sheets through which the organizers get to grope the sinner.) Sometime around 3 AM I got accused of sinning but I'm not one for atonement and cowardice is one of my frequent sins, so I fled the room and escaped punishment. |
Down the hall a younger crowd organized the Necrophilia Party, covering the floor in black plastic and adorning the place with various haunted-house-style plastic bodies and body parts. But that wasn't the offensive part - the music was. A guy sat in front of a computer monitor selecting MP3's of the worst kind, nothing but irritating hard rap stuff of the Limp Bizkit/Insane Clown Posse/Eminem/Who-The-Hell-Is-This Crap?-variety. Not my cup o' tea, but the joy of a con is running into new and different stuff, and there's something for everybody. They invited us back later, "We're gonna have a band!" so we wandered on to the next party.
Down the hall I stumbled into the MOC organizers throwing a promotional bash for their next convention in October. They offered the best drink selection, as well as snacks, but it was the familiar faces that kept me coming back. I found DN talking with one of the MOC staff about how to resurrect the dying con, but I've covered that in countless broadcasts so I didn't get involved.
| | |
| --- | --- |
| Besides, it was much more fun to watch the belly dancing class. | On the other end of the spectrum, this has to be the first, and hopefully last, knitting circle I've ever seen at a con. |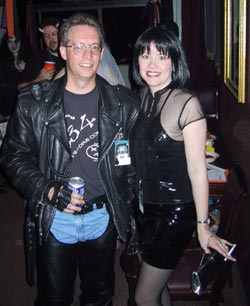 It was great to see some of my old MOC pals. If there's a friendlier gang in fandom I wanna hear about 'em. Now that Roland has reliquished control of the con it should be on it's way back up.
SW and slipped into the Utopia party, organized by local swinger's club, online at http://www.theclubutopia.com. We'd found the organizers earlier and gotten the stickers that let us into their private party. Things weren't swinging yet since many of their members were still downstairs at the bondage play party so we hung around and looked through their picture books at previous events, chatted with a few friendly folk, then continued on the party parade. Later, I heard the Utopia party did get really naughty and I'm hoping for a full report from any degenerate who attended (anonymity provided upon request, just get us the report!)
Back at the Necrophilia party, SW asked "Isn't this the party with the live band?" just as three guys in hospital gowns leapt into the suite with microphones and started spouting the most incredibly offensive racket anyone could devise. DM has a great review of this "band", Sleazoid, on her site at http://www.dawnmarie.org/moment/041701.html (and a full review of the con at http://www.dawnmarie.org/fantasm3/index.html)
Think Insane Clown Posse with Tourett's Syndrome and a profound obsession with bodily fluids and excrements and a tendency towards violence. If that appeals to you check out their site at http://www.angelfire.com/pa2/letuspreyproductions/sleazoid.html
They cleared the room out faster than a police raid.
A few interested folks, be it morbidly or geniuinely so, lurked around on the balcony, watching them through the glass door as they squirted fake blood and other goo all over the room and each other and anyone foolish enough to get close. I realized why they'd covered the floor and walls in plastic, but I wondered how they avoided getting any on the ceiling. They have since emailed me and said they got all of their room deposit they got back, so I'm impressed with their disaster avoidance techniques.
SW crashed early, her stomach still not happy, so I tucked her in and headed back into the fray. Downstairs, I found JM at the bondage play party, watching the naked bodies strapped to various devices being flogged, whipped, tickled and tortured in various ways. Unfortunately, most of these folks weren't people I WANTED to see naked and strapped to anything (to each their own) so I headed back to the parties.
| | |
| --- | --- |
| As often happens at these events, the best party was in the hall. Outside the elevators on the officially designated party floor a crowd gathered, drums played, drinks circulated, the usual party activities just right in the middle of the floor. | I think only myself and DN have been going to cons longer than this crew. |
I looked over my party battle ballot and realized I'd missed a couple of official entries somewhere so I tracked down the FAGG Bash on another floor. The Fantasy/Action Gay Gamers thrown this event at countless conventions and usually it has the best drinks and food of any party so I was glad I'd found them. Unfortunately, not many other folks and stumbled onto them so the room was half empty but I sampled their drinks ("hellfire" was surprisingly delicious) and munchies (excellent meatballs) and chatted with some friends before headed back to the main party floor. Normally I'd survive until 4ish but judging the Iron Bartender competition had me buzzed early so I was forced to call it quits around three.
A convention on a Sunday is a sad sight. People walk around in zombie states, or worse, after a night of drunken debauchery. Some haven't slept. Some haven't bothered to shower. Some haven't even changed clothes. Some lurk around the lobby or hotel restaurant hoping to see someone one last time before they split. Everyone makes one last tour through the dealer's room, hunting bargains, then only the staff remains behind to argue with the hotel about the damages. I'm not one for long goodbye's so we loaded our luggage in the rain and hit the road, dreading the return to the mundane world but happy for the peace and quiet of Degenerate Press HQ.

---