Degenerate Press
Welcome to Degenerate Press' feature article. If this isn't enough you can always subscribe to Electric Degeneration, our semi-weekly and semi-weakly ezine, or surf the vaults.
---
Fantasm
April 2004
DANGER DANGER DANGER
Subsequent pages contain all sorts of things you probably shouldn't show
your coworkers, kids, roomate, dog, parents, etc.
Enter at your own risk.
Fantasm was a long weekend of hard partying. Saturday afternoon I was talking to some of the old con whores, saying things like ďWell, itís been pretty good. But I havenít seen anything that shocked me or blew me away or even really made me raise an eyebrow.Ē
By Sunday morning when I stumbled to bed at 6 AM things were a different story entirely.
Wow.
JustÖ wow.
But hey, letís not jump ahead.
I swung by the hotel on Thursday on my way home from work, hoping to beat the crowd to registration. One of these days Iíll bother to pre-register. But every year I swear Iím gonna be on staff, then every year I see the staff ragged out and working hard to make sure everyone else has fun instead of working hard to have their own damn fun. So when I swung by at 3ish and they were only allowing pre-registered folks to pick up their badges, I swore again Iíd pre-register next year.
But hey, I could be dead by then. If I keep partying like I did this weekend at Fantasm, that might come sooner than later!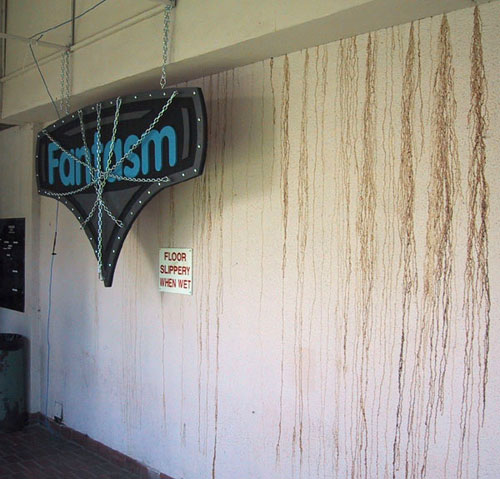 The hotel was a little grimy and run-down, as had been mentioned on the pre-event announcements. The Ramada Conference Center on Armor Drive at 85 and Monroe Drive is changing hands so the current owners aren't interested in any major repairs, or seemingly any day-to-day upkeep or even assigning people to the correct room.

But the condition of the hotel only added to the anything goes mentality for many of us.
But since I couldn't register yet and few people were there, I headed home to pack and prepare. I returned a couple of hours later with supplies, costumes, cash, all the gear Iíd need for a night of full-on debauchery.
As usual, this review does not intend to cover all the official events, but is more a journal of my own personal experiences.
---