Degenerate Press
Welcome to Degenerate Press' feature article. If this isn't enough you can always subscribe to Electric Degeneration, our semi-weekly and semi-weakly ezine, or surf the Electric Degeneration archive.
---
The Spinns, The Black Lips, The Forty Fives
The Earl
March 2005
We assembled at former degenerate LS's place early. I say "former" because she's a new mom and you just can't rock and roll all night and party every day with a babe in arms, especially on a weekend when your husband has run off to Florida for a wedding or something. I was amazed at the transformation of their house. I hadn't visited since long before she'd had the kid and the sheer volume of baby-related stuff that has taken over the place was amazing. The coffee table, formerly the sanctuary for trendy magazines and picture books on rock stars, is now covered in books on how to make your baby smarter, stronger, faster, along with the usual books with big lettering and various fuzzy inserts and such, as if the kid wouldn't be as amused by tin foil at only a few months old. The couches were surrounded with baby furniture. You'd think baby furniture would be smaller than adult furniture, but no, these days they all have jungle gym sizes frameworks surrounding them, big plastic skirts jutting from all sides, and wheels the size of tractor trailer tires. Fuck.
We retreated to The Earl where The Spinns were on stage, already on their final number. Bummer 'cause the 90 seconds of it we caught were enjoyable.
Next up, The Black Lips, a name I remembered but unfortunately I saw them in the same month as The Black Keys, The Black Kites, and probably some other band with Black in the name. So I couldn't remember which particular band they were. Turns out they're the local guys we reviewed a while back, and not necessarily positively.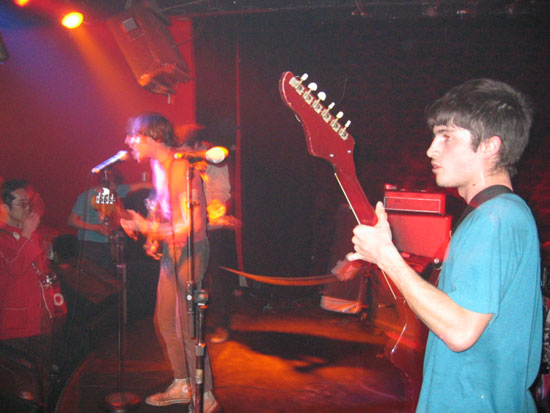 They do some of the sloppiest stuff imaginable, something like early British invasion garage meets American garage before they called it punk. Good songs, really, but done so poorly it's alarming. They chased off the rest of my crew but I stood transfixed. It was like watching a car wreck, but a car wreck where one of the parties involved has decided to wreck on purpose. Startlingly bad, and yet...
Their enthusiasm can be contagious. There were quite a few folks in the crowd cheering and even a few that knew the lyrics (how they discerned these lyrics in the first place is a mystery.)

The band tends to cut songs off at the end, or forget how to end them and one by one they just give up. It's almost as if they're saying, "Well, it's standard three chord rock. You know how it ends." I can easily imagine a verbose critic using words like "deconstructionist."

I think I prefer "sloppy."
| | |
| --- | --- |
| But don't stand too close to the stage. The Black Lips also tend to spit, occasionally vomit or spew forth some other bodily fluid. They smell a bit too. Definitely a band Malcolm McLaren could've done something with, about thirty years ago. | |
| | |
| --- | --- |
| For their final number, one guitarist decided to charge into the other one, nailing him in the mid-section with his shoulder. It brought them both down but you could barely tell a difference in the sound. | |
I went and informed the rest of the crew that The Black Lips were done. We reassembled right up against the stage for the headline act, The Forty Fives.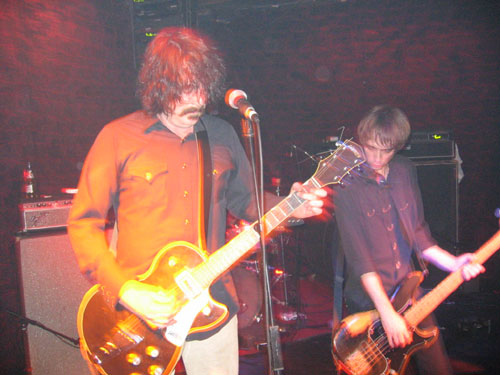 They mentioned breaking in their new drummer on the upcoming tour, something like 52 shows in 53 days. I missed Adam's sideshow-barker-style banter but the new guy he has the appropriate grimace.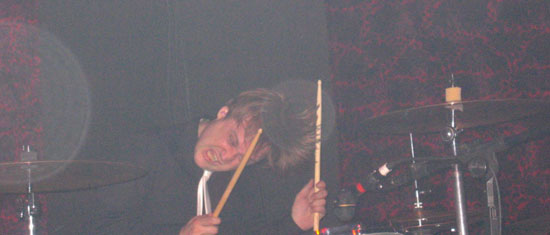 Yeah, it looks like this is an action shot, one of those moments only the camera can capture where someone's face becomes twisted and strange. But he kept his head craned this way through the whole set. I'd hate to see his chiropractor bills! Regardless, he kept pace with the band and seemed to know the songs pretty well, especially for his first performance.
| | |
| --- | --- |
| | I've reviewed these guys so many times it's tough to say anything new. The bass player still flings himself around the stage with abandon, having a great time yet somehow staying on key. |
| | |
| --- | --- |
| | The lead singer's voice is scratchy, providing one of several reminders for bands like The Small Faces. |
| | |
| --- | --- |
| | The keyboard player looks as if he's being electrocuted by the instrument, yet can't let go. |
| | |
| --- | --- |
| | But all the histrionics aren't just for show. It's clear the music has a hold on these guys. Within a few minutes it has a hold on the crowd too and everyone up front is bouncing along to the beat. |
| | |
| --- | --- |
| | The highlight of the show may be their cover of Shake, as hot and heavy as Otis Redding at Monterey, jammed into a venue the size of a largeliving room. Pretty soon I can't even hold the damn camera still, much less my body. And neither can the band. |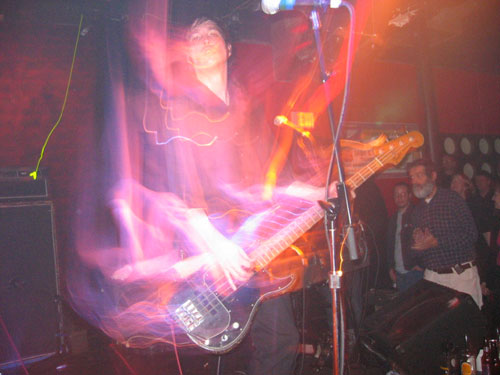 Degenerate CD said something like, "I forgot how much these guys kick ass." I hadn't forgotten, but the occasional reminder doesn't hurt!
---