Degenerate Press
Welcome to Degenerate Press' feature article. If this isn't enough you can always subscribe to Electric Degeneration, our semi-weekly and semi-weakly ezine, or surf the Electric Degeneration archive.
---
Halloween
October 2003
Halloween started a week early this year with the horror of finding The Clermont Lounge has begun charging a cover. Sure, it's a mere $2, but it's an omen of things to come. The new owners of the building have doubled the rent on the lounge, according to the doorman. Visit while you can! Things haven't changed much, yet.
"Blondie! How much to get you naked?" yelled a female patron across the bar.
Blondie counted the few bills in her hand and said, "About four more dollars."
I love that place.
Things continued Saturday with the Little 5 Points parade, always falling the Saturday before Halloween, almost a week before the actual day of Halloween this year.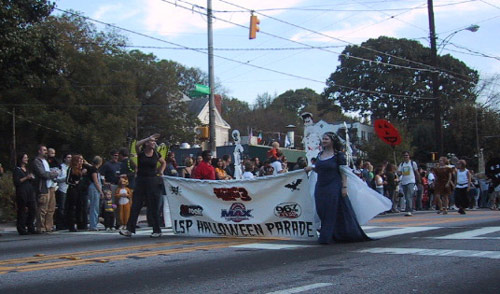 | | |
| --- | --- |
| It featured a bunch of kids in costume, some of which we couldn't quite figure out, like these three kids in ducts. Weird. | |
| There were a variety of floats with my personal fave being the Clermont Lounge, complete with a mock radio tower and Blondie herself tossing candy out. Unfortunately she was on the other side so I didn't get a good shot of her. | |
| | |
| --- | --- |
| | There were various people trailing the floats, such as this lovely skull-faced bride carrying a chainsaw. |
| | The Star Bar and friends put together this medieval-themed float, complete with a truckload of princesses and such. |
| | Mastadon were rocking, competing with the high school marching bands in front and behind them. |
| | A Wizard of Oz themed float. The main characters rode on the back, but I prefer the witch and flying monkeys. |
| | The winner of Best Float, the pirate-themed SS Excess, put together by the Euclid Ave. Yacht Club. |
| | Witch doctors pelted me with candy. |
| | I always figured people who drive Hummers went to hell. The sexy devil on the hood licked the decapitated head in her hand and said, "I love eating head!" |
| | |
| --- | --- |
| There was also a parade of Hearses, probably almost a dozen. | |
| Bikes and trikes with various characters were mixed in at random. | |
| This one being my personal fave. Wonder if she'd tie me up and make me tell the truth? | |
| | |
| --- | --- |
| | A couple high school marching bands tromped through, sweating in the warm mid-day sun. |
| | After dark, a band set up on a stage in the parking lot of the Brewpup, doing hard, bass-heavy stuff with lots of instrumentals. Not sure who they were, but it made ok background racket. |
I met a few degenerates afterward at Jake's Toadhouse. The Soundmen opened, groove/jam jazz/fusion/rock stuff that would've been good if each song weren't about 3 times as long as it needed to be. Even the nouveau hippies I was with didn't enjoy 'em, but that may have been because they were impatient for the headliners.
After a short break, the headliners appeared, Mofro, a swampy jam band from northern Florida. It's something between Allman Brothers, Molly Hatchet and the Grateful Dead. I enjoyed it, but I don't like the setup at Jake's. The stage is only a few inches tall so unless you're right in front you can't really see. The rest of the room is kept so dark you can barely find your way around. Somewhere in the back are a few booths, but you can't see from there. It's better to snag a seat at the bar where you can occasionally catch a glimpse over the crowd and can still hear the music.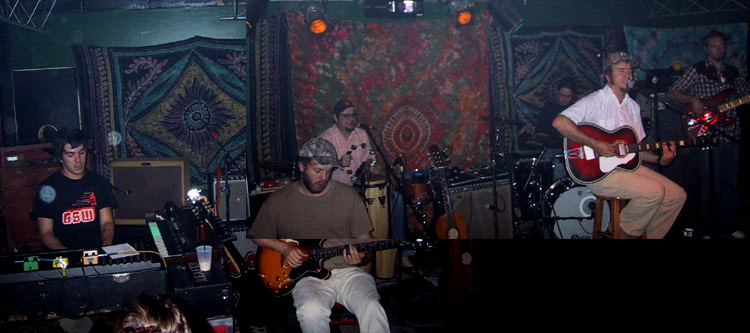 I pasted this together from a couple of shots so you could see the full act at once,
something that can be tough to do at Jake's when the room gets crowded.
---