Degenerate Press
Welcome to Degenerate Press' feature article. If this isn't enough you can always subscribe to Electric Degeneration, our semi-weekly and semi-weakly ezine, or surf the Electric Degeneration archive.
---
Dynamite Brothers, Kung Flude, Palookaville, Immortal Lee County Killers
Star Bar
Halloween 2004
We assembled at degenerate DAC's house on Saturday night. Random Cabbagetown kids wandered up to the porch in search of candy. I was disappointed at the number of kids who hadn't bothered with a costume. Not even a cardboard and magic marker mask, just a sack, walking up and demanding candy. When I was their age...
We had a beverage or two, chatting with degenerates who weren't up for a night on the town. Disappointment again, but not everyone shares my enthusiasm for the holiday. Crap, I started growing a mustache a month ago just for my fuckin' costume!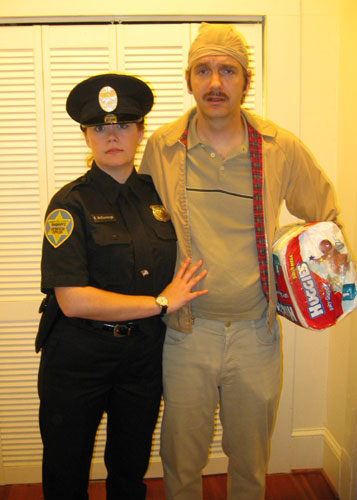 Not to mention the cost of SW's cop uniform, complete with Maricopa County Corrections Officer patch. We even had SW draw on the correct tattoo.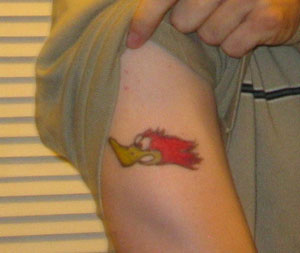 So we put degenerate CD in the truck and headed to L5P. We figured the plaza in the center of the village was the perfect spot for him to strike a pose in his costume.
He even had a petition, flyers, stickers, pins, and a sign that read "Down with me" on one side and "Boo me" on the other. Perhaps the best part was the slogan on his jeans, "Make love, not Chuck."

It was pretty funny watching him try to drink and smoke with the slash-circle mask.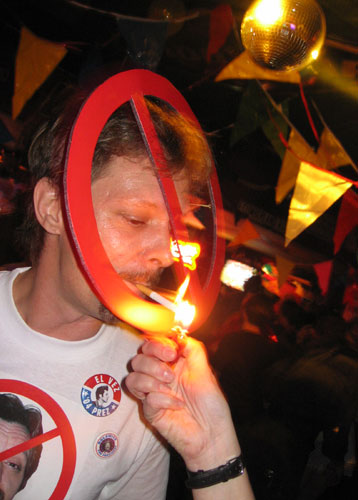 | | |
| --- | --- |
| The Star Bar was done up with a mix of Halloween and circus decor appropriate for the affair, including rude clown posters that said things like "EXTRA! EXTRA! FUCK YOU!" But one seemed more timely and ominous than the rest: | |
| | |
| --- | --- |
| | First on stage, The Dynamite Brothers, already on when we arrived pretty early. I vaguely remember being impressed with their music at parts, annoyed at others, but I didn't pay them much attention since we were spending more time socializing and gawking at costumes than we were listening to the band. Sorry, guys. |
| | |
| --- | --- |
| The room was full of crazy costumes on crazy people, like Shane from Gargantua as a creepy preacher. | |
| | |
| --- | --- |
| He made the Jimmy Stuart style preacher seem tame by comparison. | |
| | |
| --- | --- |
| My favorite costume of the night was this guy done up as one of the characters from the Mad Max films, probably one of the good guys/kids from Beyond Thunderdome. Phil from Liberty Tatto showed up as... a tattoo artist, perhaps? | |
Next on stage, Kung Flude, done up as the Hanson brothers from Slapstick. They looked fantastic.

Musically, they're fast and furious and sing punny, silly tunes that wouldn't be out of place on a Dr. Demento show. Perfect for the occasion.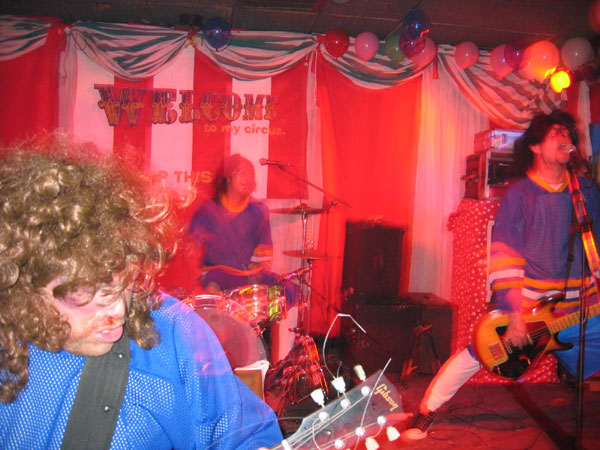 | | |
| --- | --- |
| Jim Stacy appeared as Reverend Uncle Laffo at the lead of Palookaville doing old Big Top/Greasepaint tunes at full throttle. | |
Nothing new for long-time fans of Jim's work, but how many folks in the crowd noticed?

The set started off fast and loud and didn't slow down for a moment.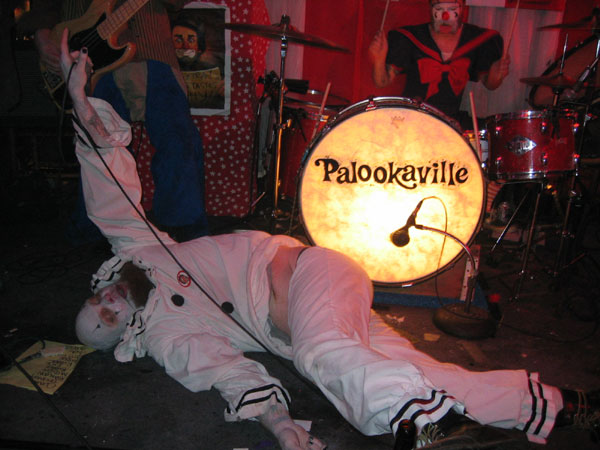 | | |
| --- | --- |
| They've recently added a keyboard player, fattening up the sound a bit without taking away any of the raw power. And what power... | |
| | |
| --- | --- |
| Chet played his heart out, as always, sweating and shaking like a man possessed. He even wound up on the bar for a slide guitar solo. | |
| | |
| --- | --- |
| Laffo joined in for some spirited harmonica as my camera battery began to die. I got one last photo of the band switching instruments for a few numbers before I ran out of juice entirely. | |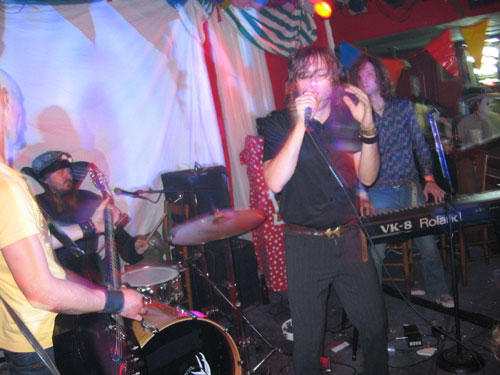 But Chet hadn't run out of juice and was ready for an encore after a break. Unfortunately, the sound guy wasn't and couldn't be found. Despite the time change, Jim wasn't motivated to let the show go on thanks to the goddamn Atlanta city council's stupid curfew. Yet again I've been denied another few minutes of harmless good times by the earlier closing times. Bastards!
So we gave up yelling for more and stumbled out into the night. In the morning I was in no mood for tricks or treats and spent the actual night of Halloween recovering from the night before. A few kids stopped by the apartment begging for candy, yet again disappointing me with the numbers who hadn't bothered for costumes. But the last thing I needed was a bowl full of Tootsie Rolls hanging around the apartment, so I gave away handfulls of processed sugar to anyone that asked.
---