Degenerate Press
Welcome to Degenerate Press' feature article. If this isn't enough you can always subscribe to Electric Degeneration, our semi-weekly and semi-weakly ezine, or surf the Electric Degeneration archive.
---
Halloween
October 2006
It's my favorite holiday 'cause most years there's a ton of stuff going on and it's tough to decide what to attend and everywhere you go people are out having fun in costume. This year The Earl got my vote for Halloween weekend fun with their tributes to Velvet Underground, Bowie and Alice Cooper.
| | |
| --- | --- |
| Things started off with Clay from the Subsonics and a dozen other acts along with members of Tiger! Tiger! doing all Velvet Underground. They did a fantastic job with the material, mimicking the sound to near perfection. | |
| | |
| --- | --- |
| Several projectors showed documentaries, the Ziggy Stardust concert, and random abstract stuff, adding to the Warhol-like experience. | |
| | |
| --- | --- |
| | Day Mars Ray did their own take on Velvet Underground and David Bowie, including, appropriately, the tune Andy Warhol. Dave Railey took the lead as Andy, until he was shot down at the end of the set. Brilliant. |
Unfortunately, there weren't many people there to see it, and only about half of them in costume. What the hell? It was a really good show and there wasn't much else going on in town that I knew about.

Degenerate CD was a well-crafted Twister game.

Degenerate EM was a washed-up ballerina with a bit of blood spattered on her from my cosutme.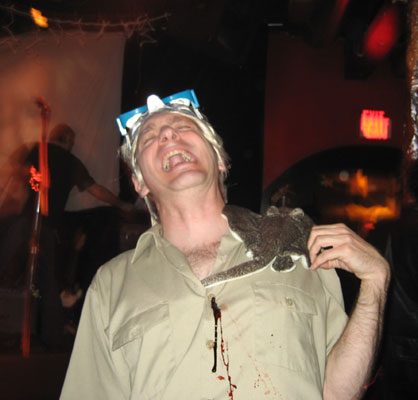 Steve Irwin in his final moments.
| | |
| --- | --- |
| The last act of the night featured members of The Sweetloves doing Alice Cooper, and doing it justice. | |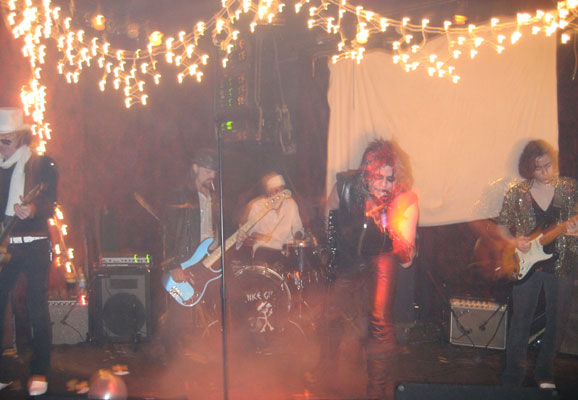 Since the clocks rolled back, we had an extra hour to party so we stopped by 97 Estoria on the way home for a nightcap where the joint was crowded, but few folks in costume, listening to a DJ spinning up top 40 from 10 years ago, stuff I was sick of hearing then and by now, thanks to 99X and Dave, I'm really tired of. But for some of the younger folks in the room these were golden oldies from their formative years. My date hopped around with abandon while I confused drunk girls with my costume. "Who are you supposed to be, Amelia Earhart?"
"Yes, I'm Amelia Earhart after she had a sex change then crashed into the sea and was attacked by a stingray."
A few nights later it was actually Halloween. We started things off trying to get into Clermont Lounge at what we thought would be an early hour - 10PM. But the first band was already loading out and Zoroaster was grinding out racket to a sold-out house. The doorman mentioned something about the fire marshal and wasn't letting anyone in.
We stopped by the Star Bar but it was dead - and not in the fun Halloween way - but we heard MJQ was the place to be so we sped back across Midtown and headed into the former parking garage turned hip club.
I was immediately impressed. The bar had been decorated in cobwebs and the like, but more importantly it was crowded with people in costume, and some pretty good costumes at that.
| | |
| --- | --- |
| | Some familiar faces were on stage doing Misfits covers to a very appreciative crowd. |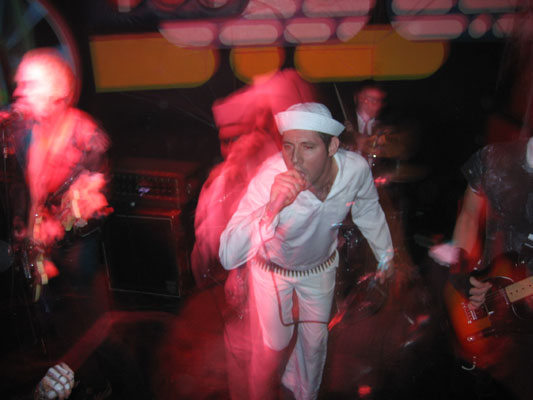 The Drunken Unicorn portion of the club was filled with carnival games given Halloween twists.

Instead of throwing a ball through a clown's mouth, you tossed a rubber brain through the mouths of these screaming faces. Fun!
After the Misfits covers the crowd gathered around the stage to watch ectoplasm wrestling, the Halloween version of mud or jello wrestling. Random girls signed up to roll around in some green goop the consistency of watery oatmeal.

After a couple of matches we'd had enough. Mid-week Halloween makes the full-time job life suck, but at least it extends the holiday for a few extra days.
---