Degenerate Press
Welcome to Degenerate Press' feature article. If this isn't enough you can always subscribe to Electric Degeneration, our semi-weekly and semi-weakly ezine, or surf the Electric Degeneration archive.
---
The Helgas, Doll Squad
The Star Bar
December 2004
We headed to Echo Lounge on Friday to catch some holiday burlesque, ""House of Heat's progressive Burlesque,The Red Velvet Revue is Torchy Taboo's latest concoction, mixing the best of Atlanta's Burlesque performers..."
Unfortunately, when we arrived the guy at the door said Echo couldn't serve booze that weekend due to some mix-up down at Atlanta City Hall. We were too confused and disappointed to get details, but he said they'd be back in alcoholic action on Monday. I peeked into the room and saw a few people lurking about waiting on the show, but we were barely motivated to go out, much less to hang around sober in a near empty room through a long show. Instead, we headed up to Flatiron and had a nightcap with friends and called it a night.
But there was another night of burlesque to be had on Saturday at The Star Bar, so after desert and socializing at Carol Street Cafe, we cruised out of Cabbagetown and into L5P. Moments after I grabbed a beer, The Helgas started up - perfect timing.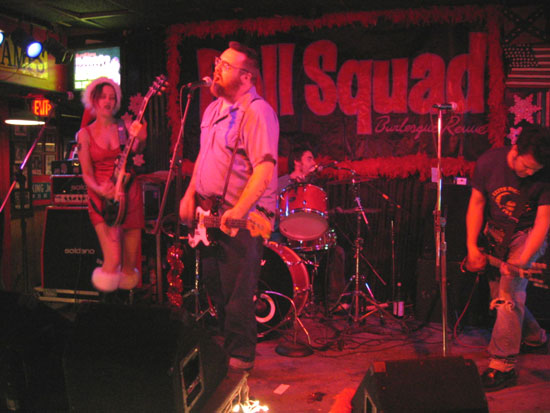 They performed their power pop punk with the usual pluck, though it was clear most of the crowd was just there for the T&A action. There were a few tables set up right in front of the stage, which actually helped more people see since there wasn't a wall of people right up against the stage. But having a ring of people quietly sitting right up front doesn't do much for punky energy. Still, I liked the combination of music and burlesque. If only they had room and motivation to try both at the same time we could have a modern version of the old time burlesque scene.
| | |
| --- | --- |
| | After a long break the stage was set for the headline act, The Doll Squad, introduced by Sasparilla the Singing Gorilla. Bad jokes, bad singing - exactly what you expect in a burlesque MC and filler act. |
| | |
| --- | --- |
| First Doll on stage, Kitty Katrell done up as a fireman (firewoman?) strutting her stuff to Ohio Players' Fire. Hot. Very hot. | |
| | |
| --- | --- |
| So hot I didn't take time to make sure my camera was set optimally and most of my pictures came out looking like nearly-abstract expressionist paintings. But hell, if you want perfect detail maybe you should go your damn self? | |
| | |
| --- | --- |
| She picked up a fire bucket and tossed the contents into the crowd - glitter. It didn't exactly cool things down... | |
| | |
| --- | --- |
| Bit by bit, the "protective" clothing was stripped away... | |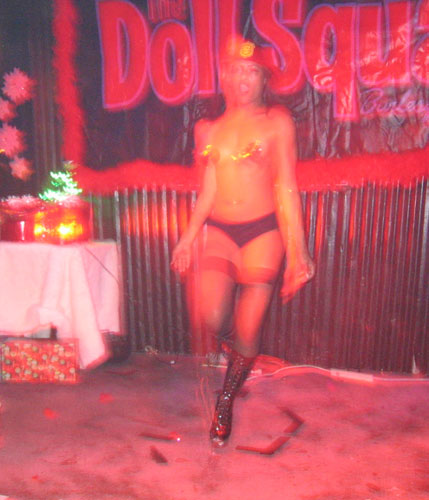 ---