Degenerate Press
Welcome to Degenerate Press' feature article. If this isn't enough you can always subscribe to Electric Degeneration, our semi-weekly and semi-weakly ezine, or surf the Electric Degeneration archive.
---
The Mids, Knife and the Stabs, The Helgas
at The Star Bar
February 2004
We hit the Star Bar early and found the place dead empty. No surprise, as early as we got there, but things didn't pick up much by the time the opening act, The Mids, got on stage.
| | |
| --- | --- |
| | There were a few young punks there in punk uniforms, but otherwise the place was nearly deserted. Weird for a Friday night show with an act as great as The Helgas headlining, but so be it. |
| | |
| --- | --- |
| | The Mids, from Athens, pump out punk in a late 70's fashion, familiar sound done fairly well. The only unexpected moment was a punked up cover of KISS' Black Diamond. |
They had a couple of false starts and awkward endings to show they didn't know the material 100% but I'd rather see smiles and slop than someone that takes themselves too seriously. They pack lots of energy into the show, so they're worth seeing if you're into that kind of thing.

I'm pretty sure the guitarist on the left was in one of the many incarnations of Drive-by Truckers, but I didn't get around to confirming this.
| | |
| --- | --- |
| After a short break, fastforward from the late 70's to the early 80's and you've got the hardcore sound of Knife and the Stabs, a machinegun approach to music - constant, fast, loud. | |
| | |
| --- | --- |
| Like The Mids, I had to wonder if these kids were even born when this music first came about, but does it really matter? I'd argue that it doesn't, as long as it's done with heart and passion. A little style helps. Knife and the Stabs like what they do, despite playing to only a handful of fans. A few more folks had trickled in, but only a few. | |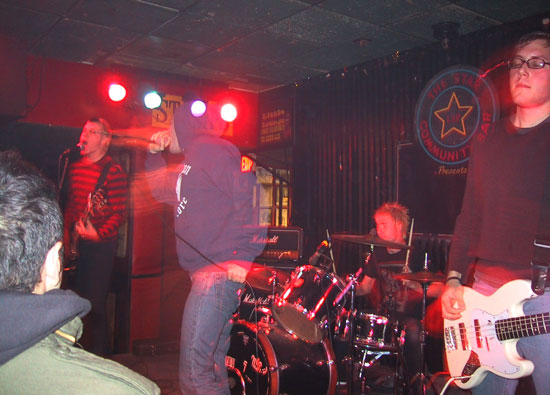 | | |
| --- | --- |
| | The Helgas stepped up and did their usual poppy punk, excellent stuff. |
| | |
| --- | --- |
| | Scooter is started to look a bit like degenerate RVI in more ways than one. |
| | |
| --- | --- |
| | Suzanne teased us, saying she'd take her shirt off, but didn't follow through. Dang! |
| | |
| --- | --- |
| | They put on a good show, especially considering so few turned out to see it. What the hell? This stuff doesn't grow on trees y'know? There are musically deprived children in Muslim countries all over the world! Get out and support your scene, goddammit! |
Somewhere I read it was a CD release show for The Helgas, but apparently that was incorrect. Scooter said they had a split CD with another group coming out in a month or two, but nothing new at the moment. So we cruised out into the night, ears ringing and pockets empty.
---