Degenerate Press
Welcome to Degenerate Press' feature article. If this isn't enough you can always subscribe to Electric Degeneration, our semi-weekly and semi-weakly ezine, or surf the Electric Degeneration archive.
---
Daniel Clay, Theater Fire,
Hope for a Golden Summer
The Earl
December 2006
Friday night, the company holiday party - is there any American institution easier to make fun of? A few, and Stephen Colbert is doing genius work on those fronts. I made an appearance, ate well, then made my goodbyes and wound my way out of one of those little instant communities that are gentrifying my neck of the woods, one of those little valleys nobody had built in before but now is jammed with houses all painted from the same three colors, and all from the same basic khaki color palette. I find these developments disturbing and creepy, more so near Consumass when animatronic Santas wave from balconies.
Then it's off to The Earl where there is one thing I can make more fun of than holiday parties - singer/songwriter acoustic HELL.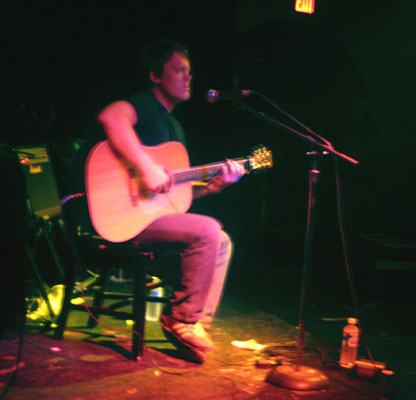 Daniel Clay took the stage and played a few heartfelt tunes while the crowd stood reverently silent, at least until they got a few drinks in them.
"I have a lot of..." Daniel started to say between tunes.
"Issues? Sadness?" answered degenerate EM next to me, inspiring giggles.
"... junk... from growing up in the South... " Daniel continued in a sad, whispery, Robert Smith voice, "... and Southern Baptist."
I couldn't take any more and had to leave the room so as not to annoy those around me that enjoyed this kind of stuff with my incessant guffaws. "HOLY SHIT, MAN!" I cursed him as I fled the room.
I had brought a Rush CD for the ride over, as a joke against EM, but suddenly it didn't seem like a joke any more - I actually wanted to retreat to the car and crank it up to wash away the wave of *feelings* Daniel had unleashed. EM even agreed and A) she's female, B) she's about as much into Rush as I am into jazz fusion.
If you like that sort of stuff, check him out. If not, you have been warned.
Next up, Theater Fire, sort of the male version of Hope for a Golden Summer, from Fort Worth, TX.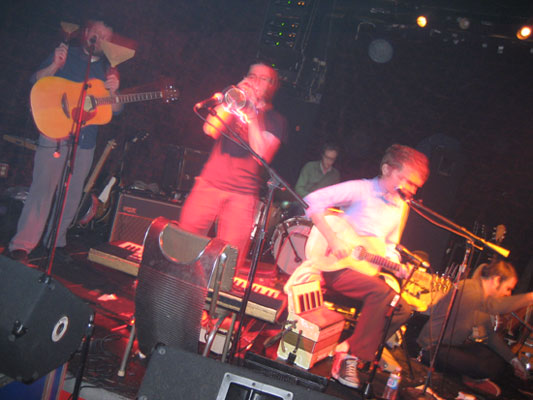 | | |
| --- | --- |
| This I really enjoyed. Sure, it has the same poetic style lyrics as Mr. Clay, but with more fun. The played a variety of instruments, from horns to washboard to accordion to spatula to spice up the pretty but sad tunes - good stuff. | |
Hope for a Golden Summer came on and I figured the ladies were going to do a tune or three before their male members joined them on stage, but soon I realized that wasn't the deal. They had lost the guys in the band. It wasn't the lack of male presence or voice that was lacking as much as the additional instruments. Without the drums and cello, the sound is a bit sparse. Still good, but not as fat and interesting as previous incarnations.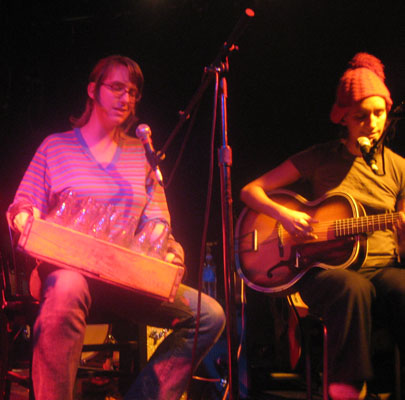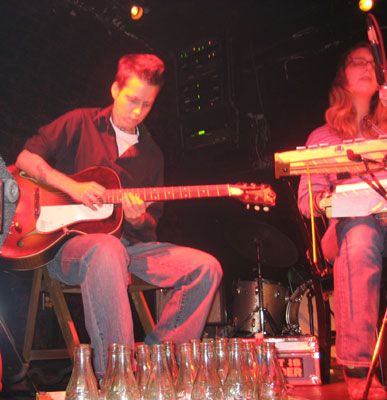 I don't remember them going more than one or two new tunes, if any at all, but they mentioned they're working on a new CD that you can pre-order now to help them finance it. They also had pottery and other crafty merch for sale, as well as a pile of free anti-circumcision and anti-tampon propaganda, all piled into an appropriately battered vintage suitcase.
---