Degenerate Press
Welcome to Degenerate Press' feature article. If this isn't enough you can always subscribe to Electric Degeneration, our semi-weekly and semi-weakly ezine, or surf the vaults.
---
Hollis Gillespie Book Signing
with Kingsized, Dames A'Flame
Paris on Ponce
March 2004
After a few drinks at The Local up the block, we headed down to Paris on Ponce and wound our way through the antique store into the little performance/party venue they've set up in the back. I hadn't been in the building in a year or three, so I was surprised to find a nice venue tucked away back there with colorful lanterns, cafe chairs and tables, couches, etc. A wonderful space for a show.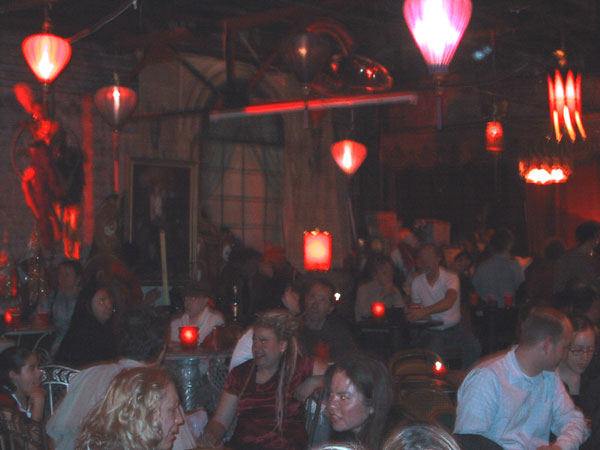 In the antiques room a table was set up for buying Hollis' book, Bleachy-Haired Honky Bitch : Tales from a Bad Neighborhood. Another table was set up with catered food, but the line stretched through the building and moved slowly. In the back room they had a bar with two flavors of beer and a few sodas, not much to chose from but they were only asking a $2 per beer so few complained.
Hollis got on stage and read a bit from her book. When she stepped off stage she was swarmed by fans and eventually made her way to the corner table where she signed copies of the book.
| | |
| --- | --- |
| Meanwhile, Kingsized stepped up and did their Gusto Show act. Good stuff, as always. | |
| | |
| --- | --- |
| Monkey Zuma from Dames A'Flame hopped on stage and monkeyed about, giving the evening a surreal quality. | |
| | |
| --- | --- |
| A few people danced to a few numbers, but for the most part the crowd was too hip to be seen enjoying the show and stuck to mixing and mingling. | |
| | |
| --- | --- |
| The luscious Luna Luxx handed out Krispy Kreme donuts, then did a little striptease. | |
| | |
| --- | --- |
| Hot Doughnuts Now indeed! | |
I was more than a little stoned on decongestants and wasn't very sociable. Even when the lovely Bijoux Bellaroux plopped down next to me I was practically mute. Ah, spring!
| | |
| --- | --- |
| | Speaking of, Bijou appeared on stage as a nun carrying a sign, "Jesus is Kingsized." |
| | |
| --- | --- |
| | Her costume didn't last long, however. |
| | |
| --- | --- |
| | If that's what Catholicism was really like I'd have converted long ago. |
Eventually I made my way through the line and got a bite to eat. Again, there were few choices but the price was right - free!
Several degenerates opted to miss most or all of the show, lurking on the back dock quitting quitting smoking. (There were about half a dozen degenerates who swore off smokes for the new year and I don't think a single one of them has managed to do it.) Eventually the hip crowd began to disperse with Hollis and her new celebrity friends still making the rounds. But we had to head back to our oasis in the bad neighborhoods of the west side so we could make it to work without too much groaning in the morning.
For more info on Dames A'Flame check out their web site at www.damesaflame.com
---