The Archives
Excerpts from Electric Degeneration, Degenerate Press' semi-weekly e-zine, free and ad-free. A full episode contains sections for music reviews, upcoming events, blasphemy, classifieds, and anything else we feel like saying. If you'd like to subscribe just contact us.
You can surf the entire archive.
---
Hukilau 2002
| | |
| --- | --- |
| Friday we hit Echo Lounge around 10 and already the first act of Hukilau, Ubereasy, was on stage doing an eclectic variety of strange Tiki-flavored cover tunes. | |
It wasn't meant to be taken seriously but some folks just couldn't loosen up enough to enjoy it (yeah, I'm talking to you degenerates) and hid in the side lounge instead.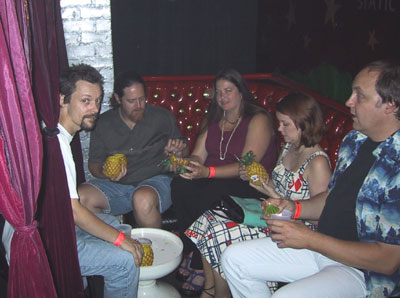 But I thought a Hawaiian lounge version of Dooby Brothers' Without Love was brilliant, and other songs made me laugh out loud.
| | |
| --- | --- |
| | On either side of the stage were massive Tiki sculptures that would come to life now and then, spewing smoke, fake fire, and bubbles. Vendors crowded the edges of the room selling tiki mugs and posters and such, making the place seem packed with folks in Hawaiian shirts sipping drinks from plastic pineapples. The usually-competent bartenders of Echo Lounge obviously didn't know much about mixing fruity girly drinks. Their five tropical drink specials were inconsistent at best. One drink would be perfect, then the next "tastes like ass" as one girl put it, then the next one would be mixed so strong you could've used the plastic pineapple as a perfect Molotov cocktail. |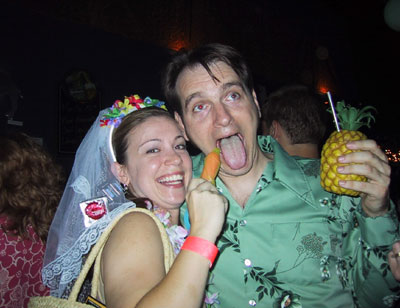 I ran into Jennifer of Catfight!, out on the town for her bachelorette party. She'd already had a few too many and was very boisterous.
| | |
| --- | --- |
| Johnny Knox and Hi Test did a fun set of rockabilly lounge, mixing things like Don Ho with The Ramones. It was a great set with Johnny's fingers flying up and down the frets. | |
But the highlight of the evening was a burlesque performance by Atlanta's own Torchy Taboo. Johnny and Hi Test took a break for her to do her first act....
a sensuous dance with a snake!
She and her scaly friend slithered all over the stage to the delight of everyone in the audience.

Sometimes a snake is just a snake.

This is not one of those times.
| | |
| --- | --- |
| Johnny rocked the house some more, then Torchy took the stage again and did a fantastic fire act with a male partner. | |
| If you can't take the heat get out of the Echo Lounge. | |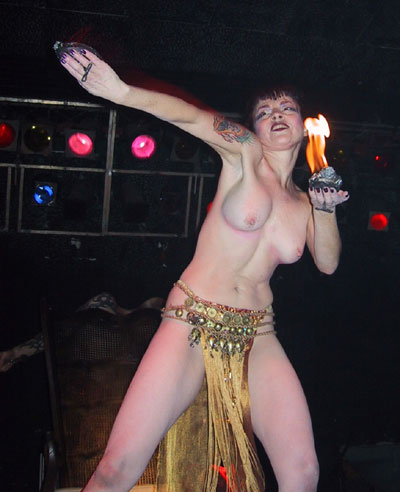 The Penetrators took the stage to wrap up the night in a wash of instrumental surf. I've seen them dozens of times and it was getting late so we beat a retreat.
We hit the Disco Diner, formerly an IHOP, at North and Courtland, for some hangover helper. The food was decent diner food, but the joint was slammed and understaffed so it took quite a while to arrive, giving us more than enough time to absorb the 70's kitsch theme they've got going, from 70's records on the wall to the disco ball turning above. A perfect end to a night of retro kitsch culture!
We skipped Saturday's Hukilau event at Trader Vic's but rumor has it the event was so crowded they were turning folks away at one point but eventually things cleared out enough to enjoy a set by Ubereasy followed by King Kukulele.
Sunday we hit Starlight Drive In for the final night of Hukilau. The place was packed with Hawaiian shirts, cool cars, tiki vendors and grinning fans as The Penetrators played a set from the roof of the snack bar. After a couple of cartoons, The Zombies Of Mora Tau flickered on screen, a film with perhaps the worst ending since Two Lane Blacktop but some hilarious lines. One of the vendors raffled off a 4' Tiki head during intermission. We watched a few minutes of Creature With the Atom Brain before heading home, tikied-out.
---