Degenerate Press
Welcome to Degenerate Press' feature article. If this isn't enough you can always subscribe to Electric Degeneration, our semi-weekly and semi-weakly ezine, or surf the Electric Degeneration archive.
---
The Hungwellz
Lenny's
March 2005
It's been a while since we've been to Lenny's. There have been a few changes (Lenny no longer works there, for example) but it's pretty much still the double wide across from a graveyard in a bad part of town frequented by students from Georgia State University as well as students from the school of hard knocks.
We arrived as the opening act was warming up, actually the act we've come to see, Prick Magazine editor Chuck Brank's new band The Hungwellz. They came on a few minutes later with Chuck sporting a two foot phallus, hung from a strap around his waist. "It really makes you feel like a midget when you go to take a piss," he says, just before cranking up their set.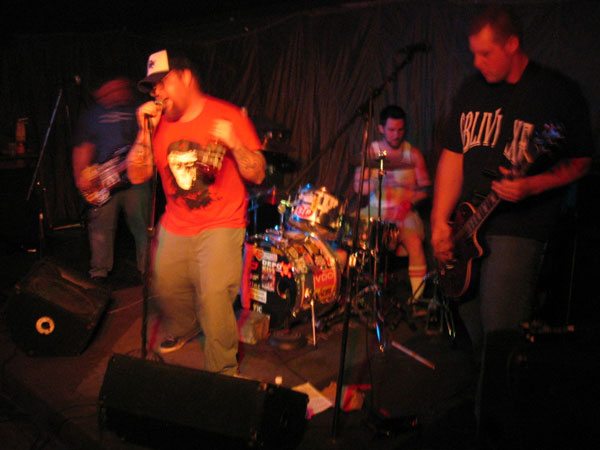 | | |
| --- | --- |
| The Hungwellz do heavy/hard stuff with a Southern feel at times, something not unlike Motor 76 or The Ditchdiggers. Simple but effective tunes about sex, drugs and alcohol. Chuck hops about in a frenzy, or as much of a frenzy as he gets into. | |
| | |
| --- | --- |
| Eventually he had to pull the dildo off and hang it from the drum kit so he could get his freak fully on without the rubber shaft getting entangled in something. | |
| | |
| --- | --- |
| I thought he was trying to trade places with the drummer for a while but I think he just likes the drummer's butt. | |
Lenny's has sort of a shotgun approach to entertainment these days. They'll kick off with some live music then switch to DJ's later in the night, or put together three or four bands that really shouldn't go together yet the eclectic crowd doesn't seem to mind. It's easy enough to slip into the other room and shoot pool and chat at the bar if the music isn't to your liking. Speaking of, a jam/jazz band cranked up after The Hungwellz.
I never caught the name but it was a strange mix of violin, trumpet, and a funky electric standup bass. They had moments where they got into a groove that worked, but unfortunately there was a lot of rambling around to find them in between. So I rambled back to the bar to socialize and found that it worked well as background noise. Once in a while a melody would catch my attention and I'd bop along for a bit until they lost it, and lost me, allowing me to turn my attention to whoever I was talking to.

SW had to get up relatively early so we hit the road before the third act or DJ's started up but it was nice to return to our former regular haunt. Now we just need to get back in the groove of visiting more often...
---