Degenerate Press
Welcome to Degenerate Press' feature article. If this isn't enough you can always subscribe to Electric Degeneration, our semi-weekly and semi-weakly ezine, or surf the Electric Degeneration archive.
---
IG Fest
October 2003
Saturday - Johnny Cash tribute show at the EARL.
Sunday - closing party at Starlight Drive In.
What a festive weekend! IG, Decatur Beer, Scottish Highland, Candler Park fests all competed for my festival dollars and attention span this weekend.
We started off Friday trying to get into Echo Lounge for the IG fest, but due to the Loafing's cover featuring Jessco the Dancing Outlaw the place was sold out by 9:20. We hung around in line for a while but we knew it'd be sardine conditions if we did manage to get in, so we split and opted for casual drinks and conversation at degenerate LS' place.

Saturday we hit the Candler Park Fest - cheaper and less crowded than the other options. 1945's were doing their usual stuff as we skirted the park and hit the church across the street for some decent barbecue. We cruised the artsy crafty booths and got a seat on the lawn, only to find we'd missed most of the day's live music. Last up was Danielle Howle & the Tantrums. Danielle hails from one of the Carolinas, as is evidenced by her thick Southern accent. But you don't as much Southern accent in her music. There's a hint of country and Southern rock from time to time, but most of it is poppy rock stuff. Like her CD, Skorborealis, we reviewed a while back, there are moments of brilliance in her show, a song or three that
are fantastic, but the bulk of the music fails to hold my attention. But it was a perfect day, sun shining, kids rolling down the hill, dogs frolicking, lesbians lounging on the grass, the usual Candler Park scene.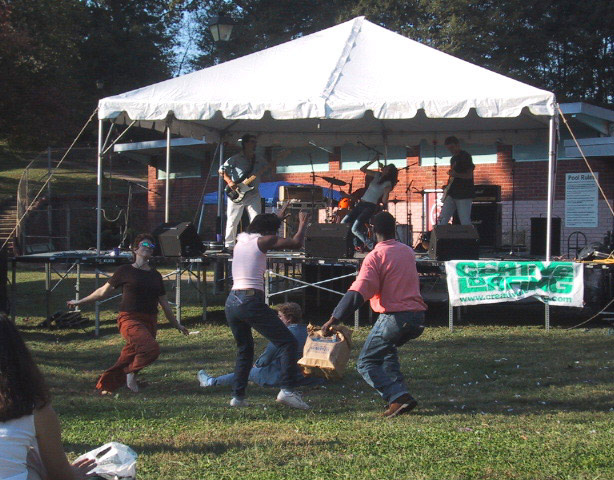 I like this picture because you can't tell what the hell is going on.
We caught Kill Bill Saturday evening. Unless you've been living in a cave the last month or so, you already know a fair amount about Tarantino's latest effort. I didn't enjoy it as much as SW and CD. I thought the pressurized blood spewing from every villain who suffers so much as a paper cut got a bit tiresome after a while, but SW and CD got lots of laughs from it. I enjoyed the lack of excess wire fu, but it I don't think it needed to be split into two films, from an artistic standpoint. I understand why, from a marketing/money standpoint, this was done, but the first of the two films doesn't
provide quite enough plot and comes off as one long fight scene. Worth seeing, but, as many have noted, it's no Pulp Fiction. It's not even as impressive as Reservoir Dogs. But that's what happens when you come out of the corner with a knockout punch - all subsequent efforts suffer in comparison.

| | |
| --- | --- |
| Saturday night we hit the EARL for the IG Fest's Johnny Cash tribute. | |
| Things got started with The Hots, but after they only did a song or two I realized things were being done much like the recent one at the Star Bar, with a dozen acts or so given one or two songs each. The acts did an excellent job with the material, but there were 15 minute breaks between each act so that by the end of the night I felt like I hadn't seen that much, but was surprised to find it well after 2 AM. | |
| Anna Kramer joined this lineup, who's name escapes me now, for a fun set of Johnny. | |
| They wrapped it up with Jackson, a personal fave. | |
| | |
| --- | --- |
| | In between some acts, the lovely Dames A'flame did random bits, each to a different version of Ring of Fire. Gin-gin and Bijou did a strange striptease while playing spoons - not so much sexy as surreal. For more Dames, hit their web site at www.damesaflame.com. |
| | Hatch did a few tunes, wrapping up with a nice version of Hurt. |
| | |
| --- | --- |
| Clete, of Clete and his City Cousins, did a couple of tunes in an appropriately minimalist style. | |
| Monkey Zuma did a great go-go dance number. I put together this little animation out of a bunch of random photos. | |
| | |
| --- | --- |
| | Mike Geier of Kingsized did several sets throughout the night, all covers of June Carter Cash. |
| | |
| --- | --- |
| The lovely Bijou of Dames Aflame mixed up a pot of Halloween goodness. | |
| | |
| If you don't like the blurry, artsy image style I guess you just should'a been there yourself! | |
Twittering Machine did the strangest versions of Cash, perhaps my favorite act of the night.
The evening wrapped up with EARL staffers' band, Tag Team.
Saturday - Johnny Cash tribute show at the EARL.
Sunday - closing party at Starlight Drive In.
---