Degenerate Press
Welcome to Degenerate Press' feature article. If this isn't enough you can always subscribe to Electric Degeneration, our semi-weekly and semi-weakly ezine, or surf the Electric Degeneration archive.
---
Tiger! Tiger!, Peelander-Z, The Immortal Lee County Killers
The Earl
February 2005
Pardon me if this review seems a little weirder than our usual matter-of-fact reporting. Hunter S. Thompson checked out this weekend and reading the obits today has me more than an little sentimental. Or just mental. Anyway, on with the show!
| | |
| --- | --- |
| SW and I picked up degenerate CD at the Chevron at Ponce and Piedmont where we spotted this contraption. In the center of the R2D2-shaped thing are three bubbling containers of liquid, making the thing look like a mad scientist's robot from a 50's sci-fi flick. This thing seemed more threatening than hygienic. Who the hell wants their car smelling like the Strawberry Shortcake doll, or puked up piña colada, or that plastic/vinyl new car smell? These are all smells I've worked hard to remove from my car in the past, yet here's a machine that'll replace them for a mere dollar. Christ, the thing is closer to a chemical weapon than a cleaning machine. And the name sounds like a porn star's stage name. | |
We met up with other degenerates at Heaping Bowl in East Atlanta. I first ate at the joint back when the neighborhood wasn't regentrified and I was a broke student and the prices seemed a little steep for me. Even when the neighborhood and my annual income improved, I still had memories of being unpleasantly surprised by the bill so I stayed away. But I've visited a few times lately and come away smiling every time. Friday I had a plate of roast pork I would've gladly defended in a knife fight. The drink prices are reasonable and often I end up with more food than I can (or at least should) eat in one sitting.
Most of the crew stayed behind for more drinks and socializing while CD and I headed across the street in time to catch Tiger! Tiger!

Buffy was done up in black leather boots and mini-skirt, doing her Elvis leg shake and sneer. Super hot, as usual.
| | |
| --- | --- |
| | The band has a sound that would work well on current mainstream radio along side Franz Ferdinand and other almost-mod-revivalist sounds. Rock with catchy hooks and just enough edge and energy to get the blood flowing but without so much that you couldn't relax to it. |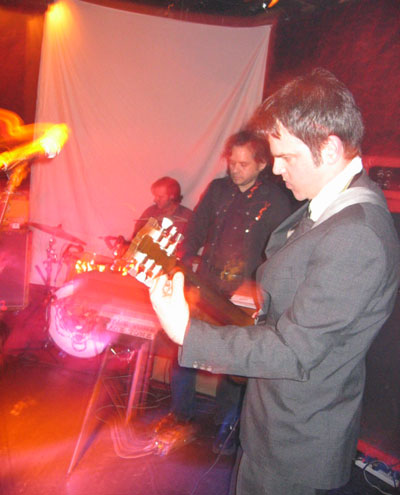 | | |
| --- | --- |
| After a long break a few guys in strange costumes and wrestling masks appeared on stage, each going into some strange speech, in heavy Japanese accents. One by one they changed costumes and reappeared to assemble on stage as the members of Peelander-Z. After some more unintelligible babble they grabbed a picture frame off the floor and posed for a photo. | |
They charged into some hardcore punk/metal racket. The fans chanted along with songs that asked questions like "How do you like your steak? Medium rare!"

After only a few minutes of the show I felt as if I'd consumed some toxic blowfish sushi while flipping channels between anime and rubber monster movies, then gone to sleep and the show was the fevered dreams I couldn't quite recall the next day.
| | |
| --- | --- |
| As inspired as the costumes and characters were, the music got a little dull after a few songs. But they worked hard to put on a show, breaking at one point to draft audience members to play their instruments while they cleared a space in the audience to perform some pro wrestling and other stunts. They'd make a fine opening act for GWAR. | |
| | |
| --- | --- |
| | Last up, The Immortal Lee County Killers. Chet started off with the usual calm, the straight up blues giving you little clue of the storm that is brewing. |
But before long the flames arise and Chet is tormented by them, playing fast and loose.

"I heard Papa tell Momma to let that boy boogie woogie,
'cause it's in him and it got to come out."
John Lee Hooker

Pretty soon the other two members are sucked in and the crowd is sucked in and everything is whirling and spiraling, not quite out of control, but on the verge.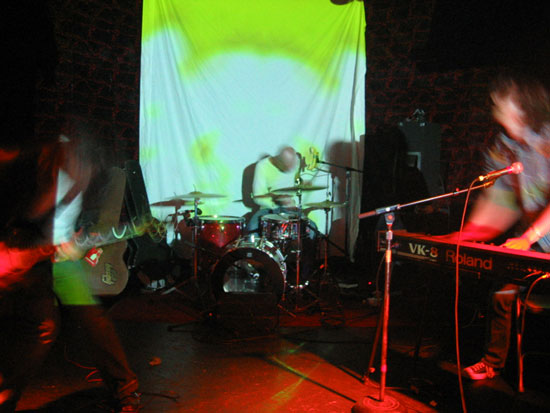 They bring it back to earth for a tune or two, then whirl back out into the ether, Chet switching to slide for a song or three, adding harmonica here and there, the drummer playing blindfolded just to show off, keyboardist kicking the chair back like Jerry Lee Lewis...

Yeah, it's in 'em, and it's got to come out.
I think they were prepared for an encore but the Earl crowd wasn't insistent enough and the sound guy turned up the lights, chasing everyone from the room like scurrying roaches.
Saturday we headed across town to Jake's Toadhouse for degenerate LH's birthday. Her and the other neo-hippies were going on and on about Johnny Sketch and the Dirty Notes, a band they saw at Harvestfest or Bonaroo or Patchoulipalooza or somewhere, so I figured I was in for some real misery. Fortunately, Jake's has a nice side room with pool tables and a few booths on the other side of the bar from the main music room, where we gathered for pre-show socializing. Eventually the band came on, announcing that Donna Hopkins wasn't going to make it due to illness. Then band assembled and cranked out some funky jam rock, complete with a horn section. Good stuff done well, but eventually they began to ramble and wander and... well, jam.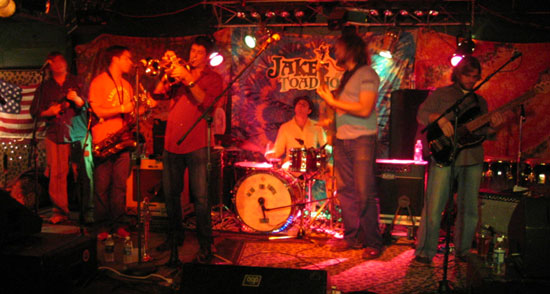 | | |
| --- | --- |
| Honestly, I could've enjoyed it as background music at a party or something, one of those places where you're not really paying attention to the music. Or maybe you just have to be stoned for this kind of music. Then, 12 minutes into a song, it's just starting to sink in. You get your groove on for a few minutes, subjectively speaking, and it's on to the next song. 12 minutes later you catch up. | |
But for me, unstoned, this music is somewhere between painfully dull and deeply annoying. The same riff played over and over again with minor variations, or with solo performances that go on for hours, laid over it doesn't put me in the hippy trance. I don't go into whirling dervish mode. Instead, I fled to the safety of the back room. Ah well. I should've known better - the bass player was using a 5 string for much of the set, and he didn't wear shoes.
---