Degenerate Press
Welcome to Degenerate Press' feature article. If this isn't enough you can always subscribe to Electric Degeneration, our semi-weekly and semi-weakly ezine, or surf the Electric Degeneration archive.
---
Noot D'Noot, Roy Owens Jr., Anna Kramer, The Selmanaires
The Earl
January 2008
Text and photos by Frederick Noble
| | |
| --- | --- |
| Shows Noot D'Noot's name is almost an onomatopoeia describing their sound - a honky sax in front of 8 other members doing mostly instrumental jammy groovy stuff. | |
The singers are more for sound than lyrics, but can you call them "backup singers" when there is no up front singer?

And any time a band needs a regular drum kit, congas, and a Sheila E set-up means someone in percussion is not doing their job.
And I honestly doubt I would've noticed if he'd used one less of his 5 keyboards.

But despite the jam format, they kept things upbeat, fun and funky enough to keep my attention.
And we got a surprise visit by Atlanta's own Vagina Jenkins, strutting her stuff and abandoning her wardrobe bit by bit.

It's nice when the opening act sets the bar high.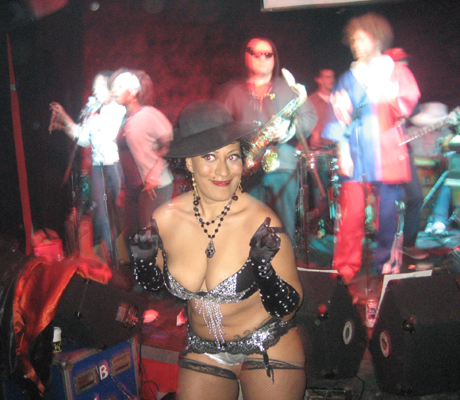 | | |
| --- | --- |
| | On the side stage, Roy Owens Jr., a sorta rootsy kinda Americana-ish stuff that reminded me of The Hold Steady and Drive By Truckers, but lacking the edge of either act, despite the passion they had for their music. |
| | |
| --- | --- |
| | They were clearly having a good time and their presence was enjoyable, but 3 out of 3 degenerates I spoke with agreed - not bad, but a little plain. |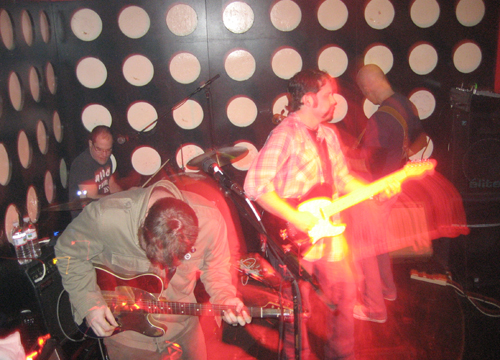 Meanwhile, Anna Kramer and friends were setting up an almost Noot D'Noot amount of equipment on the main stage. I was concerned things were turning into the Anna Kramer Orchestra. After a video and interview were shown, Anna and The Lost Cause stepped on stage to kick off their CD release show.
| | |
| --- | --- |
| They started off with a couple of horns in the rocking opening number, but the horn section split after the first number. | |
| | |
| --- | --- |
| The three-piece core of the band could rock the sold-out house by themselves, but many personnel and instrumentation changes over the set made for a broad range of sounds. And many of the faces on stage were familiar from many of my favorite Atlanta bands - lots of talent paraded across the stage. | |
| | |
| --- | --- |
| I had written a page or two each for Noot D'Noot and Roy Owens Jr. in my little 3x5 notepad, but for Anna I only wrote, "AK fuck yeah." | |
Anna hardly moves during the set, but the many band members hopped around energetically during the harder, louder last numbers of the set.

I'm almost hesitant to listen to her CD now, the show was so good.
A random girl who pushed her way to the front started up a conversation, anxious for The Selmanaires. I noted that they would have to work hard to top the fantastic show Anna and company had put on. She seemed to think The Selmanaires could easily top it, but I had my doubts. They don't have the breadth of sounds. But the girl was obviously a Selmanaire groupie, gushing about the band's dancability.
| | |
| --- | --- |
| | We were both right. They didn't put on a better show, but just about everyone close to the stage hardly stopped moving during the entire set. The percussive guitar and vocal delivery backed up by a rich rhythm section makes it hard to stand still. |
| | |
| --- | --- |
| | They have moments that sound like Talking Heads, The Knack and Franz Ferdinand, simultaneously punchy and poppy. They, too, were celebrating the release of a new CD, Air Salesmen. |
| | |
| --- | --- |
| | As if most of their tunes weren't percussive enough, they let the bass lead things during one tune while the rest of the band went all drum circle-y. |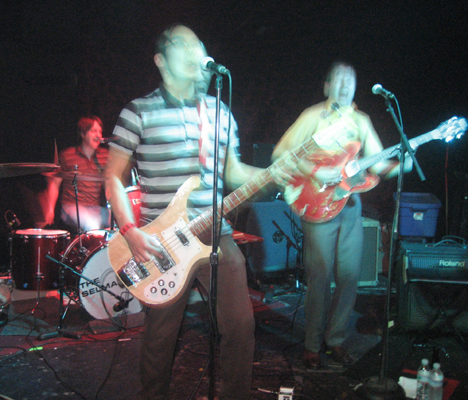 By the time we climbed into bed it was 3AM. Sheesh. 4 bands for $10 and a pretty good meal start things off - how could The Earl not be the best bar in Atlanta?
---