Degenerate Press
Welcome to Degenerate Press' feature article. If this isn't enough you can always subscribe to Electric Degeneration, our semi-weekly and semi-weakly ezine, or surf the Electric Degeneration archive.
---
Los Straightjackets featuring Big Sandy
The Earl
June 2007
I don't like The Earl when it's sold out. The room gets hot, smoky, and, of course, crowded. But for some acts I'll put up with some discomfort and I figured Big Sandy backed up by Los Straightjackets would be one of those nights. We slipped into the music room early enough to catch a big of The Iguanas. Lots of people enjoyed their act but we'd just returned from Puerto Rico and Incessant Salsa Machine was the last thing we wanted to hear. So EM and I slunk back out to the bar until the headline act appeared.
Unfortunately, this meant we hadn't staked out territory up front where I prefer to be and were stuck in the back where the only breathing room was available.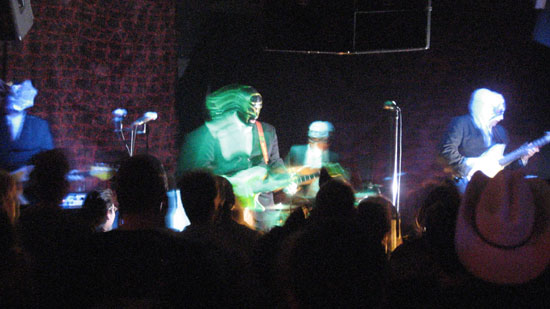 Los Straightjackets started things off with their instrumental surf. I like surf, for about 15 minutes. It's all about mood and melody and it can be fun, but after a while you want something different done with that Fender. So we bopped along as patiently as we could. Degenerate JH noticed I was lurking in the back and not taking the usual photos so he snagged my camera and pushed through the crowd so snap some more intimate moments. Full credit goes to him for the rest of these shots.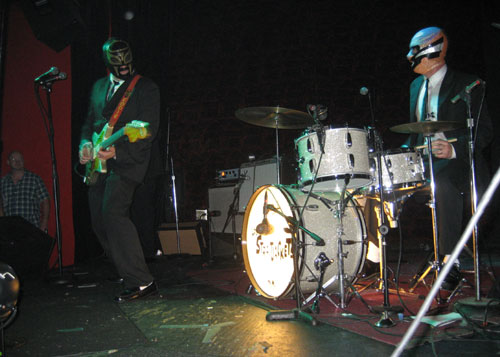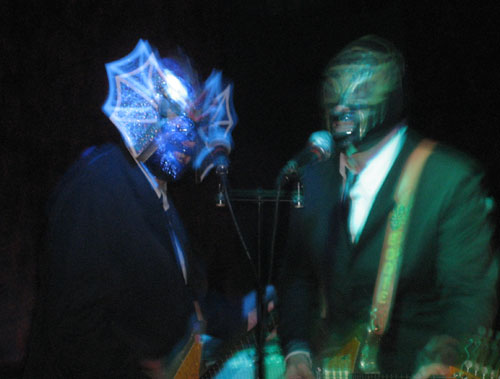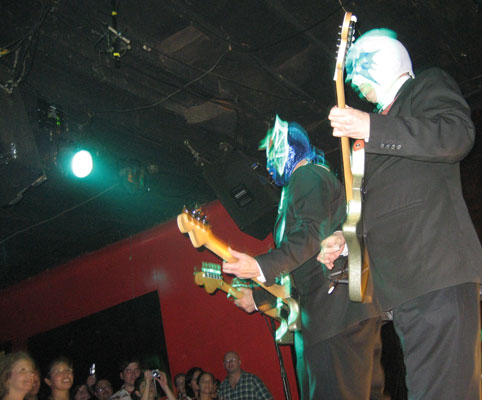 Eventually Big Sandy appeared, to the cheers of the crowd, and things took a considerable turn. R&B and soul classics, doowop, rockabilly, garage - some really fantastic music, all done en español.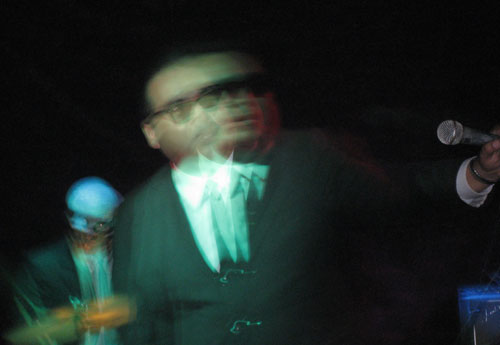 Christ, it was good stuff! Big Sandy has the perfect voice for the material, Los Straightjackets really knew the tunes, and the crowd couldn't keep still. After a dozen or so numbers, Big Sandy took a break and Los Straightjackets returned to surf for a bit. After seeing Dick Dale, just about any surf act in the land pales by comparison, so honestly I was a bit bored during the break. But eventually Big Sandy returned for another long set, making the interim seem like the calm before the storm. Heck of a show. You should'a been there.
Wait - you probably were...
---