Degenerate Press
Welcome to Degenerate Press' feature article. If this isn't enough you can always subscribe to Electric Degeneration, our semi-weekly and semi-weakly ezine, or surf the Electric Degeneration archive.
---
Rock N Roll Monster Bash 2008
The Starlight Drive In
June 2008
Text and photos by Frederick Noble
Degenerate CD and myself were parked in the Starlight Drive In driveway, waiting on the gates to open for another fine festival. Monster Bash has turned into a one-day Drive Invasion and I wanted to make sure I got a good spot, but really we were there early just so we could enjoy the entire day at the drive in. Soon the gates opened and we set ourselves up with shade and beverages and relaxed before things got going.

The usual Monster Bash activities cranked up, from rows of Hearses to ogle...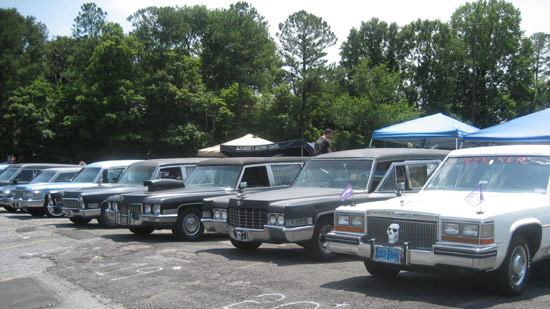 To the Monster Midway where you could play all sorts of typical carnival games with monstrous twists. Instead of tossing basketballs through a goal to win a prize, you tossed severed heads, for example.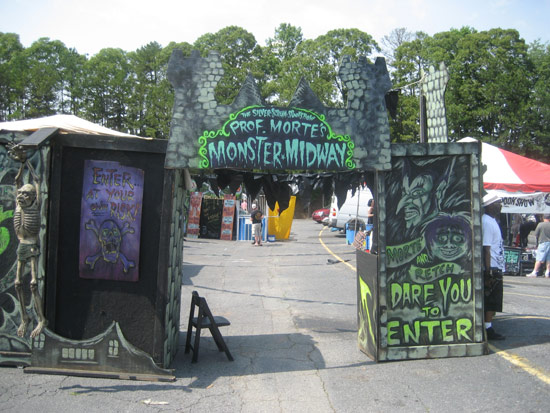 | | |
| --- | --- |
| The bands kicked off with a bunch of familiar faces doing sarcastic country cornpone, fun and funny. Unfortunately I can't find my notes and it's been a couple of weeks, so I don't have the name of some of the acts. A little help out there? | |
Every drive in festival I badger Eddie, one of the guys from Slopes Barbecue, to bring his pork skins. They smoke hams for their barbecue, but remove the skin and fry 'em up. He showed up and handed me two bags, "Just for you."
"You bastard. Now I'm going to have to eat all of them!"

Instead, I walked around pushing them on other people, in between shoving them into my own mouth, just so I could share the joy, as you can see here...
| | |
| --- | --- |
| | Delicious fried pork wasn't the only food available. All sorts of folks were cooking up random delights, from Private Selection prefab patties washed down with PBR... |
| | |
| --- | --- |
| | to a massive crawfish boil, cooked up by the folks at Aces Bar and Grill... |
| | |
| --- | --- |
| | to another bit of pig from Eddie of Slope's. This hunk of meat disappeared in record speed. |
On stage, another band rocked the lot. Los Rudos? I really don't remember. I think I was cruising the midway or consuming pork skin or something. I didn't really pay this act any attention. Sorry, guys, next time...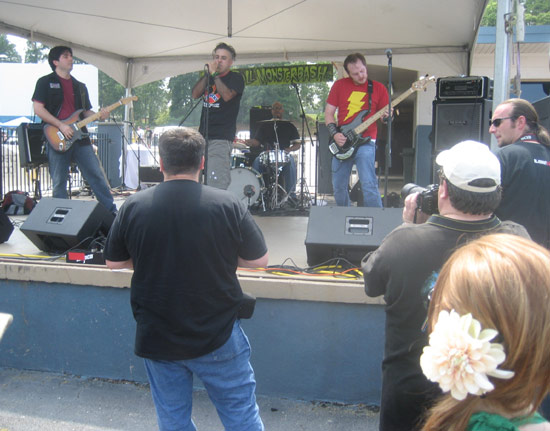 As if bands, barbecue and b-movies aren't enough, you get some pretty fantastic burlesque too!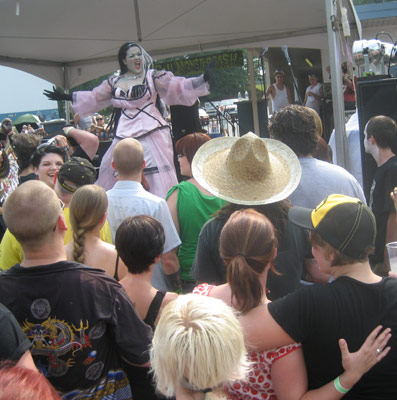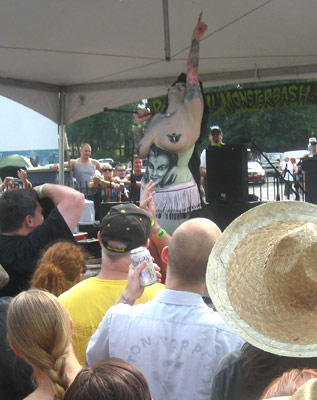 (There were several burlesque acts between bands, but most of my pictures didn't turn out worth a damn because I was having too much fun to get a decent picture.)
Somewhere in there, The Spectremen played. I've seen this act several times over the years and never liked 'em. Jim is a fantastic guitarist, but they always felt like a Danzig tribute act to me.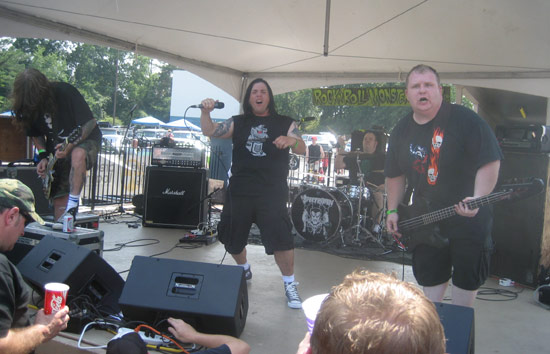 However, this time they got rave reviews from several reliable degenerates. I was wandering the lot looking at cars and such, but they sounded better than previous shows even at a distance. Next time I won't avoid 'em.
Speaking of wandering the lot, there were several creatures meandering about, terrifying the women and children.

Well, terrifying some of them anyway...
| | |
| --- | --- |
| | Terri owns Starlight Drive In, as well as a few others out west, so I suppose she's seen it all! |
Professor Morté and his faithful servant Retch MC'ed the show, at least until Retch volunteered for one of the Professor's experiments.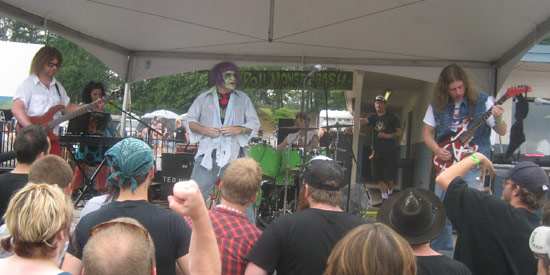 | | |
| --- | --- |
| The potion turned Retch from purple-haired, green-skinned sidekick... | |
Into the blond-haired, high-kicking leader of Van Heineken!

They cranked out Van Halen's greatest hits, including Hot for Teacher with one of the girls from Blast Off Burlesque performing the role of said teacher. I'm pretty sure everyone was hot after that, though it could've been the 90 degree asphalt...
| | |
| --- | --- |
| The act I was most excited to see came on last, led by Shane Morton, still green around the edges after wiping off the Morté makeup - Super X13. I missed a reunion of theirs a year or two ago so I hadn't seen them in quite a while. I hopped around in manic glee with a lot of other old, and some new, fans. | |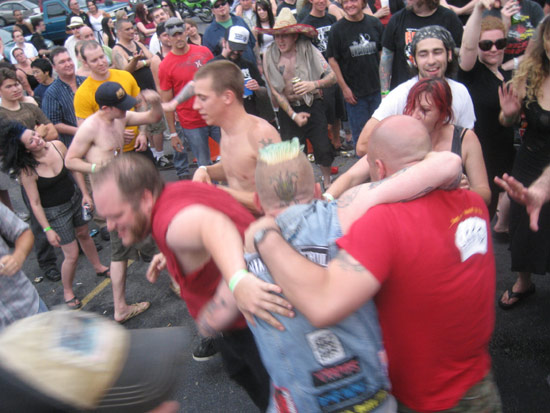 They played until the sun set and it was time for the movies. After a few trailers, Godzilla Vs. Mechagodzilla took over the screen, entertaining us with rubber monsters trampling cardboard Japanese cities. Unfortunately, Monster Bash happens on a Sunday and I had to work the next day so I couldn't linger for The Werewolf Vs. Vampire Women. We all have our own demons to battle...
---