Degenerate Press
Welcome to Degenerate Press' feature article. If this isn't enough you can always subscribe to Electric Degeneration, our semi-weekly and semi-weakly ezine, or surf the Electric Degeneration archive.
---
Benefit with Noot d'Noot
Highland Inn Ballroom
December 2008
Text and photos by Frederick Noble
| | |
| --- | --- |
| I suspect it's because I'm old and out of the loop, but then again I always was (out of the loop, anyhow) when it came to local gossip. I hadn't heard a thing about the home invasion of Chris Devoe and Rachael Spiewak of the SoPo Bicycle Cooperative. Hadn't heard about the beating, raping and such that had occurred. Hadn't heard about the benefit organized in their honor until a day or two beforehand. But EM had, so we stood in line at the Highland Inn Ballroom with other chilly folks and happily donated $5 each for a night of music, and to raise awareness of the dangers of modern life. | |
The line snaked down the block for hours, though I overheard more than one person in line who had no idea what the event was. Once inside, we had to wait in line again for beverages, but there were plenty of friendly, cheerful people to chat with and little booths set up for things like the Dekalb Rape Crisis Center.

The Highland Inn Ballroom bar doesn't have the best selection or prices, but the space is nice and smokers are put out in the alley where they belong.
Despite the horrific reasons for the affair, everyone seemed to be all smiles, even Chris and Rachael. They got up and spoke briefly, thanking everyone and saying they had survived, raised a toast and introduced the band.

Now that is some goddamn spirit.
| | |
| --- | --- |
| | Noot d'Noot took the stage and cranked out some seriously funky jams, reminding me of Parliament/Funkadelic sans space madness. |
| | |
| --- | --- |
| | Eventually the crowd loosened up and got into the groove. |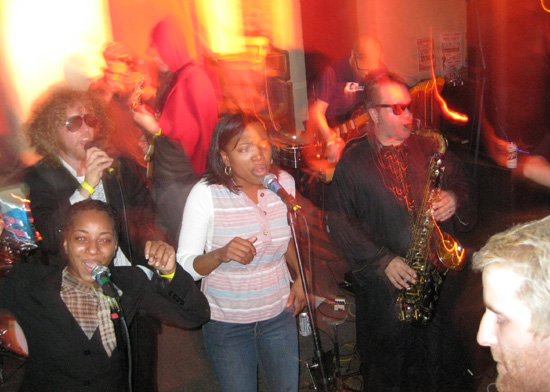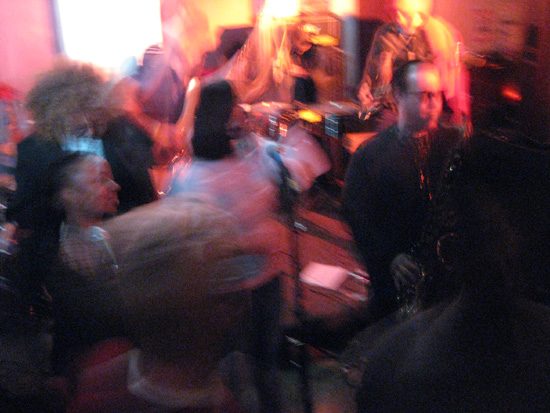 Noot d'Noot did a fairly short set. An impressive raffle followed, but EM wasn't feeling so great and I had to work the next day so we gave our raffle ticket to somebody and slipped out the door as the next act was setting up. The line to get in still stretched down the block. Not only did Chris and Rachael show some spirit, so did Atlanta's music community. And this is just one of many benefit shows this month, in the midst of an economic crisis no less. So get out and support your scene, the way it supports our people, our friends, toys for tots and countless other causes!
---