Degenerate Press
Welcome to Degenerate Press' feature article. If this isn't enough you can always subscribe to Electric Degeneration, our semi-weekly and semi-weakly ezine, or surf the Electric Degeneration archive.
---
New Year's Eve with El Capitan & the Scallywags, The Booze, The Forty Fives, Gringo Star and more
Star Bar
January 2008
Text and photos by Frederick Noble
EM has started school and life is busy for her so music reviews may revert to FN more often. You have been warned.
We had scouted for the perfect New Year's Eve event as far and wide as we could afford but in the end, with little time and money to get anywhere, we stayed close to home. And there are few places closer to home, metaphorically speaking, than The Star Bar. Many of our friends would be there, some of our favorite bands would be there, drinks would flow, days of old anxiety would be forgot - why not?
A lot of folks who go out regularly stay in for New Year's. They grumble that it's "amateur night." But that's one of the things I like about it - seeing new faces out and about, and seeing people who don't normally let it all hang out let it flop right out on the floor and roll around in the muck.
Things started off with El Capitan & the Scallywags, a local surf band of some talent and skill.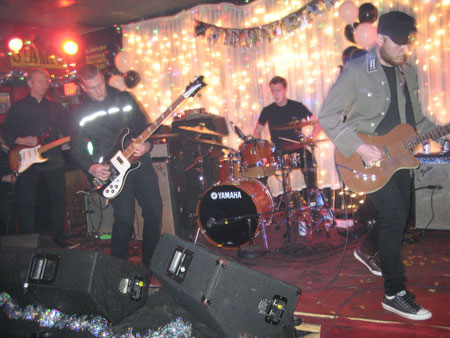 | | |
| --- | --- |
| But unless it's Dick Dale, about 3 surf tunes is all I can truly enjoy before I'm ready for something different. El Capitan throws in a bit of Western soundtrack and other influences, but early in the night I was pacing myself and couldn't get lost in the mood, despite their energetic efforts. | |
Another 60's reference, The Booze, followed with their salute to all things Mod.

Well, some things mod, anyhow. They get a little samey-same pretty quick.
| | |
| --- | --- |
| | A few old-timers showed up to see these kids but I find their shtick dull and tiresome. They do have some cute clothes... |
| | |
| --- | --- |
| | including Beatle Boots (or as I call them, Spock Boots), but, as I've said before, they don't put the devil in it. It's just too practiced, pat and perfect. |
| | |
| --- | --- |
| Eventually we slunk downstairs to groove along to Parking Lot Paul spinning up some great old punk, R&B and other stuff. | |
| | |
| --- | --- |
| From what I understand, The Howlies are a side project of the guys in Moresight. I've seen Moresight a few times and haven't been impressed but I've enjoyed every time I've seen The Howlies. | |
| | |
| --- | --- |
| It's basic, vaguely-60's garage rock stuff but with a rough punky edge and lots of vocal harmonies. Good stuff, definitely recommended. | |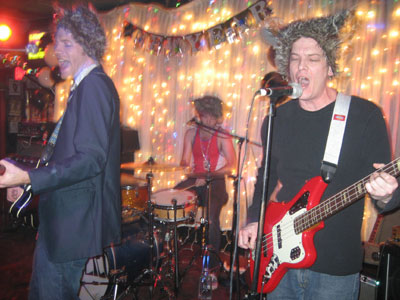 | | |
| --- | --- |
| | Then the act that many of us had been waiting for, a reunion of The Forty Fives. Alas, all my pictures are extra blurry and fuzzy because I, and everyone else, was hopping around having too much fun to take a decent shot. |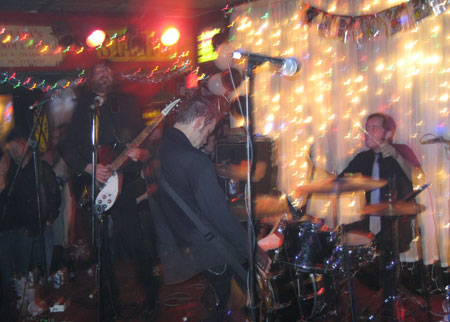 This one could be a metaphor for the state of the band since Mark, their bassist, is a ghost these days. He moved off to Portland. Their keyboardist vanished entirely and I was surprised to see Adam on drums after a Spinal Tap series of replacements during the band's later days, but they seemed well-rehearsed and blew threw a set that didn't disappoint anyone I talked to.

Late in the set they added Fran, guitarist and bassist for several local acts, to fatten up the sound.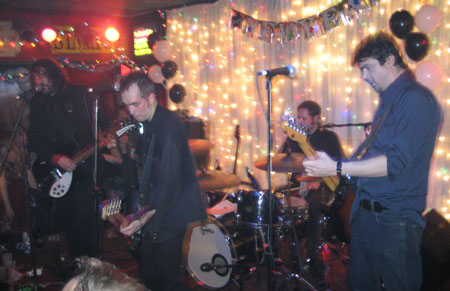 Happy New Year!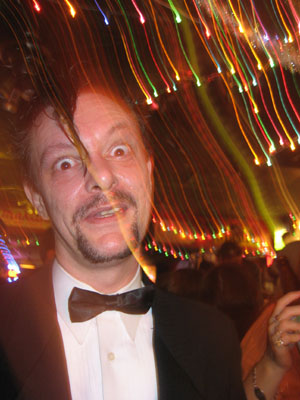 | | |
| --- | --- |
| | Gringo Star followed, rock with indie/pop style and Chinese fire drill lineup changes on stage, but after The Forty Fives we were ready to sit. |
Other degenerates and I headed downstairs to relax on the patio, eventually retreating from the chill back to the downstairs bar to chat and drink and hug and ring in the new year properly.

It's been a good one for yours truly. Hope you have as good a 2008 as I had a 2007!
---