The Archives
This article was originally published in Prick Magazine, Atlanta's Only Piercing and Tattoo Publication, February 2001.
You can surf the Electric Degeneraion archive.
---
Underbelly
Scenes from the Cultural Side of Atlanta
This episode: Ria's Bluebird Cafe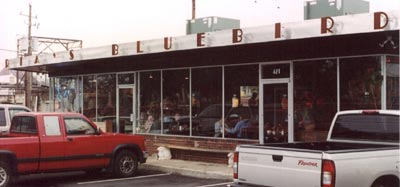 There's not a lot of active businesses along the block of Memorial drive that runs next to Oakland Cemetery, so it's a little odd to find a arty restaurant/diner with a 45 minute wait. But the folks lined up on a busy weekend probably know Ria. She's somewhat of a local celeb, having cooked at more restaurants and affairs than we can list. But it's her big smile and friendly demeanor that gets her so many friends.
| | |
| --- | --- |
| Those friends are regulars at the Bluebird (and they usually have enough tattoos and piercings to keep any parlor in business for a year.) The ones in line who just come for the food... well, they look at Ria, her staff and friends as the freaks they are but don't complain a bit when the biscuits and tofu sausage arrive at the table. | |
After months and months of construction, Ria's Bluebird opened on a Friday in October 2000. On Saturday there was already a waiting list to get in. By Monday they had to close because they were out of food. Not a bad opening weekend, particularly in an area of town far, far away from Buckhead. But Ria has a *lot* of friends in this town. Several of them are on her staff, and the rest are regulars. But the clientele includes families from Grant Park, policemen and professionals from downtown, in addition to the pierced punky crowd. The faces in the booths are as diverse as the food on the table - eggs and grits for the lady in the suit, oven roasted eggplant sandwich for the guy in the leather jacket, a massive pork chop covered in apples on a bed of mashed potatoes for the policeman at the bar, a brisket breakfast for my hungover date, granola and yogurt for the lesbians across the isle - the people watching is almost as good as the food.
And it all takes place in a funky diner, with a beautiful stainless steel bar done by Freddy DeShon (with help from the Bluebird staff), and a view of historic Oakland Cemetery just outside the huge windows. There are plans to add a large patio in the alley next door in the spring, and a beer and wine license as well. But so far she's only doing breakfast and lunch, 8 - 4 seven days a week.
"It's a long enough day as it is." I note.
"Yeah, I'm here from six to six." She says, "But we are doing catering and parties."
I overheard a conservative looking bunch sitting next to us say "I want to work here. Everyone looks so happy."
| | |
| --- | --- |
| | They are a happy, friendly bunch. Members of her staff have worked in some of Atlanta's busiest restaurants, like The Vortex and Vickery's, and she's even got a baker all the way from San Fran who's baking up cookies and desserts. But it's the Huevos that are my personal fave - blue corn tortillas topped with pintos, cheese, two fried eggs, salsa and sour cream - a serious hangover buster. Get a fluffy biscuit on the side, cover it in Ria's homemade jam and you'll be filled to the gills. |
| | |
| --- | --- |
| The decor and staff reflect some of Atlanta's most creative and interesting people. So does Ria's skin - she has a beautiful tattoo of a woman by Tony Olivas on her arm, | |
| | |
| --- | --- |
| another by Cap Sumzki on her calf, | |
a bluebird by Phil Colvin,

and some cool bones from Kolo hanging from her ears, just to name a few. Much of the staff is inked and pierced as well, and there's some nice graffiti art on the outside walls that fit well in the neighborhood. But no matter how impressive the tattoos, piercings, or decor it's probably the food that will keep you coming back!
---