Degenerate Press
Welcome to Degenerate Press' feature article. If this isn't enough you can always subscribe to Electric Degeneration, our semi-weekly and semi-weakly ezine, or surf the Electric Degeneration archive.
---
The Booze, The Robustos
The Earl
June 2007
Months back when I spotted The Robustos on The Earl's calendar, I thought it must've been a mistake. I poked around and found their web site hadn't been updated since long before the last time I saw them - six years ago. But week after week the show was still listed. I doubted anyone would remember the act, though they were one of my favorites back then. So I wasn't worried about getting tickets in advance, though I was eagerly anticipating the show.
Then I started to hear more and more about their reunion on 88.5 and other places. WRAS' ska show played nothing but Robustos the night before the show. I stopped by Criminal Records and picked up tickets in advance, something I rarely bother to do. So when we arrived at the Earl a couple of hours early for dinner and socializing and found the show was sold out, you can bet I was relieved to have tickets in my pocket.
But first, The Booze.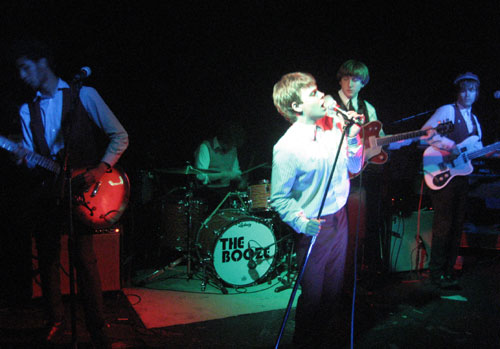 They've got a devoted following but honestly I can't see why. Are people this starved for old garage rock that they'll put up with a limp version of it just to get their fix? The lead singer has a fine voice for it - nasal and a bit rough - but he doesn't put the devil in it. This stuff wouldn't have scared parents even in 1962. I know there are folks out there who disagree, but to me these guys come off as a lame tribute act stuck somewhere between early Stones, Beatles, Who and Troggs - every tune sounds familiar, but you can't quite place it. They did an ok cover of Paint It Black, but they still bored me.
But that's ok, they were just the opener, the annoyance I had to tolerate before The Robustos came on stage. Just about any act would've been worth it.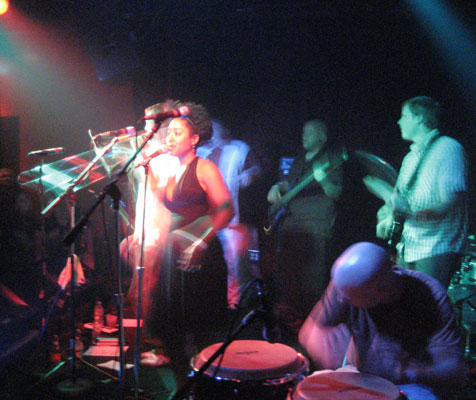 Tonya Abernathy looks fantastic, but the real deal is her soulful voice backed by punchy horns.
Ska can get really tedious really quickly but The Robustos bring in elements of jazz, blues and soul to vary the sound enough that pretty soon there wasn't a person in the room that wasn't moving to the beat.

The keyboard player hadn't played with them in 6 years and had arrived about 2 hours before the show, but honestly you would've thought they'd been practicing together for weeks.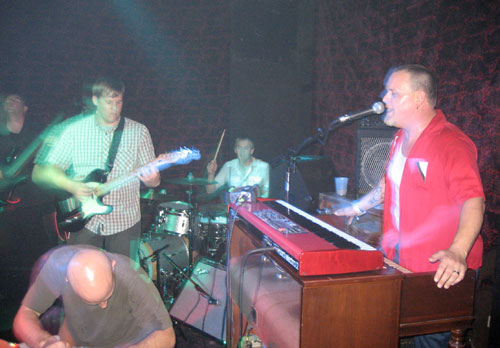 Degenerate CD was grinning ear to ear after the show. He hadn't seen them back when they were a mainstay of Atlanta's music scene so it was all a pleasant surprise for him. The band was performing again the following night at Five Spot and CD was tempted to go again. I checked out their myspace page and was disappointed to read, "Now, after too long a hiatus, the original Robustos line-up will reunite to give Atlanta two more great nights of music." That implies this was just a temporary reunion.
I'm beginning to wish I'd gone to that second show...
---