Degenerate Press
Welcome to Degenerate Press' feature article. If this isn't enough you can always subscribe to Electric Degeneration, our semi-weekly and semi-weakly ezine, or surf the Electric Degeneration archive.
---
Rockabilly Rumble
The Star Bar
February 2006
Ah, winter in the south - forty degrees and raining. Due to these conditions, I wasn't motivated to leave the house early enough for the classic car and bike show that was supposed to take place before the Rockabilly Rumble this year, nor was I motivated to show up at 4 in the afternoon, which was probably a good thing for my liver because when I finally arrived at 10 PM that first PBR was pretty damn tasty after a year or two of my self-imposed mostly-beer-free life. My Pork and Whiskey DietTM has melted the beer gut way!
Moments after we arrived, Screamin' Demons stepped on stage. Growly pshycobilly stuff from here in Atlanta that made a whole gaggle of cute girls in front of me wiggle their butts like happy, sexy puppies.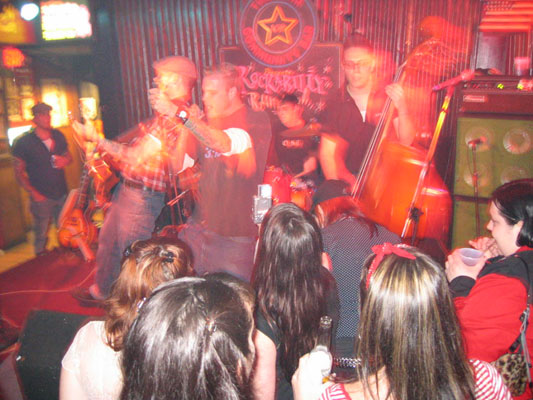 They even threw in a weird psychobilly cover of the Dukes of Hazard theme.

Of course, no psychobilly act would be complete without absurd stand-up bass antics....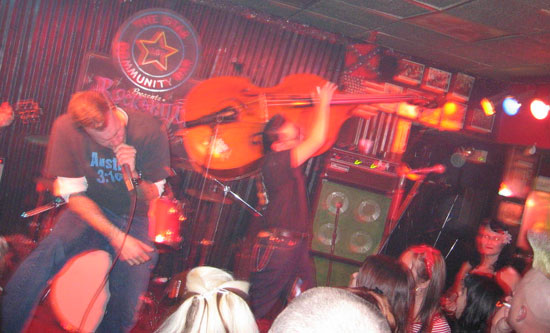 I was dissappointed he didn't play it with his teeth next.

There were more absurd pompadors than you could shake a can of hairspray at. Degenerate CR was apparently jealous so he made his own PBR pompador. In fact, this may be the only show in Atlanta where it's the men's hair that can occasionally block the view...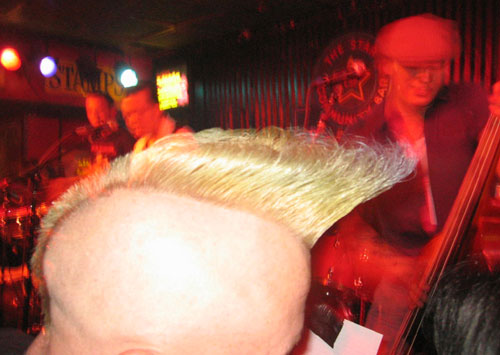 Next up, North Carolina's Straight 8's, a bit less psycho, a bit more clean on the rockabilly spectrum. Local burlesque babe Torchy Taboo lamented the lack of BTR on this year's lineup, making me mentally compare the Straight 8's to the missing band. The Straight 8's came up short.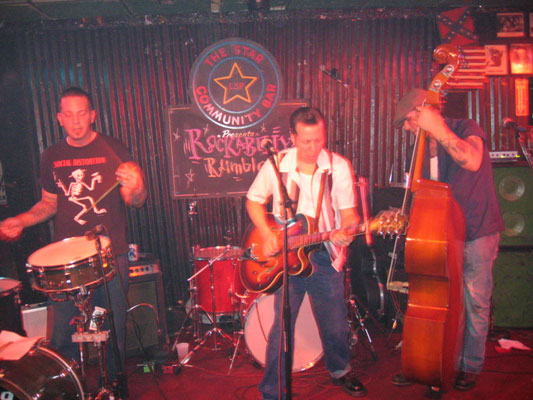 But Blacktop Rockets only play once or twice a year these days and there was more than enough "bonk chikka bonk chikka bonk" for one evening, and Straight 8's did a fine job with it.
Rocket 350 followed with their usual high-octane stuff.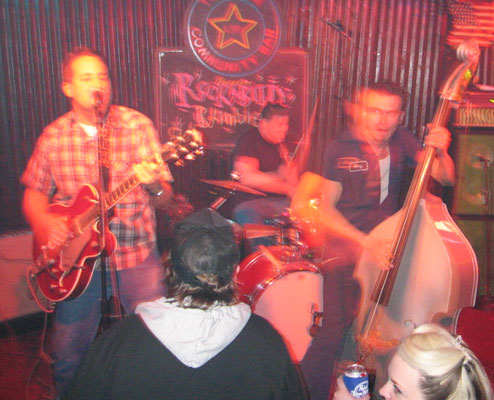 Then Jim stopped on stage to announce the passing of Don Knotts, momentarily bringing the mood down. I hate mortality. But someone has to go to make room for new people, right? Don lived long and well, so there's no tragedy to it really. Besides, Rocket 350 resumed and blasted away any worries about mortality.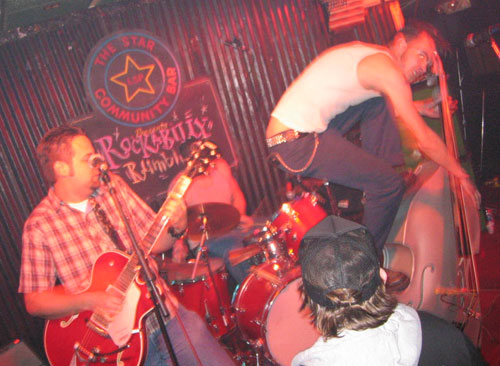 As if they weren't enough, there was ample eye-candy swiging around the room.

Rocket 350 closed with a cover of David Allen Coe's You Never Even Called Me By My Name, getting half the room up on stage to sing along. It was sloppy and silly and a crowd pleaser.

Things wrapped up fairly early, sometime around 1 AM. Degenerate CD and myself wandered across the street for a slice of pizza before calling it a night.
---