Degenerate Press
Welcome to Degenerate Press' feature article. If this isn't enough you can always subscribe to Electric Degeneration, our semi-weekly and semi-weakly ezine, or surf the Electric Degeneration archive.
---
Elvis Death Day
Atlanta Rollergirls
The Infernals
All American Skating Center
August 2005
It's the dying dog days of summer here in Hotlanta. As we head toward Labor Day every year I suddenly realize everything I didn't get around to doing over the summer – camping trips, various car improvement projects, travel and debauchery. Such is the life of mortal man – there's never enough time and/or resources to do everything you want (unless you're Michael Jackson, and look where that got him.)
I'd been planning a camping trip the last couple of weekends, only to have the daily deluge put a damper on my plans, so when the forecast for last weekend looked better than usual I took Friday off, tossed the gear in the truck and headed for the hills. About 3 miles from camp it started raining. I grumbled a few curse words but it looked like an isolated shower – isolated right over the spot I was going camping. The forestry service road that leads to my relatively secret spot is challenging on a dry day. As the rain came down so hard I couldn't see, I just shook my head and giggled. I pulled over at a gas station and got a coke and watched it dump the very heavens down around me.
When it lightened up enough to see the yellow line on the road, I continued on the last couple of miles and arrived at the dirt road just as the last drop fell. The fates, God, chance, or whatever you believe in had given me at least that much of a break. Though the road would still be a muddy, rutted disaster, at least I'd be able to see the mess I'd be driving into.
After the use of a lot of savage off-road driving skills in SW's little two wheel drive truck with street tires on it, I arrived at camp. I immediately set to work putting up a tarp, fearing the return of the seemingly endless storms of late. SW had "borrowed" a massive blue tarp from her father during one of our trips to Texas (he still asks after it when he calls, three years later) which I used to build a virtual cathedral of a shelter in which I and the other guys could relax should it become necessary.
But of course the very preparations themselves meant they were unnecessary. The tarpathedral seemed to act as a talisman, keeping all storms at bay. By the time I set up my tent and lugged my other supplies to the site, the sky was clear. When other degenerates arrived a few hours later I'd already had a soak in the river, lunch and a rum punch.
Saturday was close to perfect – hot, clear, quiet. We got out of the river to eat lunch, only to jump right back in. Played some card games in the evening, then jumped in the river again before relaxing around a campfire, grilling Italian sausages, playing games and telling tall tales.
Once in a while an evening is so perfect I actually don't want to be two places at once. Sure, there were some fun shows in town I wanted to see, parties I'd been invited to, exotic locales I'd like to visit, even a lovely girlfriend home alone for the weekend, but for those few hours the only wishful thinking distractions involved the Swedish bikini gymnastics team, and I have yet to find an activity that'll turn those thoughts off.
But some things you learn to live with.
Besides, we got back in time to catch the Atlanta Rollergirls' first official match. Who needs Scandanavian blonde gymnasts when you can watch punky/gothy/tattooed girls on rollerskates beating the crap out of each other?!?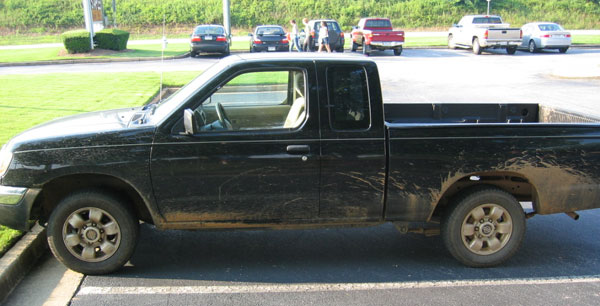 "Exit what?" I asked degenerate CD on our way out Stone Mountain Parkway.
"Nine," he answered.
"Shit. This place is out there."
I don't often venture OTP, except to go off up in to the hills to see my mom or go camping, but I had missed the first exhibition match of the new roller derby league in Atlanta, the Rollergirls, so I was determined to see the first official match, despite the drive across and out of town. After some minor misdirection, we found the All American Skating Center out past Stone Mountain, only to find the parking lot full almost an hour before match time. We found a spot in a neighboring lot and headed inside.
I haven't been in a skating rink in 10 or 12 years, and that was a one time thing for someone's birthday party. Before that it had been another 10 or 15 years. I wasn't much of a skater as a kid and once we moved to Dahlonega there wasn't a convenient rink anyhow. I'd forgotten the odd design of a skating rink - everything designed so that you can easily get around with wheels on your feet.
Inside, almost all the regulars of L5P's and East Atlanta Village's night life were in attendance. It was an odd feeling, seeing these people when I was sober and in a well-lit room. It took me a moment to recognize each person in the new context.
A ring of lights indicated the course in the middle of the expansive floor. Caution tape marked the border where you could sit, but there were only a few chairs at one end of the room. The rest of us sat on the carpet coping or floor around one side of the track as random ladies took a few warm-up laps.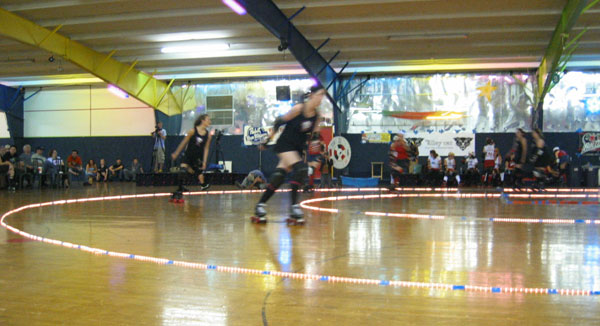 | | |
| --- | --- |
| Reverend Uncle Laffo was in the DJ booth with 70's and 80's hair metal and cheesy arena rock blaring over the speakers as a woman done up in Mexican wrestling garb wandered around picking out random people from the crowd to abuse, in exchange for free swag. | |
| | |
| --- | --- |
| Pretty soon the announcers, Laffo and Rodney, said it was time to get started. They introduced Monopoly Man (or was it Mr. Monopoly?), a sideshow barker personality and "owner of the Atlanta league." He had the over-the-top Macho Man Randy Savage persona down perfectly, but his costume could use a little work. He could use a lot less Randy Savage spandex and more Jimmy "Mouth Of The South" Hart suit. But he was worked up into an appropriately manic frenzy. | |
| | |
| --- | --- |
| Then Leonard, the announcer on the floor, introduced the teams and individual ladies of the evening, each with hilarious, punny names (my fave being Peach Clobber) and the first match got underway. | |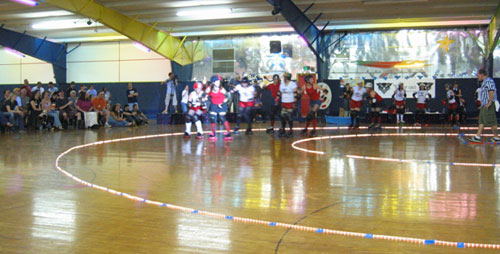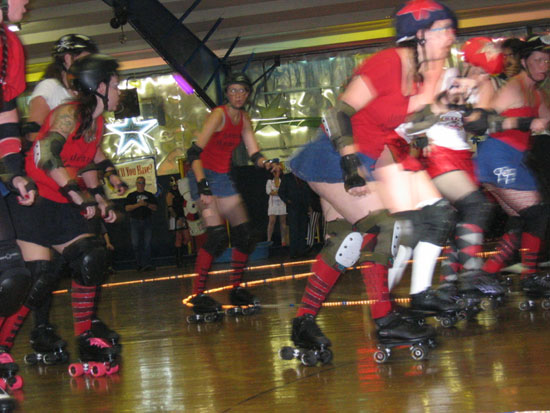 It took a minute or two to figure out the game and who was who on the track but it's pretty simple, at least in terms of rules. Actually winning a match takes skill, teamwork, and guts. A padded butt can't hurt either, since the ladies ended up on the floor many times. Crap, I'd be lucky to skate around the circle without anyone else out there and not hit the floor. But these girls were banging into each other like pissed off NASCAR rivals. It got a little dizzying after a while, watching the whirling women go round and round.
Some of the ladies can really skate, weaving their way through the jostling pack and taking turns at breakneck speed. But talent was probably never the reason anyone watched roller derby in the first place. Let's face it, it's the skimpy costumes and occasional catfights that hold your attention. And these ladies know it, dressed in miniskirts, fishnets, crazy makeup - it comes off as some sort of Mad Max fashion show on wheels. Even the referees got into the spirit with one guy in leather pants, the sleeves torn off his striped shirt, and sporting a 70's style mustache.
But to be honest, the novelty wore off on me pretty quickly. Laffo and Rodney make lots of funny jokes during their announcing, but this event cries out for alcohol. PBR was one of the sponsors for the event, but the rink doesn't have a license to serve, and even if they did there's only so much I would allow myself to drink on a Sunday night, particularly a night when I have to drive halfway across the state to get back home. This really should be on a Saturday evening at an arena downtown somewhere. But they're just getting started and it was my first live roller derby experience so I enjoyed it.
| | |
| --- | --- |
| | They ran one full 20 minute match, then had an intermission with The Infernals, familiar faces on the local music scene. |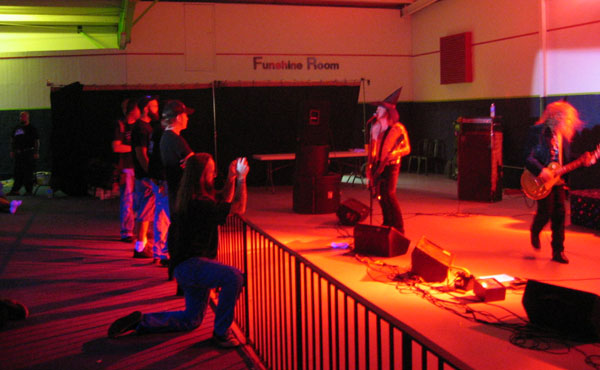 | | |
| --- | --- |
| | They drew the usual black shirt brigade (nobody seemed to "get" my Atlanta Beat t-shirt. C'mon, people, don't you know your local female sports team failures?!?) |
| | |
| --- | --- |
| | In addition to the usual crowd and the rollergirls enjoying the show, a couple of people had brought their entire family. There were a couple of 5 year old girls thrashing around to The Infernals, having a swell time. |
| | |
| --- | --- |
| | The Rollergirls are supported by local volunteers, everyone from the Star Bar guys manning the mikes to local guitar god Johnny Knox running sound and lights for the band to unknown slackers who sweep up between matches. This guy ran the broom around the track in a widening spiral, making me giggle. |
They raffled off a few prizes during intermission - tattoo gift certificates, a PBR beanbag chair, a sack full of White Wolf merch, etc. Nothing I was dying to have, really, but I bought a ticket in a show of support regardless.
The crowd reassembled along the edges of the track for another round of rollergirl action. In addition to the families and the creatures of the night, there was a fair number of ladies who like ladies in the crowd, probably there for the same reason us testosterone-fueled straight guys were there - the eye candy on wheels.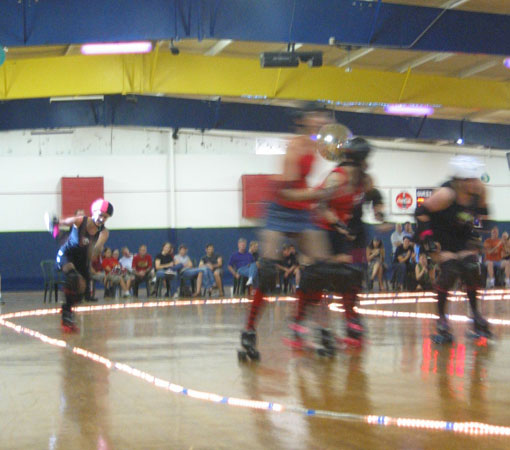 Unfortunately, my little digital camera wasn't up to catching the action as fast as it came. Due to the shutter lag time and low batteries, I didn't get any pictures of a cute little catfight that happened right in front of me. It was clearly staged, but fun nonetheless. The two participants were subjected to a spin of the wheel of interesting penalties, resulting in a one-on- one backward-skate race around the course.
There was another intermission with more from The Infernals, another round of raffles, then the last match of the evenig. Some of the folks with children headed home, but a fair number stuck around. In the end, I think it was the Apocalypstix that one both their bouts, but I only spotted a few people that were actually rooting for a specific team or player.
There was an after-party at Mulligan's I would've liked to attend, but I hadn't been home in a few days and it's tough to party hardy on a Sunday night when Monday morning comes around all too soon. We headed back from the burbs to civilization proper to nestle all snug in our beds, while visions of rollergirls skated in our heads.
A few days after initially posting this review I got this:
hi there,
I just wanted to say Thanks for coming out on the 21st to see some Atlanta Roller Derby action. Glad you had a good time.
Just wanted to note a correction to your story: "Unfortunately, my little digital camera wasn't up to catching the action as fast as it came. Due to the shutter lag time and low batteries, I didn't get any pictures of a cute little catfight that happened right in front of me. It was clearly staged, but fun nonetheless. The two participants were subjected to a spin of the wheel of interesting penalties, resulting in a one-on- one backward-skate race around the course."
Actually, just to let you know, that fight was NOT staged. Demi Gore of the Denim Demons (my team) pulled a Texas Takedown on Viva Hate of the Apocalypstix. While a Texas Takedown is a move that we all learn and practice during falling drills, much like a stuntperson learns to fall/roll properly, I can assure you that Viva had NO IDEA what Demi had in store for her. If we were going to fully stage a fight, we would have done so during the very first bout, when more audience members were watching!
Here's a link to some pictures of a very surprised Viva: http://www.matteblack.com/rollergirls_082105.2/
Anyway, yes, the beer thing is an issue that we are trying to work out with the pain-in-the-ass liquor license powers-that-be.
We might have it in time for the September bout (sept. 18th), so keep your fingers crossed!
Thanks for your support of your local Roller Derby league, hope to see ya at a bout soon!
--
Hot Legs Hooligan, #77
Denim Demons
Atlanta Rollergirls
www.atlantarollergirls.com
---