Degenerate Press
Welcome to Degenerate Press' feature article. If this isn't enough you can always subscribe to Electric Degeneration, our semi-weekly and semi-weakly ezine, or surf the Electric Degeneration archive.
---
St. PatPrick's
The Earl
March 2007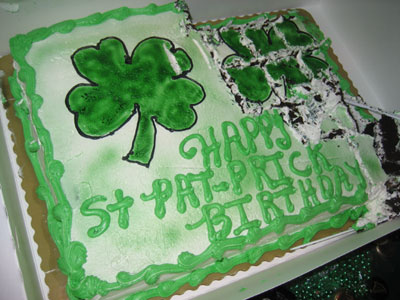 Prick, the free tattoo and piercing publication, was put together by Chuck Brank, who happens to celebrate his birthday on St. Patrick's Day. He's thrown a party every year for a while now so we knew what to expect when EM, CD and myself arrived - a scene not unlike the documentary Heavy Metal Parking Lot. To contrast with anticipated all black attire of much of the crowd, and to show up the splash of green for the holiday amateurs, I went in a bright green leather jacket and green polyester pants with faeries and horses on it. But despite the effort, I was hardly the freakiest freak in the place. Chuck had brought Enigma in for the festivities, the guy covered in blue tattoos with knobby horns on his head and a forked tongue. He took over the side stage between acts, doing stunts like carving letters in an apple held in a volunteer's mouth.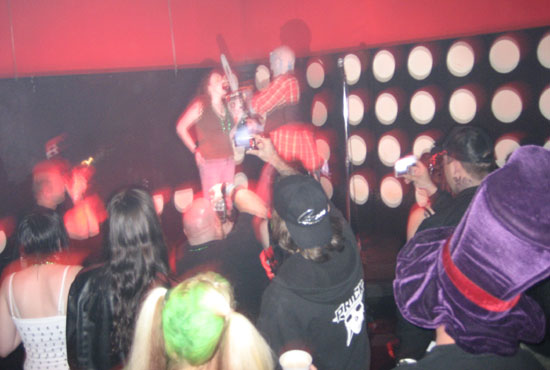 No, you can't see it very well in the picture, you'll just have to use your imagination. It was a cute trick but he needed more of them to fill the time between bands on the main stage. First up after we arrived, The Hot Rods.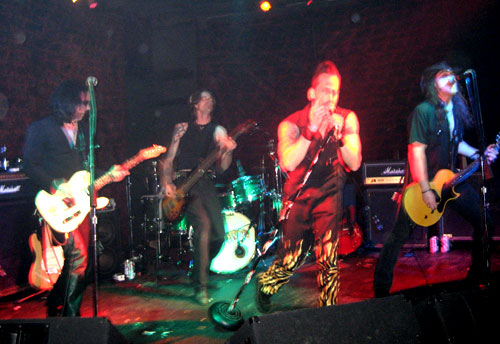 Sort of hard/southern rock/psychobilly stuff, not bad but it made me yearn for Th' Legendary Shack*Shakers, or the long-gone era of Truckadelic. We searched the room for the much-anticipated tattoo raffle, easily half the reason my associates and I attended the night, only to find Chuck wasn't doing a raffle this year. We were sorely disappointed. On top of a nagging headache, I had a difficult time relaxing and enjoying the show. The Hot Rods (I wonder if any of them are named Rodney?) hopped about with gusto, having fun for me.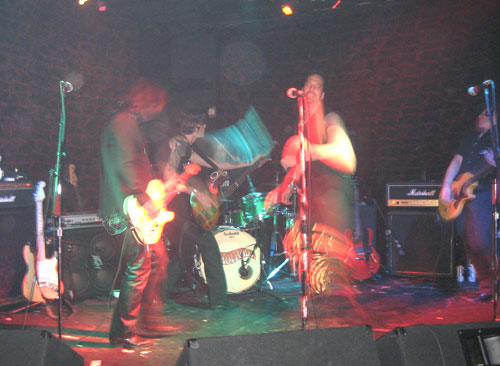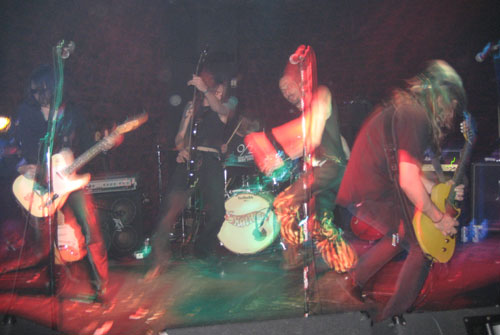 | | |
| --- | --- |
| Next on the side stage, more tricks with power tools. A couple of gothed-up girls - The Danger Duo? The Grinder Girls? The Wondertwins? (I really should take better notes at these things) donned steel bikinis and went at them with disk grinders, sending a pretty shower of sparks toward the ceiling, and crowd. | |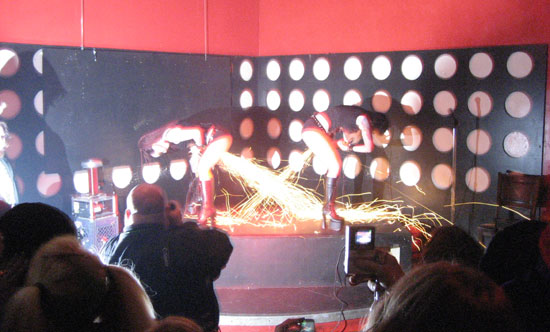 Those margarita and Mexican food hangovers can be a bitch...
Next on the main stage, Sodajerk. Coincidentally, later in the show I noticed EM wearing a Wilco button just minutes after I had jotted this in my notebook: "Sodajerk - sorta Wilcoish, in big contrast to the opener, at least until the drummer sang a number in a more growly southern rock vein, but then it was right back to their Americana stuff that would'a put me to sleep if I hadn't had an Irish coffee. Not bad, just not my cup o' joe."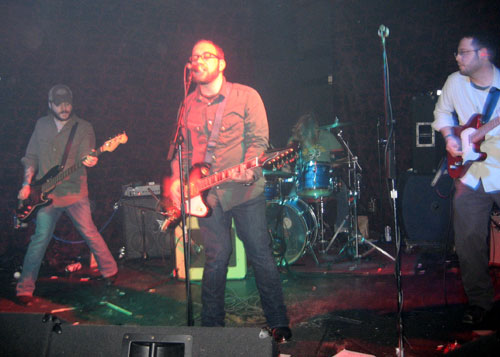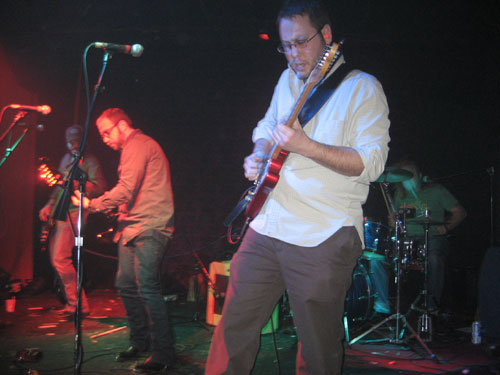 Rock City Dropouts dropped the hard southern rock bomb that pushed me out the door, not because I don't like the rock and/or roll but because my head couldn't take any more.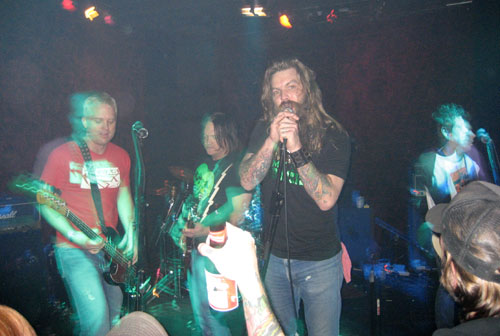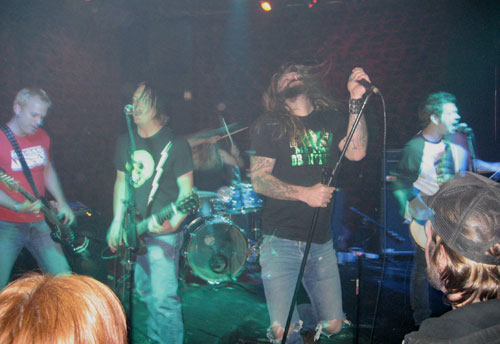 Rock over London. Rock on Chicago. Wheaties, breakfast of champions.
---