Degenerate Press
Welcome to Degenerate Press' feature article. If this isn't enough you can always subscribe to Electric Degeneration, our semi-weekly and semi-weakly ezine, or surf the Electric Degeneration archive.
---
Star Bar Toys for Tots Christmas Fund Raiser
December 2003
Ah, the office Christmas party - finger food, cheap wine, excess candles, meet the spouse, everyone in black like it's a funeral, forced socializing, one drink too many and someone says something they shouldn't, exposes some body part they probably shouldn't expose around coworkers...

Degenerate SW took me to hers at The Lava Lounge in the trendy Crescent Ave. area of Midtown. The joint has nice furnishings, but it ain't enough to get me to go there of my own free will. The DJ struggled to find music that would move the masses, going through noodly jazz, Christmas music, hip hop, finally settling on mostly 80's disco/wimpy funk that made the Buckhead girls yell "WHOOO" and sway to the beat, once they'd had a couple of glasses of Chardonnay in 'em.
Off to the Star Bar where the place is done up in Xmas Xtreme. We'd already missed Sonoramic Commando and Amy Pike somehow.
SC's Rodney said "The email said 8!"
"Yeah, but that means 10 in this town and it ain't even 9:30!" I yelled back, "What, has the new curfew already gone into affect?"
But no, the new 2:30 law starts with the new year, they just had too many acts to start at the usual late hour. So Cletus and his City Cousins were already on stage and nearing the end of their set, rockin' through some country and rockabilly classics with fine style.
| | |
| --- | --- |
| | Blacktop Rockets followed. I have no idea how these guys can be so smooth when they play about once a year these days. |
| | |
| --- | --- |
| | A lot of it has to do with Chad Proctor and his rockabilly-machine hands. The boy can play for hours on end, as he's proven with a record number of appearances in a weekend at Bubbapalooza. People shouldn't be this talented and not be famous. On the other hand, it means, if you're in the know, you actually get to see them without paying through the nose, standing in line, and sitting half a mile away... |
Santa commands you! ROCK!!
| | |
| --- | --- |
| | Dave handed his guitar over to Johnny Knox for a former-BTR-guitarists jam. |
| | |
| --- | --- |
| | Which flashed back even further when Spike Fullterton showed up and took over for a few minutes. It reflected the whole family atmosphere of the night, with random people welcomed onto stage. |
| | |
| --- | --- |
| Between acts, Shitty Claus took over with Peanut on the accordion. Shitty told rambling tales of holidays past while Peanut played medleys of holiday melodies. Funny stuff. | |
| | |
| --- | --- |
| | Truckadelic followed, picking people out of the crowd for their opening number, Gregory Dean Smalley's She's Breakin' My Heart (While I'm Drinkin' Her Beer), another flashback Star Bar moment. |
| | |
| --- | --- |
| | Even slackers like myself got selected for the honor. |
| | |
| --- | --- |
| | Let's all have a drink to Greg Smalley! |
| | |
| --- | --- |
| | Now get the hell out of the way for the reunion you've been waiting two years for, Truckadelic! |
| | |
| --- | --- |
| | Not quite as much chaos as the old days. OK, not 1/4 as much chaos as the old days. But the songs still ring true and they still seem to enjoy playing them. |
I was sorry to see them on a lineup with so many other acts 'cause in meant they'd have a shorter set, and possibly not even the final act of the night.

My fears were justified. They wrapped up after only 45 minutes or so and had two acts follow 'em. Ah well. The only constant is change.
| | |
| --- | --- |
| Joel, the soundman, got on stage to set up for the next act, only to expose a little more than most folks wanted to see. Kiss him under that mistletoe! | |
The Marines were thanked for doing what they do while they tried to thank the crowd for the donations.
No, the Seagrams was not for the Toys for Tots...
| | |
| --- | --- |
| | Bitch came on for their usual set of AC/DC, Motorhead, AC/DC, Lynyrd Skynyrd, and, of course, AC/DC. Which was fine by me 'cause I love some AC/DC. |
| | |
| --- | --- |
| | One of the lovely ladies of Doll Squad hopped up to do backup singing for their rendition of Sweet Home Alabama. Sweet indeed. |
| | |
| --- | --- |
| | I love the music Bitch covers, but I also love the joy they have in covering it. Their smiles are contagious. |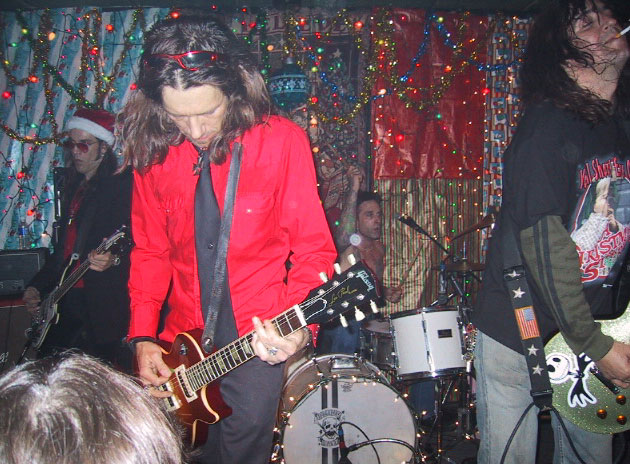 | | |
| --- | --- |
| | The lead singer does a great Bon Scott. The guitarists know the riffs by heart and the whole show comes together like a little roadhouse gig in the outback somewhere. You can almost feel the can of Fosters being lobbed at your head. |
| | |
| --- | --- |
| | On came Yule Log with their usual set of unusual holiday tunes. |
| | |
| --- | --- |
| | Shitty Claus and the other elves got a bit hot in the faux fur and velvet as they cranked out songs like a punk version of One Foot In Front of the Other, classic Rankin/Bass fare. |
| | |
| --- | --- |
| | A personal fave was their take on Outkast's Hey Ya! |
| | I didn't even notice the Creature t-shirt the night of the show |
Shell-shocked & hungover, we returned to the Star Bar on Saturday for Brass Castle, Paul Wine Jones, and Immortal Lee County Killers. Brass Castle opened and I didn't take any pictures 'cause I'd just seen 'em a couple of weeks before. They did a few new tunes and had a few more fans to appreciate 'em.
| | |
| --- | --- |
| Paul Wine Jones is a jovial old guy who was in good spirits, and apparently had a good amount of spirits in him. He cranked out some old electric blues, nothing unusual or unexpected but all of it good stuff. He charmed the ladies before, during and after the show. | |
| | |
| --- | --- |
| The lovely lady in the Nashville Pussy sweatshirt has a Thunderbird logo tattooed on the small of her back. She had a '77 T-bird for a while. I told her briefly about my 69 T-bird but she didn't have much of an attention span. | |
| | |
| --- | --- |
| | Immortal Lee County Killers, just back from a European tour, banged out their punk blues with gusto! |
JRR Token may be my favorite drummer, despite his over-the-top sideshow barker persona on stage. The man can play!

Paul Wine Jones kept bugging Chet to join them on stage but Chet stalled him for a while, then a while longer, then a while longer until Paul was nowhere to be found, so Chet wrapped up their encore with "one done like Paul Wine Jones would do it."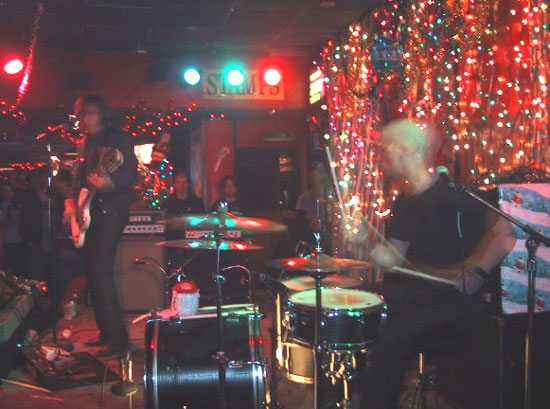 ---