Degenerate Press
Welcome to Degenerate Press' feature article. If this isn't enough you can always subscribe to Electric Degeneration, our semi-weekly and semi-weakly ezine, or surf the Electric Degeneration archive.
---
Tiki Torch Night at Trader Vic's
Gods of Mars, Gonzalez, Super X-13 at the Star Bar
July 2004
| | |
| --- | --- |
| We hit Trader Vic's for Tiki Torch Night, lured by the promise of free appetizers and drink specials, only to find the free appetizer rumor was false. But they did have $4.50 Mai Tai's and a little tiki themed band going. | |
So we hung around chatting and watching the America's Cup soccer match on TV. A while later some hula girls showed up and danced up a storm. They did dances from all over the Pacific rim, some slow and sultry, some fast and furious. Good stuff.

For more on Tiki Torch Nights, visit http://www.tikikiliki.com/tiki/torchnights.htm
But the food at Trader Vic's is a bit overpriced and hunger got the better of us, so we split and got a bite on the way to the Star Bar.
| | |
| --- | --- |
| | There, Gods of Mars opened up the night. I was monkeying with our new digital camera, experimenting with different flash settings. This setting makes everything nice and clear, but doesn't capture the action or tone of the night. |
That's more like it.

Gods of Mars have fuzzy guitar in back with the bas taking the lead, booming out some heavy/hard stuff that has a good groove. Unfortunately, few of the people that would've enjoyed their set showed up early enough to catch it.

For more on the group, visit http://www.thegodsofmars.com/
| | |
| --- | --- |
| Gonzalez followed, sounding a lot like Soundgarden for many of their tunes, not a bad thing. | |
| | |
| --- | --- |
| The lead singer has a high range that works well with the heavy/hard stuff, particularly their excellent cover of Pat Benetar's Heartbreaker. | |
A few more people meandered in during Gonzalez but it was clear a lot of the 9 Lives regulars were waiting for the headline act. The Star Bar filled up around midnight when Super X 13 climbed onto stage for the first time in something like 5 years. They had kept the drumkit covered in green fur, Shane showed up in absurd boots and pink tights - awesome.
| | |
| --- | --- |
| | They proceeded to burn the mother down! I think I only caught them once or twice back in their heyday. Hey, I was broke back then... |
| | |
| --- | --- |
| | The guys were really enjoying themselves, so much so that they couldn't even keep up the arrogant rock star bit without giggling and ruining the illusion. They barely missed a note, despite the sometimes technically challenging music and only having 2 rehersals. |
| | |
| --- | --- |
| | It's heavy and hard, but with catchy melodies and harmonies you'd only expect in something softer or more poppy. They were selling leftover copies of their second CD, Ain't Life Grand, but didn't have any of their first CD. If anyone has it, get us a copy! |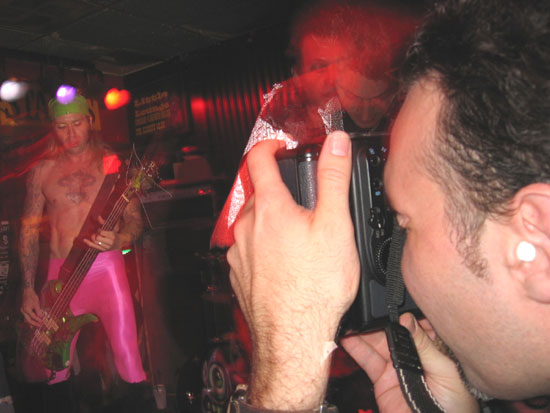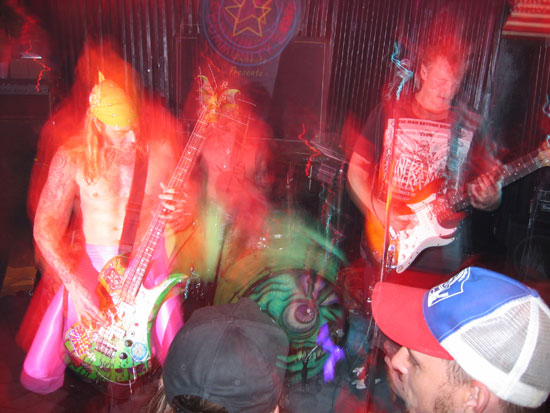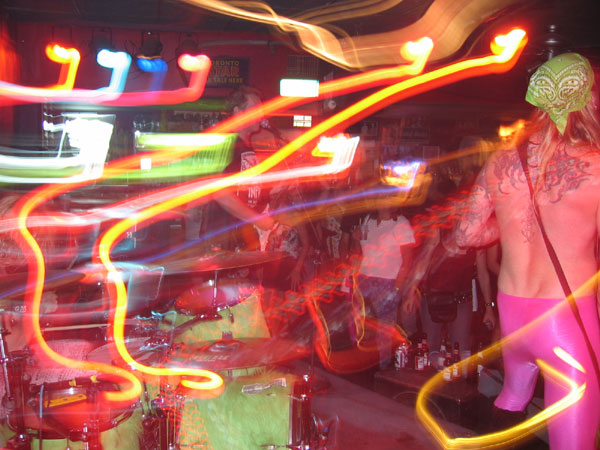 ---