Degenerate Press
Welcome to Degenerate Press' feature article. If this isn't enough you can always subcribe to Electric Degeneration, our semi-weekly and semi-weakly ezine, or surf the Electric Degeneraion archive.
---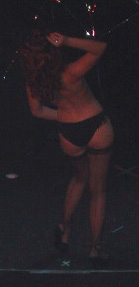 Tease-O-Rama
New Orleans, May 18-20, 2001
Part 1
Disclaimer: The black and white shots shown here aren't the best quality - we'll re-scan them this week and see if we can get them looking more like the decent prints we've got.
Table of Contents:
Intro
Links to performers, venues and other reviews
There was a time when sex was taboo.
There was a time - before hard core porn was available at the click of a mouse or the click of a VCR remote - when you had to have some creative or artistic pretense, some (thin) veil between the audience and the skin.
But with the advent of VHS and .COM the veil was stripped and discarded. You can see anything anytime - "barely legal interracial lesbian barnyard cam", or some variation thereof, shows up in my email several times daily. But after a while you've seen it all. After a while it's just not titillating any more. And you want the excitement back. You want the thrill of the hunt instead of the pink flesh of the kill.
Burlesque is all about the chase.
In the last few years groups have been resurrecting this lost art in cities all over the U.S. and abroad, performing in bars and theaters or even street corners, slowly gaining a following. A&E recently aired a special "It's Burlesque!" showcasing acts from the past, as well as a biography on Gypsy Rose Lee. Nicole Kidman is staring in Moulin Rouge, a fantasy film about a burlesque house opening this summer. Videos of the soundtrack have been all over MTV, with Christina Aguilera, Pink, Mya and Lil' Kim all shaking their stuff in post-modern burlesque costumes. It seems this summer's fad is, yet again, a look back.
It's got sex, it's got comedy, it's got costumes, music, dancing, drinking - burlesque has it all. Retro hepsters have an excuse to dress up, pin-up fetishists get to see real live women, it's enough fun to bring along the girlfriend, and risqué enough to titilate without getting the club shut down for being an unlicensed strip joint. So I wasn't surprised to hear someone had organized a festival of burlesque called Tease-O-Rama. I tracked down their web site and found they were calling it a "convention" - a series of performances, bringing back some old stars as guests, music, drinks, and the occasional workshop on how to make your own pasties, or how to do a bump and grind. I made reservations almost immediately and May couldn't come soon enough.
So May 18, Friday, we hustled to the airport with perfect timing to catch our 6:50 PM flight, only to find I'd fucked up the reservations and made them for Thursday. It was the first flight I've ever missed for any reason and it wasn't like I was stuck in Europe with no money and a visa about to expire, but it still didn't make us too happy. After a hopeless search of other airlines we finally gave in and piled into the truck and hit the road to New Orleans, arriving around 2 AM, just in time to miss the opening night shows.
Saturday we hit the streets, getting a delicious lunch at Mother's, our favorite restaurant This article may start to sound like an ad for Mother's Restaurant, but it ain't. We just love the place, despite the slightly pricey menu and the occasional long line.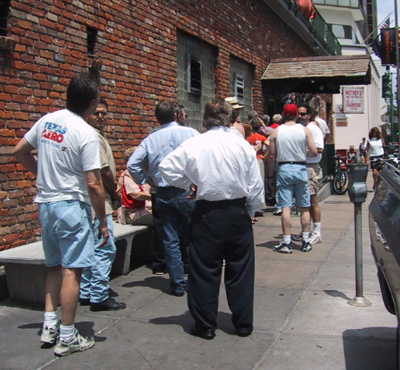 And it's really just the line you wait in so you can get to the line inside, then get to the counter to order. But it's worth the wait! Make sure you try the Ferdi Po Boy!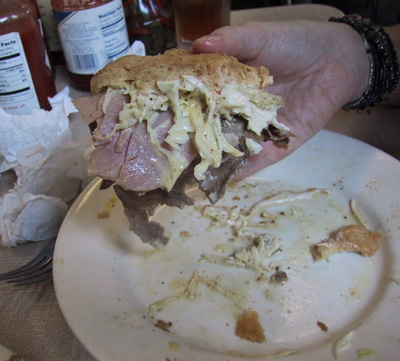 We shopped for a while off the beaten tourist path, stopped in for a beer at The Abbey, my favorite New Orleans dive bar and chantted it up with the bartender about the cost of living in New Orleans and other such topics related to our search for a new life away from Atlanta. New Orleans is high on our list of possible relocation options, but enough about us...
We swung by The Shim Sham Club to see what Tease-O-Rama had to offer in the way of afternoon workshops and enjoyed a "how to do the burlesque strut" instructional hour offered by Kitty West, a famous performer from the earlier days of burlesque, known as Evangeline the Oyster Girl. Five or six lovely young girls would glide across the stage while Kitty barked commands.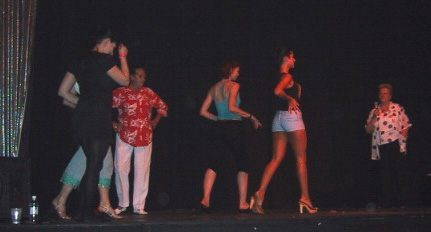 It had the feel of some cheap-yet-fun fetish film from the 50's, particularly with the cheesy bad jazz pumped out of the sound system.
The room was packed with pretty girls, about a 5 to 1 girls to guys ratio, basically paralyzing me. I couldn't speak, I just stood around gawking like a kid in a candy store with no money. Delightful, but nothing compared to what was to come.
| | |
| --- | --- |
| We hit Mother's again on the way home for a snack, caught a nap and a shower then headed around the corner to the Howling Wolf, the main venue for the nightly shows. Unfortunately, the joint isn't set up well for a visual act. There's just not enough room for folks to sit and enjoy the show. Everyone ends up standing, constantly jostling for position. After 6 hours my flat feet just couldn't take any more and we left before the last act went on. But the drinks were decent, mixed by a familiar face - Cole Skinner, former booking agent for Echo Lounge and Star Bar. He's back in New Orleans sloshing drinks and smiling ear to ear. But you're not reading this for a review of the bar or the latest whereabouts of Atlanta celebs, are you? | |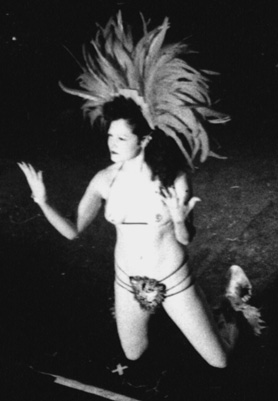 Table of Contents:
Intro
Links to performers, venues and other reviews
---