Degenerate Press
Welcome to Degenerate Press' feature article. If this isn't enough you can always subscribe to Electric Degeneration, our semi-weekly and semi-weakly ezine, or surf the Electric Degeneration archive.
---
Tease-O-Rama
San Francisco, September 26-29, 2002
Table of Contents:
Thursday Tease-O-Rama
Thursday Tease-O-Rama
Thursday night there was a pre-event meet-and-greet at Make-Out Room. It had been advertised as an optional $5 donation in the press kit. In the local paper it said $6. At the door this turned into a $10 non-optional cover charge. Degenerates AA and PH had to work the next day and didn't want to fork over $20 for the one hour they could stick around, so they split while we slipped inside. It's a fun little club, like a mini Echo Lounge here in Atlanta. Be warned - they don't take no stinking plastic. Fortunately there is an ATM down the street. A nice Katherine Keener look-alike behind bar dished out reasonably-priced drinks in a blur as the place got crowded, then overcrowded.
| | |
| --- | --- |
| | A zippy local band was on stage pumping out some loungey jazzy instrumental stuff, led by Fisherman on the xylophone. They did a super cool version of The Animal's We Gotta Get Out Of This Place, perfect background music for mixing and mingling. |
| | |
| --- | --- |
| Seemingly at random, an act would appear on stage and do some fun vaguely-burlesque-ish routine, such as the traditional strip-to-pasties performed by the marvelous World Famous *BOB*. | |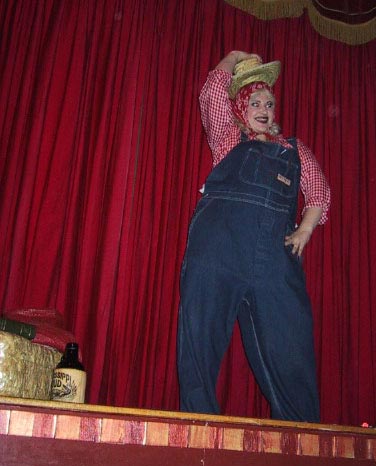 "Sweet Dirty Darla" aka Eva Sabotage from Seattle's BurlyQ.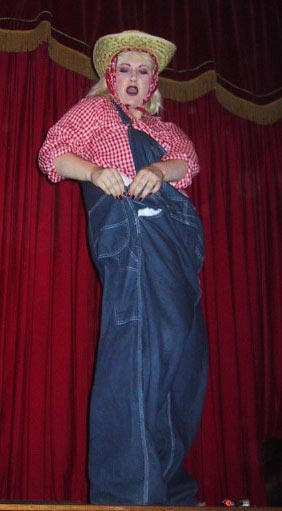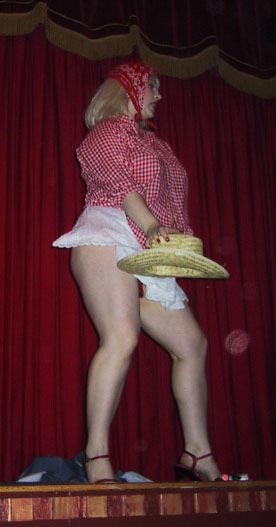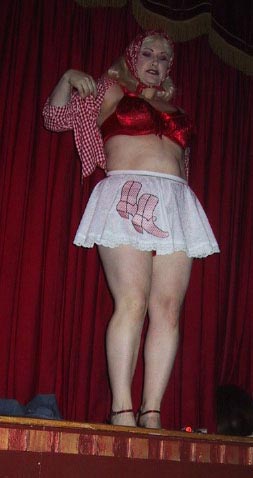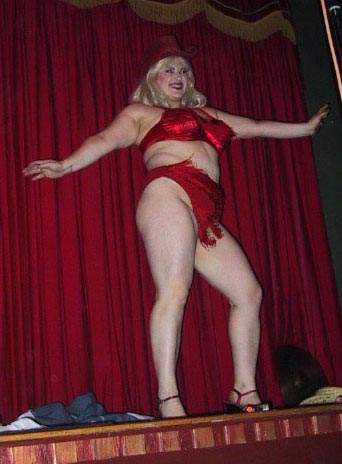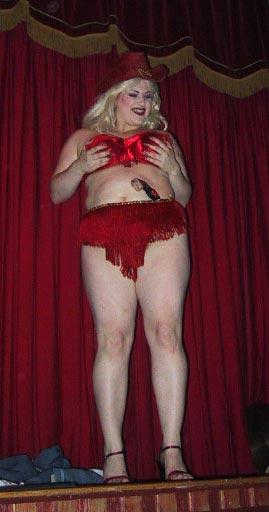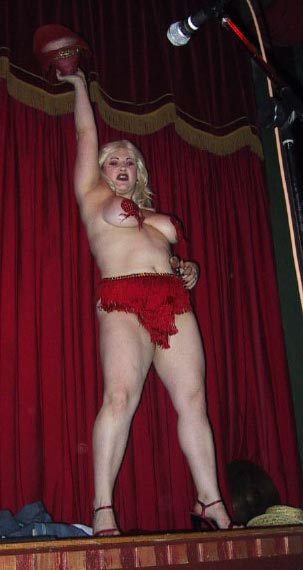 | | |
| --- | --- |
| The Cantankerous Lollies, three beautiful girls from San Fran, tossed out glitter sometime during their set, thus the strange speckles on the photos below. | |
Table of Contents:
Thursday Tease-O-Rama
---